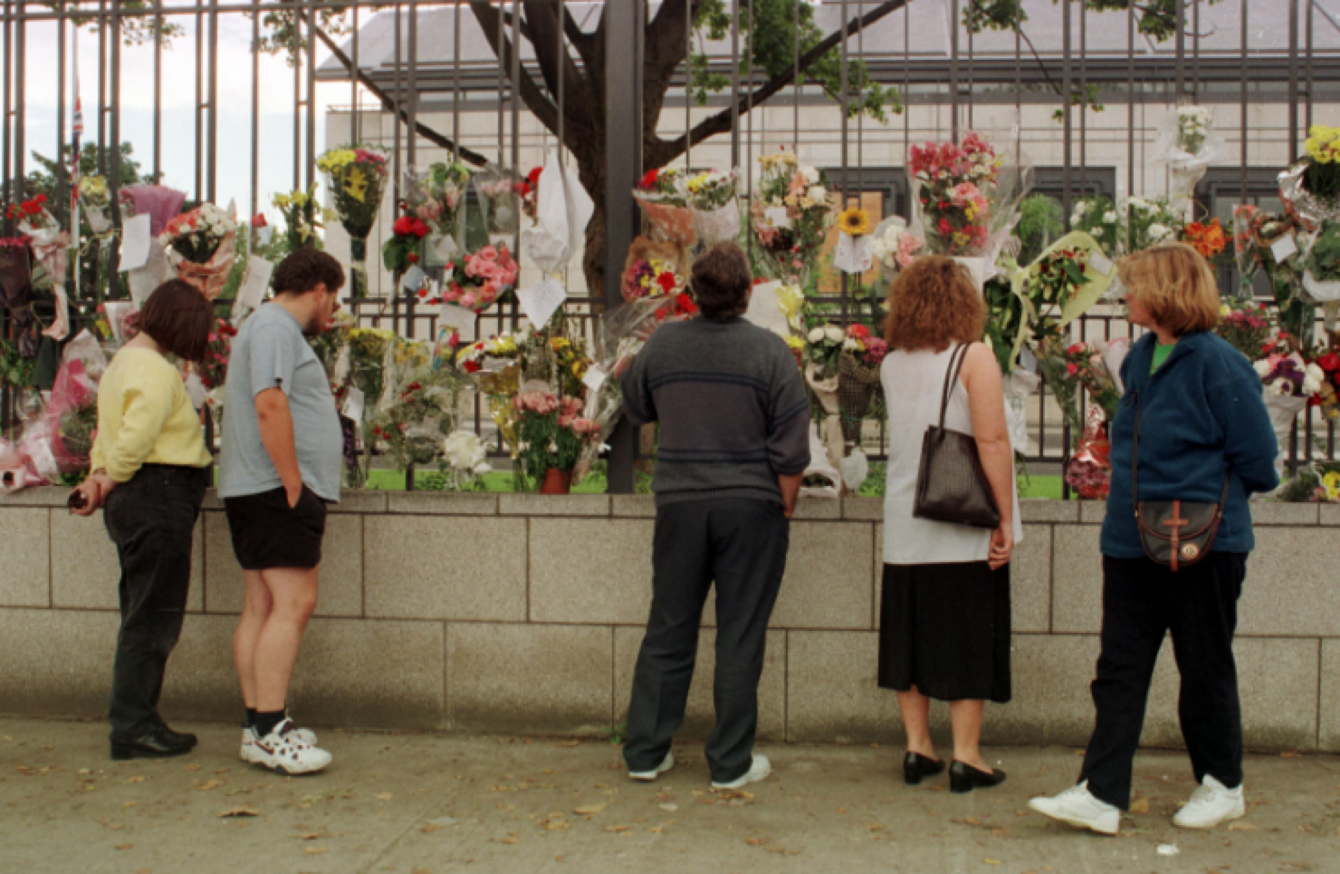 People leaving flowers at the British Embassy in Dublin, September 1997.
Image: Eamonn Farrell/RollingNews.ie
People leaving flowers at the British Embassy in Dublin, September 1997.
Image: Eamonn Farrell/RollingNews.ie
This article was first published on 26 August. It is republished here on the anniversary of Princess Diana's death.
THE DEATH OF Princess Diana was a global story.
At the time of her death she was often described as the most photographed woman on the planet and as this week's anniversary shows, she had a magnetism that few can match.
Part of this fascination was tied up in her beauty and style but it was also due to an empathy people felt with her as a mother, and sympathy they felt for her as someone who endured a difficult marriage in the public glare.
Her death promoted an unprecedented period of grief in the UK, but there were similar scenes elsewhere in the world and Ireland was chief among them.
The sympathy Ireland displayed after her death extended to flying the Irish flag at half mast on State buildings. An extremely rare gesture for a foreign national, especially one not even a head of state.
President Mary Robinson and Taoiseach Bertie Ahern even attended a service for her in St Patrick's Cathedral in Dublin, two days after the globally-watched London funeral.
But if this outpouring from the Irish State seems excessive, it only matches a similar outpouring from the Irish people.
Outside the British Embassy in Ballsbridge, rows and rows of flowers and tributes bore testament to the standing in which the princess was held in Ireland.
"I can't quite remember when I dawned on me, it must have been pretty soon, that this was going to be something very special in Ireland. Very special."
So says Veronica Sutherland, the British Ambassador to Ireland of the time who saw firsthand how Ireland reacted to the death of the princess.
"The reaction in Ireland was overwhelming and honestly I think rather unexpected both to me as British Ambassador and I think to the people in Ireland, how much they were affected by it," she says.
The British Embassy in Dublin was more accustomed to protests outside its walls and indeed was destroyed after Bloody Sunday in 1972, but Diana's death prompted a much different response.
"The queues wound round the embassy building," Sutherland says.
Everybody from the Taoiseach, who was at that stage Bertie Ahern, and Tánaiste Mary Harney, they both came, a lot of the ministers came, John Bruton came, Dick Spring came, and all kinds of other VIPs. A lot of them brought things with them, we had a cupboard full of poems and we received some flowers.
"Letters were coming in into October, we had thousands, literally thousands of people signed in various ways."
The face of Princess Diana even shone on a giant screen in Lansdowne Road as U2 played the second of two nights in the old stadium.
One concert-goer, who attended both concerts on the Saturday and Sunday nights, recalls how Bono paid tribute to the Princess at the end of the second show – the news having broken overnight.
He sang MLK – from the Unforgettable Fire album, which was originally about Martin Luther King… It's the one with the "sleep tonight" lyrics. People sang along and held lighters in the air, this was before smartphones took the place of cigarette lighters at stadium concerts.
"I don't remember people talking much about her death – not more than in passing anyway. But I read afterwards that some fans had been leaving flowers at the British embassy down the road in Ballsbridge."
Source: Eirchive/YouTube
The news that Diana had died in a car accident is for those who heard it at the time one of those 'where were you?' moments.
For many people, it was first thing on Sunday morning. A number of hours after it happened in the Paris tunnel.
For RTÉ's London correspondent Brian O'Connell, it was somewhere in between.
I got a call from the overnight guy at the RTÉ newsroom in Dublin. It must've been about 4 or 5 o'clock in the morning and he said to me 'Diana is dead, you better get up'.
Fortunately for O'Connell, he had just returned to London after being in Dublin and the news immediately changed what would have been a slow return to work to a frantic one.
His first job was to call his regular cameraman and to try to staff RTÉ's office.
"It was so fast, everything started happening so fast from then and it went on right from then constantly, day and night, right through to the day of the funeral.
I think we went to Buckingham Palace initially and already people were gathering there. The Royal Family weren't even there, they were in Balmoral on their summer holidays and they stayed in Balmoral for quite a few days which caused a lot of the anger.
Among those that gathered at Buckingham Palace in the days after Diana's death were members of the Irish community.
London's Irish turned up to offer a support that was being mirrored by official Ireland.
It was an important time for relations between Ireland and Britain, coming less than a year before the Good Friday Agreement and months after Bertie Ahern and Tony Blair came to power in their respective countries.
While it's perhaps a stretch to say that Ireland's reaction to Diana's death was part of a healing process between Ireland and the UK, the reaction at least demonstrated the effort to show that a kinship existed between the two nations.
Sutherland feels it didn't go unnoticed among British diplomats in Ireland.
"I think I can honestly say that they did reach out with very real feeling on their part and, from the point of view of us in the British Embassy, we were of course very moved by that reaction. We didn't expect the extent of the reaction, it's fair to say."