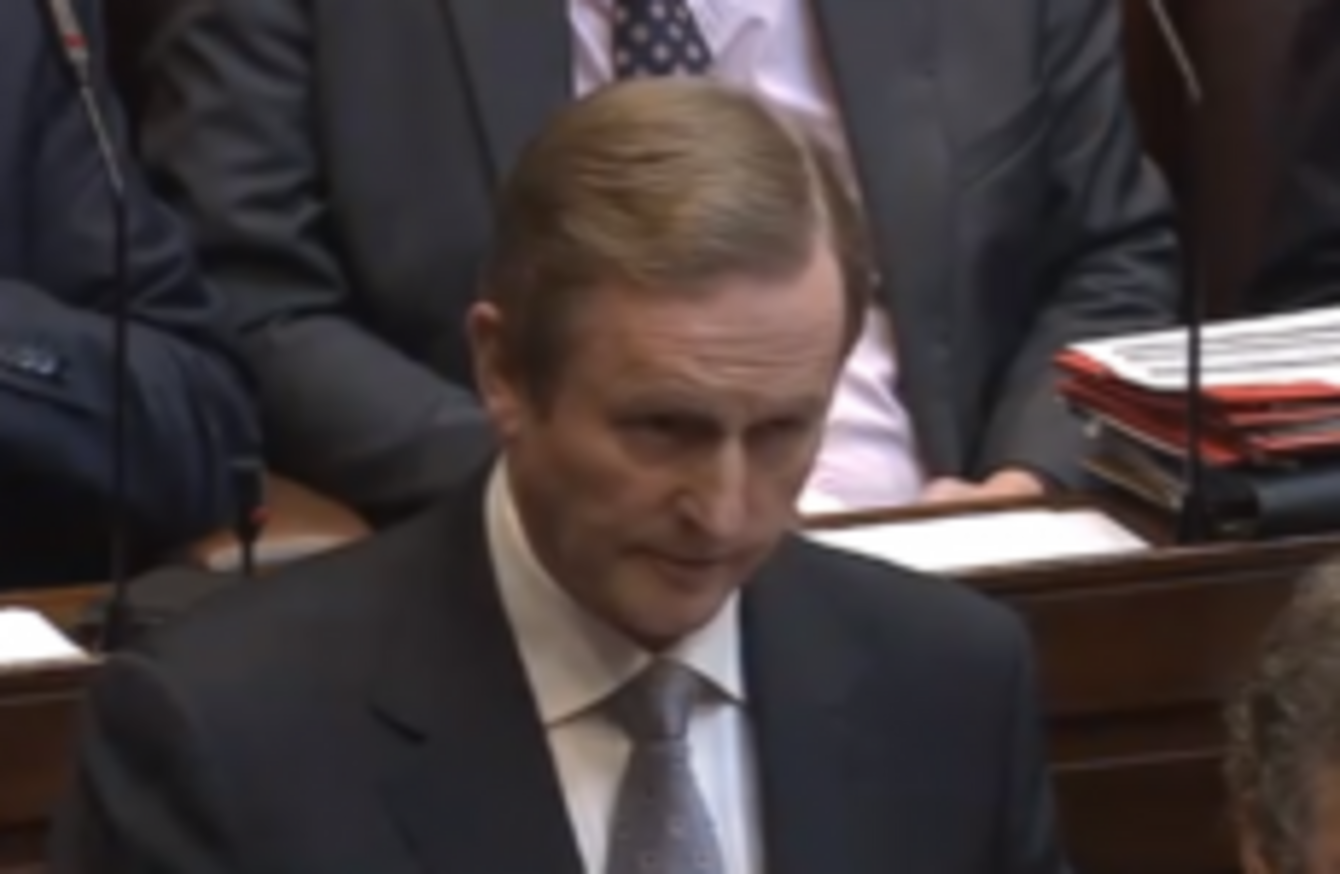 Enda Kenny made the new revelations in the Dáil today
Image: Screengrab via Oireachtas TV
Enda Kenny made the new revelations in the Dáil today
Image: Screengrab via Oireachtas TV
Updated 5.55pm
THE TAOISEACH HAS told the Dáil that the Irish Prison Service has informed the Minister for Justice that conversations between dozens of prisoners and their solicitors were "inadvertently recorded".
Speaking during Leaders' Questions, Kenny said that Alan Shatter "received a communication" from the Prison Service during today's Cabinet meeting with details of what happened and added that he has ordered a report on the matter.
He said that the Prison Service became aware last Wednesday, 26 March, that there was "an anomaly" whereby 84 prisoners who "had more than one solicitor in the system" had conversations with their solicitors "inadvertently recorded" because they were "outside the restriction parameters".
It is believed the recording of conversations took place in cases where inmates had two solicitors but only one was identified to prison authorities and that the person not identified as a solicitor had their conversation with a prisoner recorded.
The Prison Service established last Friday, 28 March, that 84 prisoners are affected by this recording. Shatter first became aware of the issue today at Cabinet when correspondence was passed to him.
Tender issued
Kenny said that the Prison Service has taken steps to rectify the matter "immediately" and said that he has asked Shatter to get a report from the Prison Service on "how this happened".
Government officials are examining whether the terms of reference for the Commission of Investigation set up to examine the recording of calls in and out of garda stations should be extended to include the developments in the Prison Service.
The Irish Prison Service said it was not immediately in a position to confirm what Kenny had told the Dáil. A statement is expected later.
The Prison Service issued a tender last month "to provide maintenance and support and software assurance for the Telephony Management System for non-staff in the Irish Prison Service, comprising of the end-user DiaVox client (Diavox Technologies Inc) and the NICE recording system (NICE Systems)".
The NICE recorders were also used by An Garda Síochána to record phone calls.
A tender issued in 2009 for an overhaul of the existing system, valued at more than €750,000, also detailed a number the "recording features".
These included "remote and on-site playback" and call monitoring.
This tender also details how the recording system would link back to the Prison Service HQ.
A diagram from the tender showing how one overhaul of the system worked:
- additional reporting from Nicky Ryan
First published 3.45pm