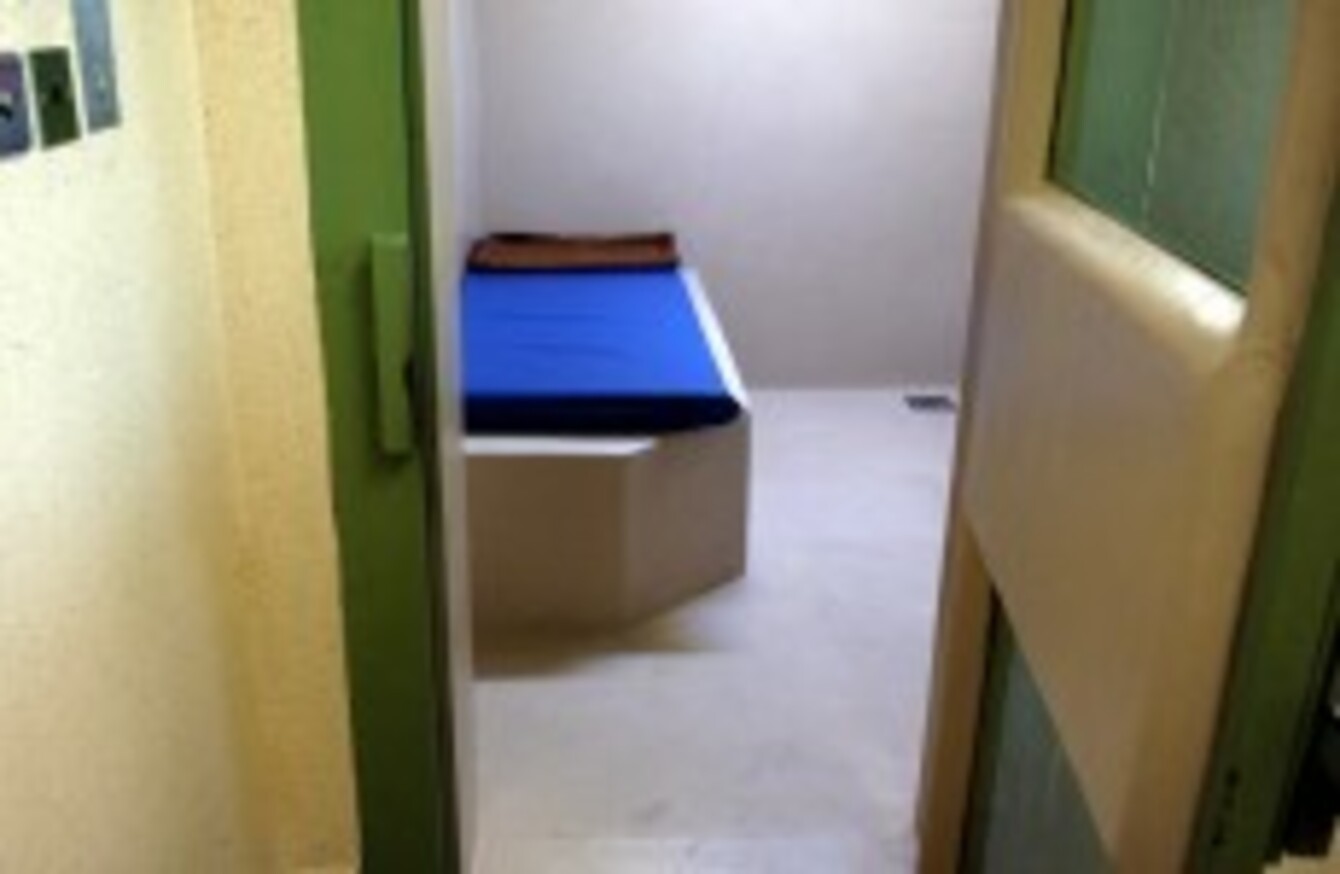 An observation cell at Cloverhill Prison.
Image: Graham Hughes/Photocall Ireland!
An observation cell at Cloverhill Prison.
Image: Graham Hughes/Photocall Ireland!
IT WAS REVEALED at the Prison Officers Association this week that one prisoner who had a record of 150 assaults on prison officers received a cake for his birthday just weeks after his latest attack.
The POA said the cake was bought with money given to the prisoner by management at the prison.
However, the Irish Prison Service has come out against the allegation. The Director General of the Irish Prison Service Michael Donnellan said:
"The information I have from the governor is that this prisoner made a shop order for some toiletries. He also, as part of that order, ordered a Swiss roll for €1.99 and two bottles of coke which were delivered to him through the shop."
When asked if such privileges should not be withdrawn after serious attacks on prison officers, Donnellan said:
I can absolutely see that, I can see from the optics that looking back now it might have been done differently. The reality is that's what happened, that was authorised by the governor.
"Privileges can be withdrawn and our rules allow us to do that. But what we try to do is run a humane prison service.
"Individuals like this would be put in an isolation block but part of that is to encourage them back onto the road, so people would have a limited shop order on humanitarian grounds, and those are the facts of the case. He didn't get delivered with a birthday cake."
'Prisoners rewarded for stabbing'
General Secretary of the Prison Officers Association John Clinton said "prisoners who cooperate within the system and are going in and doing what they should be doing should be fully supported.
However, when somebody comes out and stabs a prison officer and is receiving an award, that's sending out the complete wrong message.
"It's totally unacceptable to prison officers who are going into work everyday that somebody could stab them and then be rewarded, that's absolutely ridiculous.
"You wouldn't go into court and be rewarded, you'd receive a sentence and that's what we're asking for here – a mandatory sentence for prisoners that are attacking prison officers."
Donnellan refuted allegations that the Prison Service was too soft on inmates that attack officers, saying:
"No, we take a very hard line and any assault on a prison officer is a criminal offence, is investigated by the gardai and prosecuted by the gardai through the DPP. And the criminal law is very clear on this.
"Any assault on a prison officer can carry a sentence of up to seven years, and can run consecutively to their current sentence. That is the current law. So every assault on a prison officer is immediately investigated by the gardaí and they bring the necessary charges."