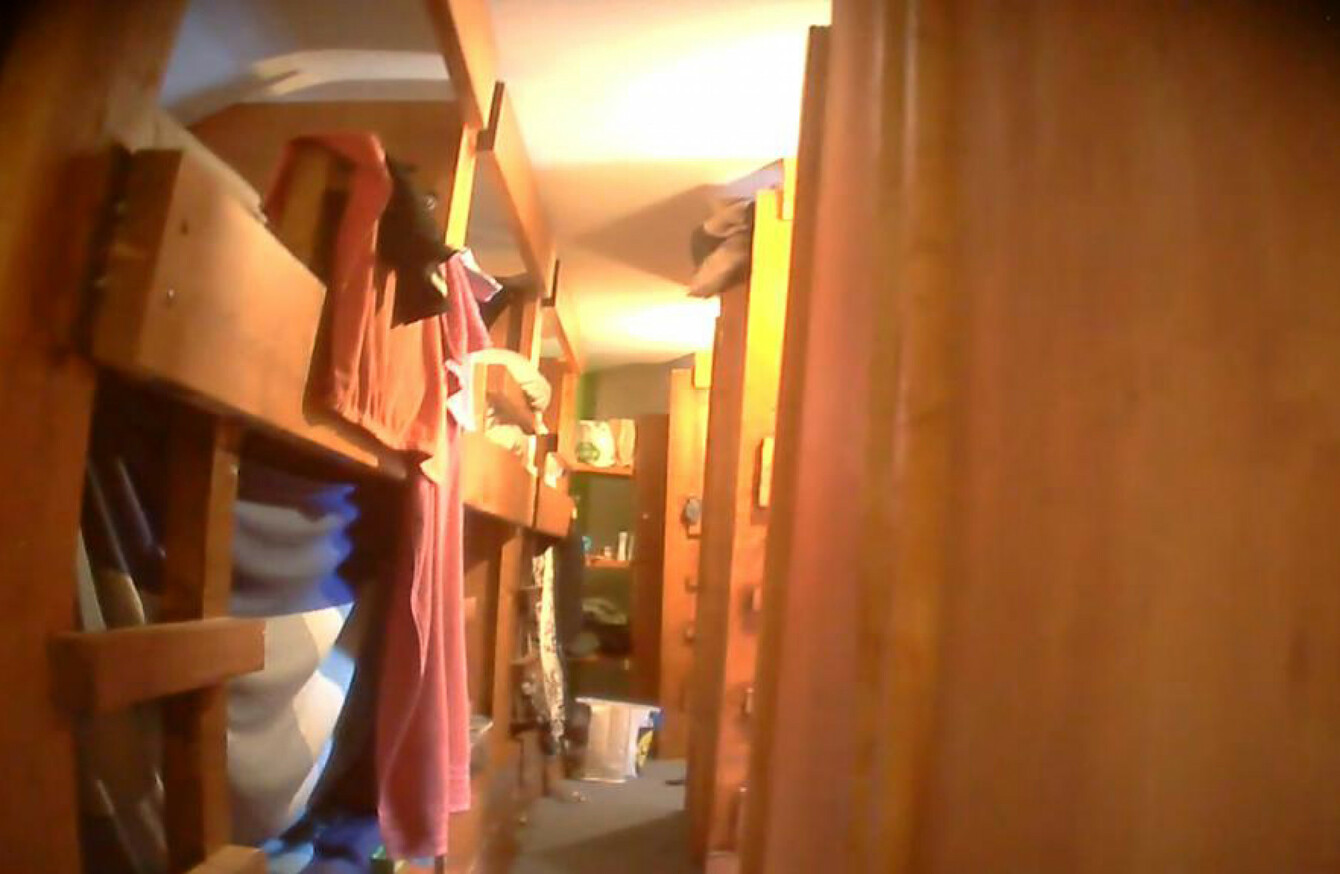 Bunk beds in a property in Kilmainham, where 16 people were sharing a single room.
Image: RTÉ Investigates
Bunk beds in a property in Kilmainham, where 16 people were sharing a single room.
Image: RTÉ Investigates
A NEW DOCUMENTARY looking into standards of rental accommodation in Ireland has found widespread breaches in terms of health and safety standards across the sector.
Dublin Fire Brigade closed three buildings being used as accommodation following an undercover investigation by RTÉ Investigates.
The report aired tonight on Prime Time. However, there were concerns that the programme would not be shown this evening after a court action was taken trying to halt the broadcast. That application was withdrawn this afternoon.
Researchers found dangerously overcrowded accommodation in sub-standard buildings with multiple fire safety breaches throughout the course of a six month investigation.
Three multiple occupancy buildings with more than 120 tenants between them have since been closed after inspection by Dublin Fire Brigade.
An emergency evacuation was ordered by the High Court for one such property – located on Old Country Road in Crumlin, Co Dublin.
According to an RTÉ court report from October, fire safety officers inspected the Crumlin property.
The inspections found multiple breaches of fire safety regulations at the property. Officers identified that there were no escape routes or fire alarms, and found a number of other fire safety issues.
The undercover investigation by RTÉ Investigates found that the building had been converted into multiple occupancy bedrooms, with a total of 40 tenants living in the building. Bedrooms had on average four beds in each room.
Later, a section of the building was further converted into extra rooms, with another 24 tenants occupying. This brought the total number of tenants in the building to 64.
RTÉ said that a resident contacted Dublin City Council on numerous occasions in relation to breaches in fire safety standards in the building, but that the council was slow to respond.
When contacted by RTÉ for a statement around this, the council declined to comment.
Other properties 
Another property which was examined by RTÉ Investigates was located in Kilmainham in Dublin 8 – this building was the subject of this week's High Court proceedings.
The court action was brought by Green Effect Technology Limited T/a Global Academics, and its directors Jason Orr and Joshua Cantwell, against RTÉ and journalist Barry O'Kelly regarding the airing of tonight's programme.
The company had sought an injunction restraining both RTÉ and O'Kelly from broadcasting or publishing anything about the applicants, their business, their economic relations and any references to their property until all investigations had been concluded by all relevant authorities.
The injunction was sought on grounds including the broadcast would completely undermine the applicant's rights, including their right to privacy and right to earn a living.
They also claimed the broadcast would portray them as being unquestionably guilty of certain offences in respect to the property it has used as an office and had previously used as temporary student accommodation at 79 Old Kilmainham Road, in Dublin (the property featured in tonight's programme).
In a sworn statement to the court Orr said the company provides services to foreign students visiting Ireland such as information and orientation and language services.
Orr said the company was not involved in the provision of medium term or long-term accommodation. It claimed some students had stayed at the premises on a short-term basis.
Last August the company received a warning letter from Dublin City Council that said that an unauthorised development had taken place. Following an inspection of the building by Dublin Fire Brigade in September, the premises was vacated by 11 October.
In early October it was contacted by RTÉ saying it was compiling a report in the rented accommodation sector, and that there was an immediate danger to the welfare and safety of tenants at the building.
In reply, RTÉ and O'Kelly denied the claims and said there were no grounds for the court to grant the injunction.
Facebook ad 
In a sworn statement, Barry O'Kelly said while conducting research for the programme he came across an advert on Facebook in Portuguese advertising rental accommodation at 79 Old Kilmainham Road.
Prices of €30 per night, €100 per week and €350 per month were quoted.
As a monthly figure had been quoted he said he did not believe the accommodation being offered constituted short-term accommodation and the property was being advertised to the public at large and not simply students.
O'Kelly said he and an undercover reporter, known as Mary, viewed the property.
It appeared to be like a hostel, and was packed with bunk beds capable of sleeping 40 people in three bedrooms.
One bedroom had 16 beds, while other bunkbeds were located in the corridor.
He said the undercover reporter paid €200 in advance for two weeks accommodation.
O'Kelly said the property was cramped, overcrowded, uncomfortable and only had one smoke alarm per room. It was not fitted with appropriate fire doors and contained numerous fire hazards.
This application for an injunction was withdrawn earlier today at the High Court.
23 women 
The third property inspected by the documentary was located in Rathmines. A former three-bed family home, it had been converted into multiple occupancy rooms.
A total of 23 women lived at the property, sharing one shower and two toilets between them.
Private rental 
The programme also found issues with properties occupied by single people and couples in different areas around Ireland. Widespread issues included:
Mould
Damp
Absentee landlords
Fire safety breaches
Inadequate space
Bad odours
Leaking
A Freedom of Information request from RTÉ Investigates showed that only 4% of registered rental properties in Ireland were inspected to ensure they were compliant with regulations last year.
Of these, 69% failed to meet standards. The investigation found widespread failure in inspection rates across different local councils.
In Kilkenny, Louth, Offaly and Limerick 100% of investigated properties failed to meet standards.
Just 3% of all private rental tenancies inspected in Cork city met the required standard.
Commenting on the widespread issues in the sector, Aideen Hayden – chairperson with Threshold – said that the situation in Ireland was becoming "significantly worse".
"What we are seeing, the case studies we are seen in the programme illustrate that the situation is becoming significantly worse," she said.
"It is a failure of regulation and it is a failure on the part of those people who have responsibility for regulation and it is a failure on the part of the government in relation to funding the enforcement of this regulation.
These are situations that should not be tolerated in a humane society and it is an absolute failure on our part as a people.
- With reporting from Aodhan O Faolain