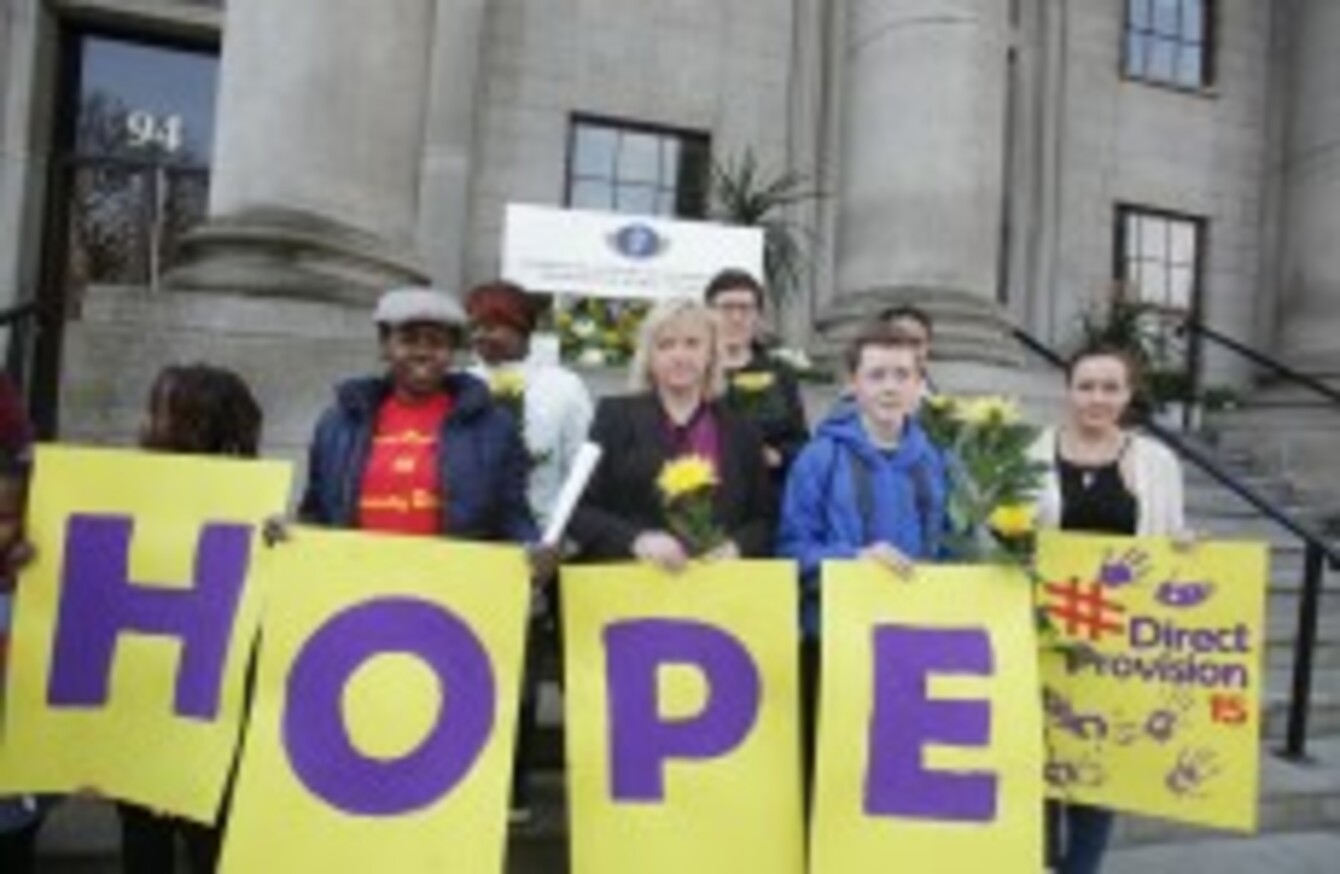 A protest outside the Department of Justice for the victims of Direct Provision in April
Image: Leah Farrell/Photocall Ireland
A protest outside the Department of Justice for the victims of Direct Provision in April
Image: Leah Farrell/Photocall Ireland
IRELAND'S DIRECT PROVISION system that has seen asylum seekers lose years of their lives could be set to change.
Minister for Justice France Fitzgerald has said that it is now the aim of the government to streamline the current system and make it so that cases are dealt with in a period of six months to a year.
Speaking on RTÉ Radio's This Week programme, she said, "[The] system need to be more effective and efficient. Unlike the rest of Europe we have a very complicated system with many levels."
This follows the publication of a report by a working group into the asylum and protection process offered in Ireland.
The nexus of the report was that no person should have to remain in the Irish Direct Provision system for more than five years.
The minister stated that these extensive delays are down to the complicated system that exists in Ireland which involves five layers of processing, creating the possibility for five judicial reviews. The aim is to cut this down to two.
More than 3,600 asylum seekers are currently in Direct Provision centres around Ireland with 1,500 of these having been in the system for more than 5 years.
Direct Provision accommodation has been a feature in Ireland for the past 15 years. In May, it was found that one individual had been living within the system for 11 years.
In a statement this afternoon, the Irish Human Rights and Equality Commission has issued a statement urging the implementation of the working group's recommendations.
Chief commissioner of the group, Emily Logan, said, "The introduction of a time limit of 12 months for decisions on protection status, along with the right to work for new applicants if a decision is not made within nine months, forms the overarching recommendations of the working group report."
Fitzgerald went on to say that the country requires a fair asylum assessment system that is also "rigorous" and that will send individuals who do not meet the required criteria back to their countries of origin.
On the potential for an increase in deportations as part of the introduction of a new system, she said:
Many people say you should have a strict system, and yet when they hear about individual cases, they always want to make the individual case for the particular circumstances.
I think what we need to have in place is a system that is quick, that is efficient, that is fair, but equally, if people come illegally into this country, they should not be allowed to stay.