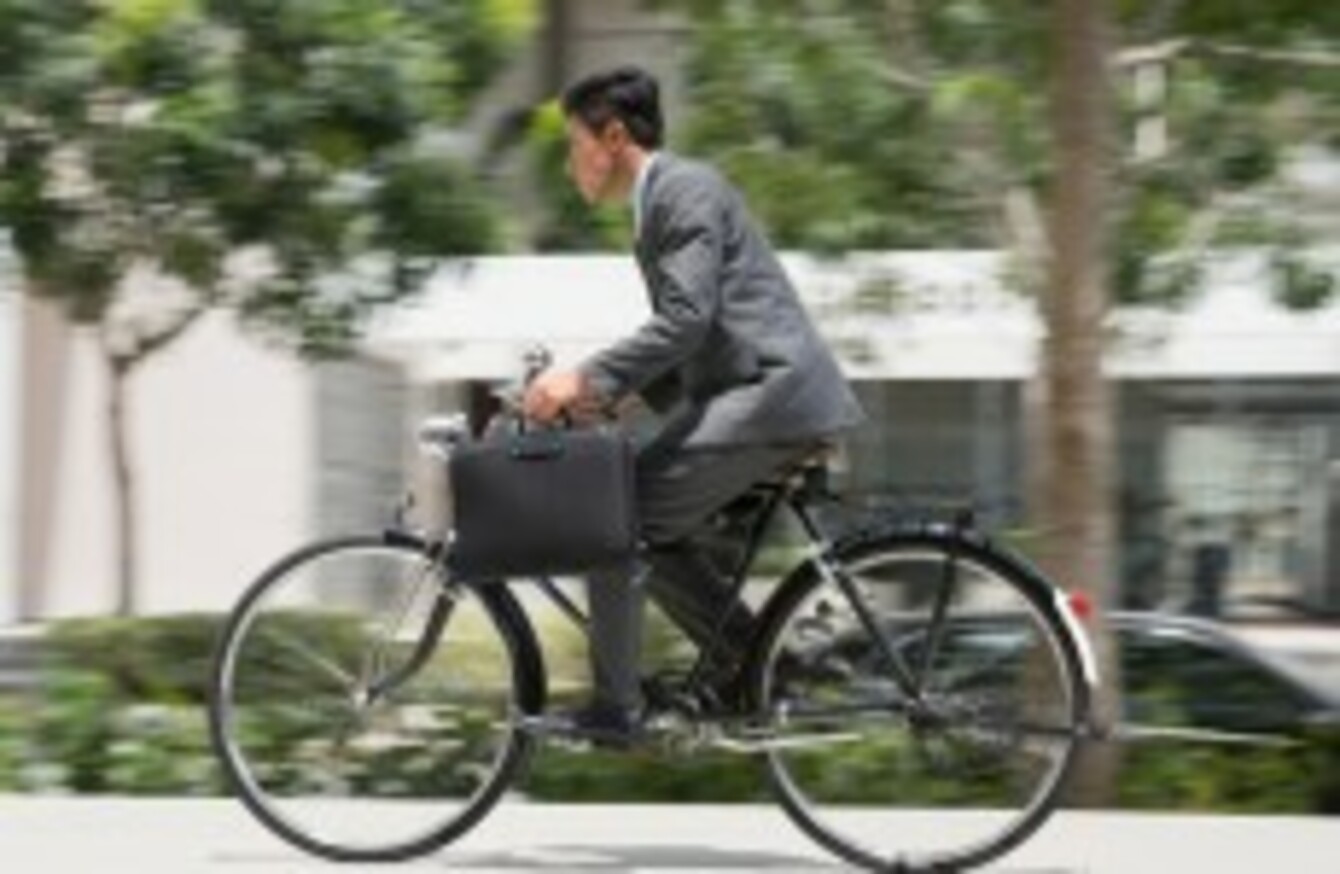 Updated 16.45pm
DUBLIN IS SEEN as an unsafe city for cycling – and that perception comes with an under reporting of incidents.
While the number of Dublin residents cycling to work has increased over the past six years, new research finds that the perceived lack of safety is holding people back from jumping on that bike.
According to Dr Brian Caulfield, Assistant Professor in Civil Engineering in the School of Engineering at Trinity College Dublin, one of the main problems in tackling cycling safety is the under-reporting of accidents.
Unsafe
Speaking following the publication of a new Trinity College study, he said cycling in Dublin is generally perceived as unsafe, by both experienced and inexperienced cyclists.
Comparing figures from 2005 to 2011, he said the Road Safety Authority (RSA) figures and hospital data do not correlate.
The RSA recorded 2,133 cycling injuries (2,000 minor and 133 serious), yet hospitals logged 6,565 episodes of care for cyclists.
However, the RSA states that these episodes includes falls and other incidents that are not classified as road traffic collisions within the hospital system.
They said that in the period 2005 to 2011, hospitals recorded 6,565 emergency in-patient episodes of care for cyclists. Of these, 2,304 (35%) were recorded as traffic injuries.
"Cycling in Dublin may not be as safe as we thought," he said, adding that there is a real turf war taking place between the different modes of transport in the city.
"When people get in a car accident they report it to their insurance company or the gardaí, but cycling accidents are typically going under reported," he said. 

The RSA told TheJournal.ie that in general it is widely acknowledged by road safety experts throughout the EU that injury collisions are likely to be underreported to some extent, particularly serious injury collisions.
However, the RSA said they are working on proposals to statistically match collision data and hospital data to identify any collision related injuries from collisions that are not recorded to the gardaí. This is an action in the current Government Road Safety Strategy.
According to their figures, the number of cyclists injured increased from 395 in 2011 to 630 in 2012. This represents the highest number of cyclists injured in a given year in the last 10 years.
Caufield suggested that there are ways to get more accurate data of cycling accidents. "In Portland, there is an app that cyclists can use when they are in an accident or have had a near miss. This logs the street that it happened on and can be a great use of information to identify if there is an issue in a particular area," said Caulfield.
The study finds that Dublin has made "significant strides" to become a cycling friendly city and that the "attractiveness of cycling can be changed with a mix of new infrastructure and promotion of cycling".
More people with higher incomes – who have their own cars – are choosing to cycle to work.
#Open journalism No news is bad news Support The Journal

Your contributions will help us continue to deliver the stories that are important to you

Support us now
Higher professionals
The TCD research also found that there has been an increase in the percentage of people with high incomes and access to cars who are now choosing bikes to get to work instead.
According to Caulfield, said socio-economic groups such as employers and managers are cycling more.
From 2006 to 2011, there has been an increase of 4% in this socio-economic bracket, while there has been a 12% rise in higher professionals cycling to work.
He said that a lot of this is due to the schemes such as the 'Bike to Work' and 'Dublin Bikes' schemes, and also the construction of segregated cycle lanes and other traffic-calming measures, such as 30 km/h zones.
However, he said there is no "silver bullet" for getting more people on their bikes. "A change of attitude in cycling only comes over time," said Caufield.
He said the recession was also a reason not to be discounted, saying "as the cost of public transport and the cost of fuel rises, more people looked to cycling. It's cheaper and more efficient," he said.
However, there is still room for improvement in encouraging more people to bike to work.
Caulfield said:
One of the key findings of this research is that while some of the policies for encouraging cycling seem to be effective, perhaps more targeted policies should be adopted. A similar study in the UK assessed the success of a cycling policy launched in 1996 that aimed to double the amount of cycling. That study concluded that more targeted approaches are needed to encourage a modal shift to cycling and that there is no 'one size fits all' policy.