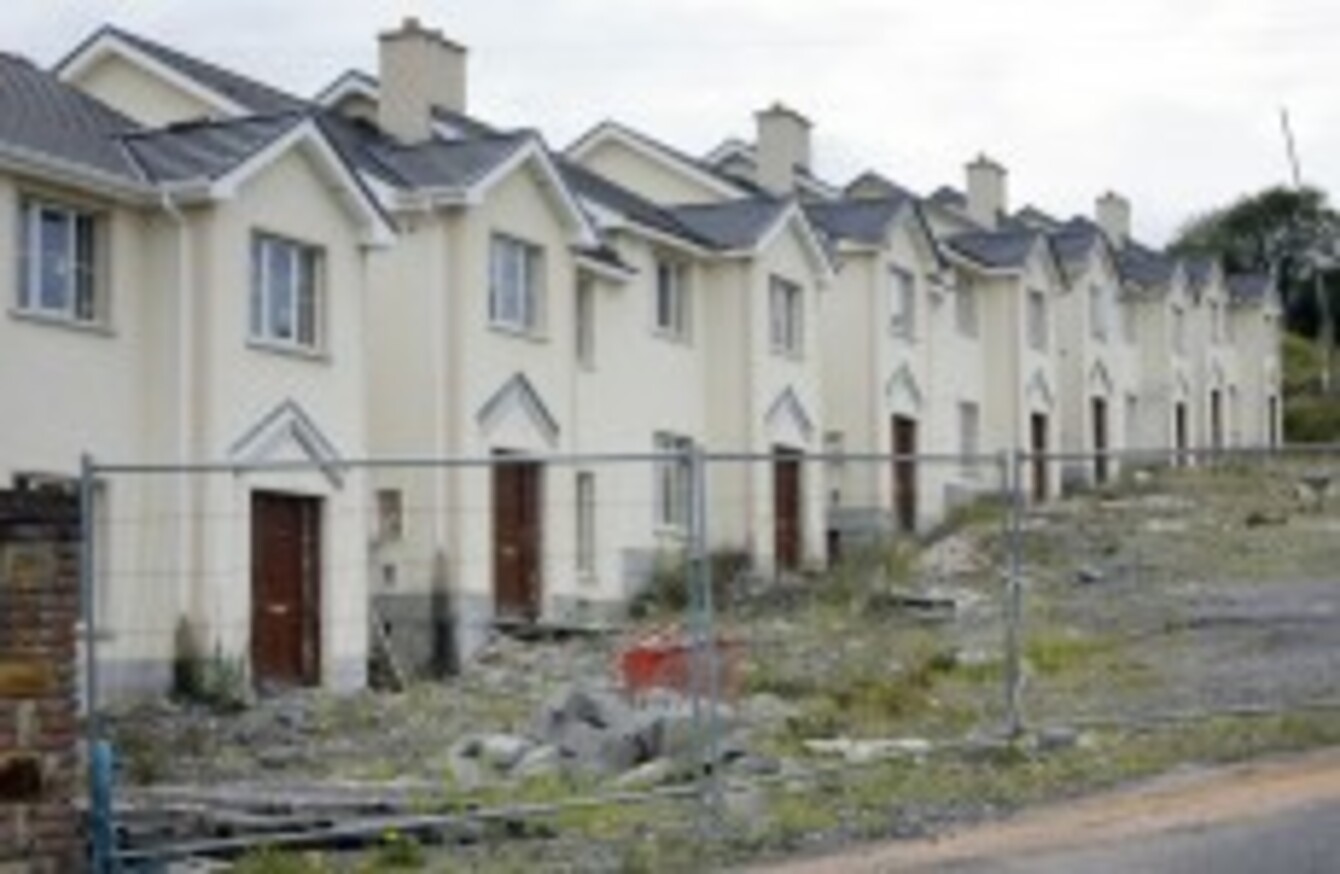 A ghost housing estate Cnoc an Iuir, Drumshanbo, Co. Leitrim
Image: Mark Stedman
A ghost housing estate Cnoc an Iuir, Drumshanbo, Co. Leitrim
Image: Mark Stedman
PROGRESS IS BEING made on ghost estates around Ireland, according to the Minister with responsibility for housing and planning. Jan O'Sullivan.
Last week it was announced that 12 apartment blocks outside Longford within a ghost estate are to be demolished.
Minister O'Sullivan confirmed that further estates could be demolished or partly demolished, but said that work is being done on estates that can be saved.
A new report from Department of the Environment says there are more than 2000 ghost estates, some of which present serious public safety problems.
Progress
Speaking on Morning Ireland today, Minister O'Sullivan said the estates "vary around the country".
She said that since the amount of ghost estates was established, a coordinating committee was set up with representatives from all the interested parties, such as the local authorities, NAMA, housing agencies, financial institutions and residents.
"What we are doing really is working through all those individual estates and categorising them," said Minister O'Sullivan, explaining that once that has been done then action will be taken to make them liveable in or see what else can be done about them.
She said that in some situations the estates "may not be viable and will go back to agricultural use".
I expect that there will be some that have to be demolished or part of some.
Safety issues
The government has set aside €5million to address safety issues at these estates.
So far, 211 estates are now completed, and there is work ongoing on 500, while NAMA are also working on over 100 ghost estates.
A further report on the estates is due in the autumn.
Minister O'Sullivan described the estates as a "legacy issue from the collapse of the Celtic tiger". She described it as an "ongoing process" and said that the resolution they want to achieve is to make as many as possible viable.
It will take a year or more to resolve many of the more difficult ones
Portarlington
Senator John Whelan described an unfinished apartment block in Portarlington as an "awful eyesore" in the town.
Margaret Guijt-Lawlor from Portarlington, who was involved in the campaign to pull the building down, spoke to TheJournal.ie about the issue.
She said that they had been campaigning for two years and that the building should "never have gotten permission". She described the recent progress on the issue:
The land is currently being greened over. We came in afterwards and planted some of it up. That whole area is a bit of an issue because only 12 of the houses were sold at the time, affordable housing and council housing. So it's a tricky estate. But at least that building came down – it was dangerous in the sense that it was open and children could get into it, it should never have gotten planning permission and it was an eyesore.
- Additional reporting Susan Ryan