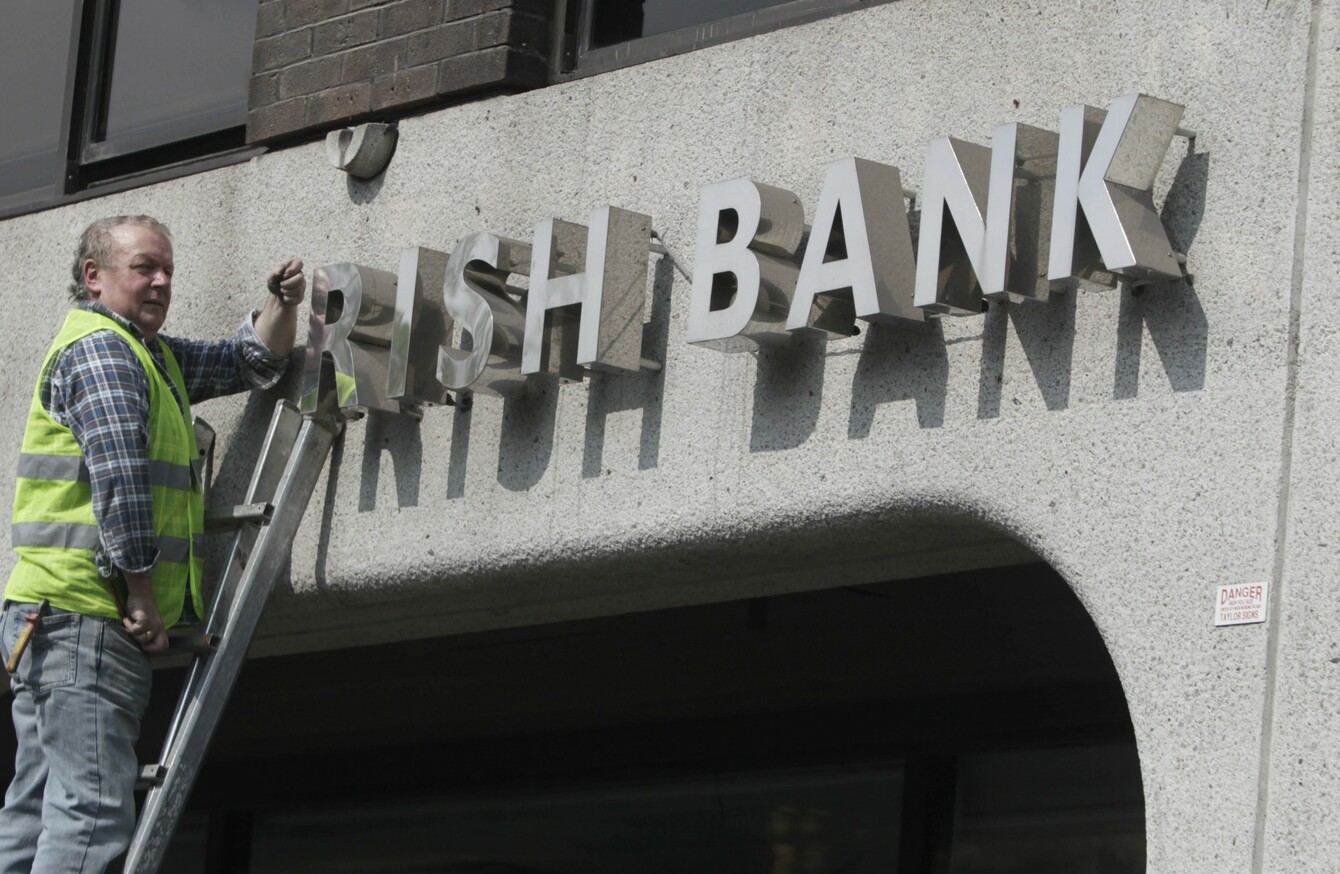 A workman removes the signage from Anglo Irish Bank headquarters at St Stephen's Green in Dublin
Image: Niall Carson/PA Wire
A workman removes the signage from Anglo Irish Bank headquarters at St Stephen's Green in Dublin
Image: Niall Carson/PA Wire
A SUPREME COURT challenge by independent TD Joan Collins against the constitutionality of the €31 billion promissory note deal is set to be heard today.
The Dublin South Central TD lost her High Court challenge in November 2013 and the case resumes today before the six-judge Supreme Court after two previous hearings in February.
Collins' challenge claims that legislation behind the deal is unconstitutional because it gave the Minister for Finance open ended power to approve the payments without Dáil approval.
In 2010, a €31 billion promissory note given to Anglo Irish Bank and Educational Building Society essentially provided IOUs to the institution allowing it to borrow funds from the Central Bank.
The notes were later replaced and their repayment schedule lengthened but the legality of the deal was challenged, first by David Hall of the Irish Mortgage Holders Organisation and then by Deputy Collins.
Although Collins was not successful in her High Court application, the State was ordered to pay 75% of the legal costs after the judge noted the constitutional importance of the case. The remaining 25% of the costs were to be borne by the deputy and her supporters.
Collins says it was a "serious decision" to decide on a Supreme Court appeal because it's unclear whether the costs ruling will extend to the fresh challenge.
"It was a serious decision that we had to make but we felt that it was an important decision that had to be clarified by the Supreme Court," she said.
Collins has been working closely with the Ballyhea Says No group which has placed the the bondholders issue at the centre of its own campaign.