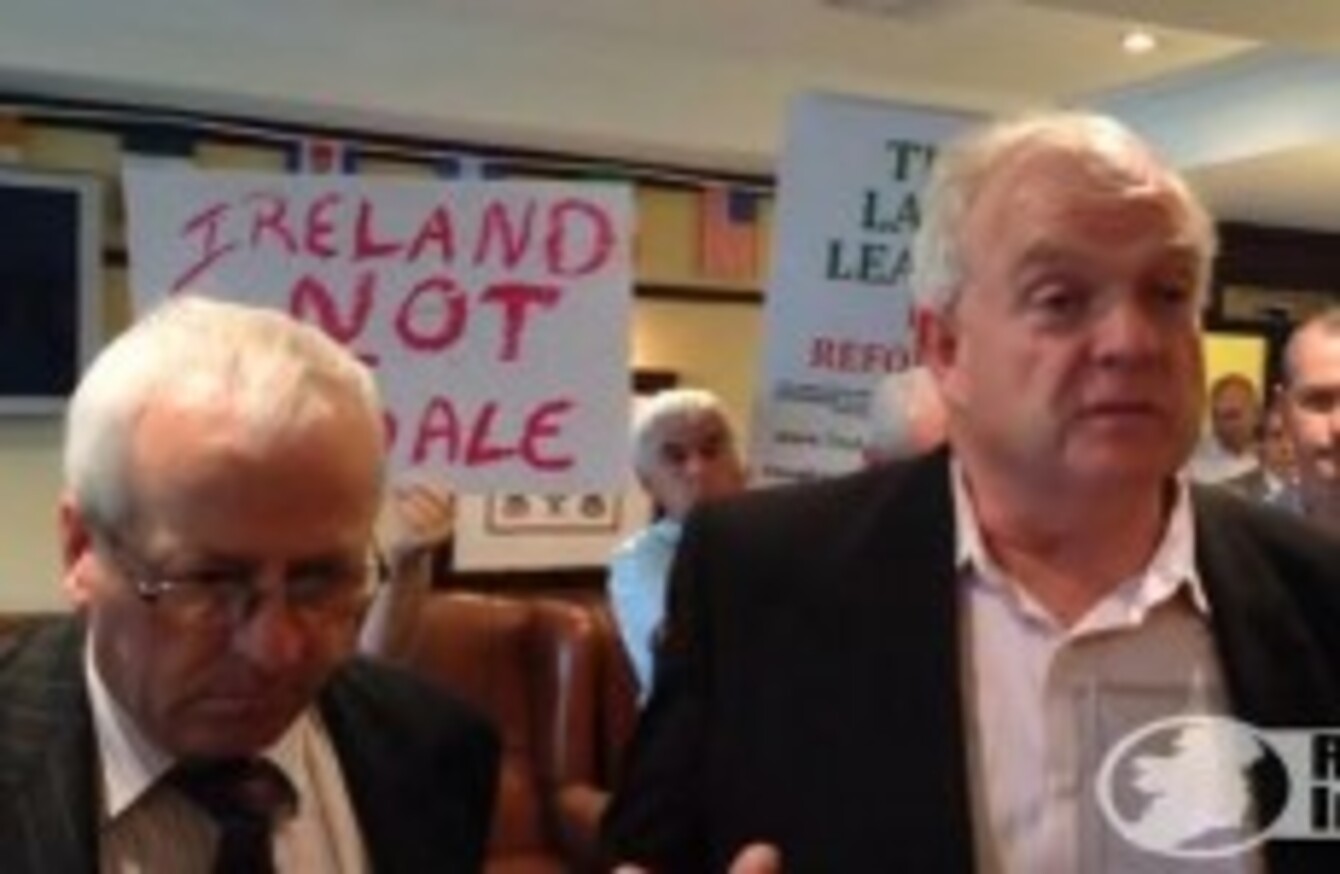 Mattie McGrath TD and activist Jerry Beades.
Image: Reality Ireland/Youtube
Mattie McGrath TD and activist Jerry Beades.
Image: Reality Ireland/Youtube
Updated at 11.15am
AROUND 100 PROTESTERS from the 'Land League' organisation forced the cancellation of an auction at a hotel in west Dublin yesterday.
The group, accompanied by independent TD Mattie McGrath, entered the Bewley's Hotel at Newlands Cross carrying banners as the sale was due to go ahead.
The protest group was set up earlier this year with the aim of preventing the eviction of residents from their homes.
A video shot in the hotel and posted online by the group shows Jerry Beades, one of their main organisers, telling supporters the auction had been cancelled due to health and safety concerns.
Gardaí also responded to the scene.
The group claims some of the lots due to be sold in the auction were repossessed homes and farms.
McGrath told the protesters "We have to stand together on these issues. If we don't we'll go nowhere".
Beades, a former member of Fianna Fail's ard chomhairle and a well known developer, has also led protests at a number of other auctions recently — most notably last summer when he succeeded in having an Allsop event at Dublin's Shelbourne Hotel called off.
Yesterday's auction, organised by Ganly Walters, is yet to be rescheduled.
"We're taking instructions from our clients," Managing Director Robert Ganley told TheJournal.ie.
Regarding the protest group's claims, he said they were "completely untrue".
There were no family homes and no family farms for sale.
He said he would be happy to meet with McGrath to discuss the group's concerns, and said a previous meeting that had been mooted hadn't gone ahead because one of the firm's partners had been away.
"The hotel are reviewing the incident on CCTV and we'll have further discussions before deciding on the way forward," Ganley said.
First posted at 9.40am.