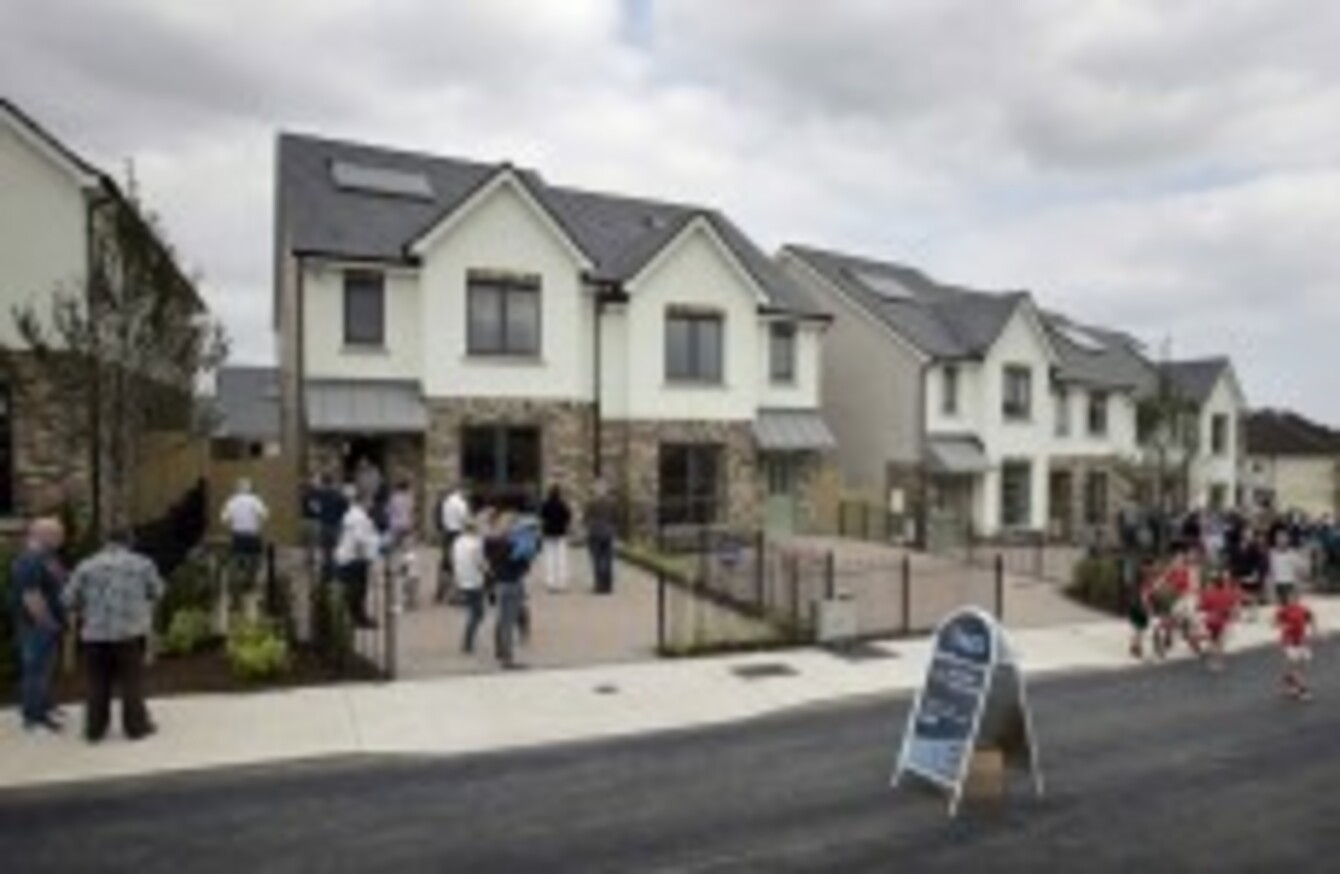 The Millers Glen estate in Swords.
Image: Mark Stedman/Photocall Ireland
The Millers Glen estate in Swords.
Image: Mark Stedman/Photocall Ireland
Updated 7.50pm
A SENIOR GOVERNMENT adviser on housing said today he expects the recent surge in house prices to slow down, describing the rise as a natural consequence of a property crash.
The most recent figures from the CSO show the cost of buying a home in Dublin is almost 25 per cent higher than this time last year.
A major shortage of supply in urban areas, which is at its most acute in the capital, is being blamed for the nosebleed prices in the city.
Writing in this morning's Sunday Independent, Conor Skehan, who heads the State's advisory body on housing, the Housing Agency, says that what we're experiencing does not represent a crisis.
So, we need to build houses, and we need to build them quickly. But this is not a crisis and is certainly not a reason to be stampeded into rash and perhaps regrettable decisions.
Later, he writes:
Property prices are always increasing, as they always do after a crash. But this increase has a natural braking mechanism that is already evident — low house prices caused many people to defer selling or moving but as prices increase the number of sales are increasing too.
According to Skehan, "We were experiencing a shortage of houses for sale — not a shortage of houses".
The issue has been under renewed focus in the past week, after photos of house-hunters queuing for days outside a new development in Swords led some to observe that the scenes were worryingly reminiscent of those witnessed at the height of the Celtic Tiger housing bubble.
Tánaiste Joan Burton said yesterday that the Government's Social Housing Strategy would help address the issue of supply.
The Labour leader said that the strategy would "seek to address supply through a more ambitious build programme and increased private sector construction".
While I don't want to pre-empt the final housing strategy, which will have to be agreed by Government, it will also need to set out ambitious pathways to make maximum use of our existing stock and to reform and resource the social housing sector.
New houses
Speaking during the week, Chief economist with Goodbody Stockbrokers warned that new houses won't come on stream quickly enough to alleviate upward pressure on prices.
And he said both the Government and industry needed to step up to the plate to kick start development in the sector, which will have to meet a medium-term demand of 27,000-36,000 units each year.
O'Leary, however, also cautioned against the consensus that a second property bubble is emerging, telling this website…
This is just demand for somewhere to live at the moment…but that's not to say that that psychology might not change.
First published 10.20am