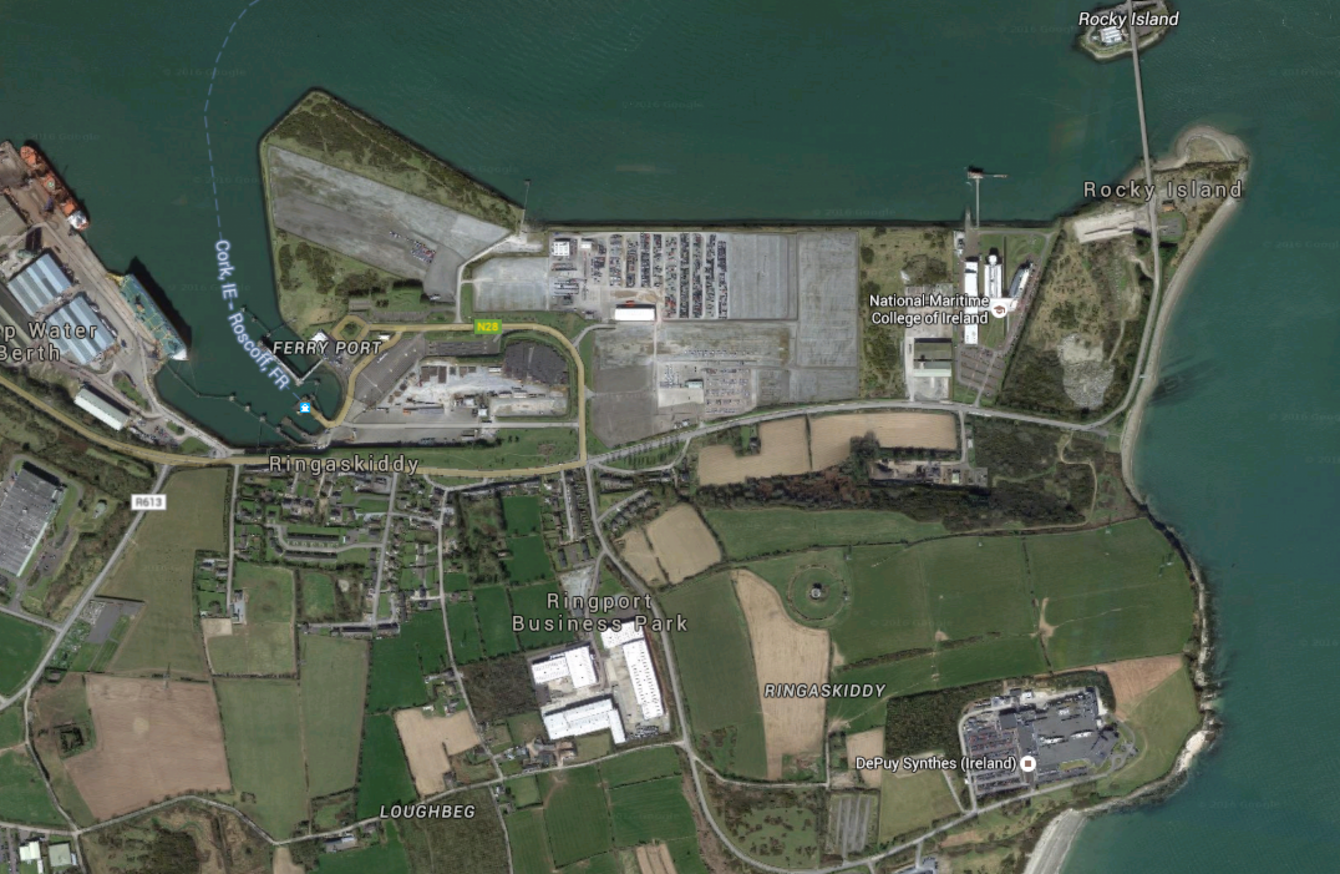 An aerial view of the proposed site at Ringaskiddy.
Image: Google Maps
An aerial view of the proposed site at Ringaskiddy.
Image: Google Maps
EACH WEEK, WE round up the latest news and property happenings around Ireland that might just influence your house hunting decisions.
From high-end hotel expansions faced with neighbouring complaints to new apartments in Sandymount, here are some of the stories that piqued peoples' interests, over the last seven days.
1. Planning granted for Ringaskiddy incinerator
Waste company Indaver has been now been granted permission by An Bord Pleanála to build a waste-to-energy incinerator in Cork Harbour.
The company applied in December 2015 to build the incinerator and the project was met with huge resistance from the community, local politicians and members of PDFORRA, the Defence Forces representative body. It was the third application to build an incinerator on the Ringaskiddy site since 2001.
2. This Maxol garage forecourt may soon house apartments
Irish petrol resellers Maxol has plans to demolish its Sandymount station to meet the growing housing demand. An apartment block of 90 units, mostly made up of two-bedroom apartments along with 23 one-bed and 14 three-bed residences, has been proposed.
With plans to build a drive-through restaurant on the site previously refused in 2010, by the national planning authority, the council has asked Maxol group to clarify some aspects before anything is given the green light.
3. Wicklow council have dubbed this hotel a 'vacant site' – but the owner doesn't agree
Vacant since 2004, La Touche Hotel stands prominently on the Greystones seaside. It has now been placed on the official vacant sites register despite protests from the building owner, Marlet Property Group.
The register was introduced last year in an attempt to prevent property owners from hoarding land that could potentially be developed for housing. Planning permission was granted for the hotel three years ago but no progress has been made since. Last week, Marlet head Pat Crean lost his appeal against the council's decision.
3. Doors stolen from 16th century castle in Co Laois
A castle in Laois has been left without any doors in what appears to be an act of theft. The doors at Ballyadam Castle were first noticed missing by the castle's owner, David Butler, last Saturday. They're said to date back to the 17th or 18th century, are 8cm thick and studded with nails.
"It was a total shock, I was just gobsmacked. I couldn't believe it. My reckon is they're probably down to order for somewhere in France or Spain or England," Butler said. Anybody with information is being asked to contact at Abbeyleix Garda Station.
5. Tesco's newest Irish store is one of the largest yet
This week, Tesco opened one of its biggest stores in the country. It's said that the 60,000 sq ft Tesco Extra in Dublin's Liffey Valley will employ up to 175 people and should keep local shoppers extremely happy due to its 440 parking spaces.
According to Tesco, this new store was built with a carbon-efficient design in mind and features a number of energy-saving additions when it comes to lighting, heating and cooling systems, as well as waste recycling.