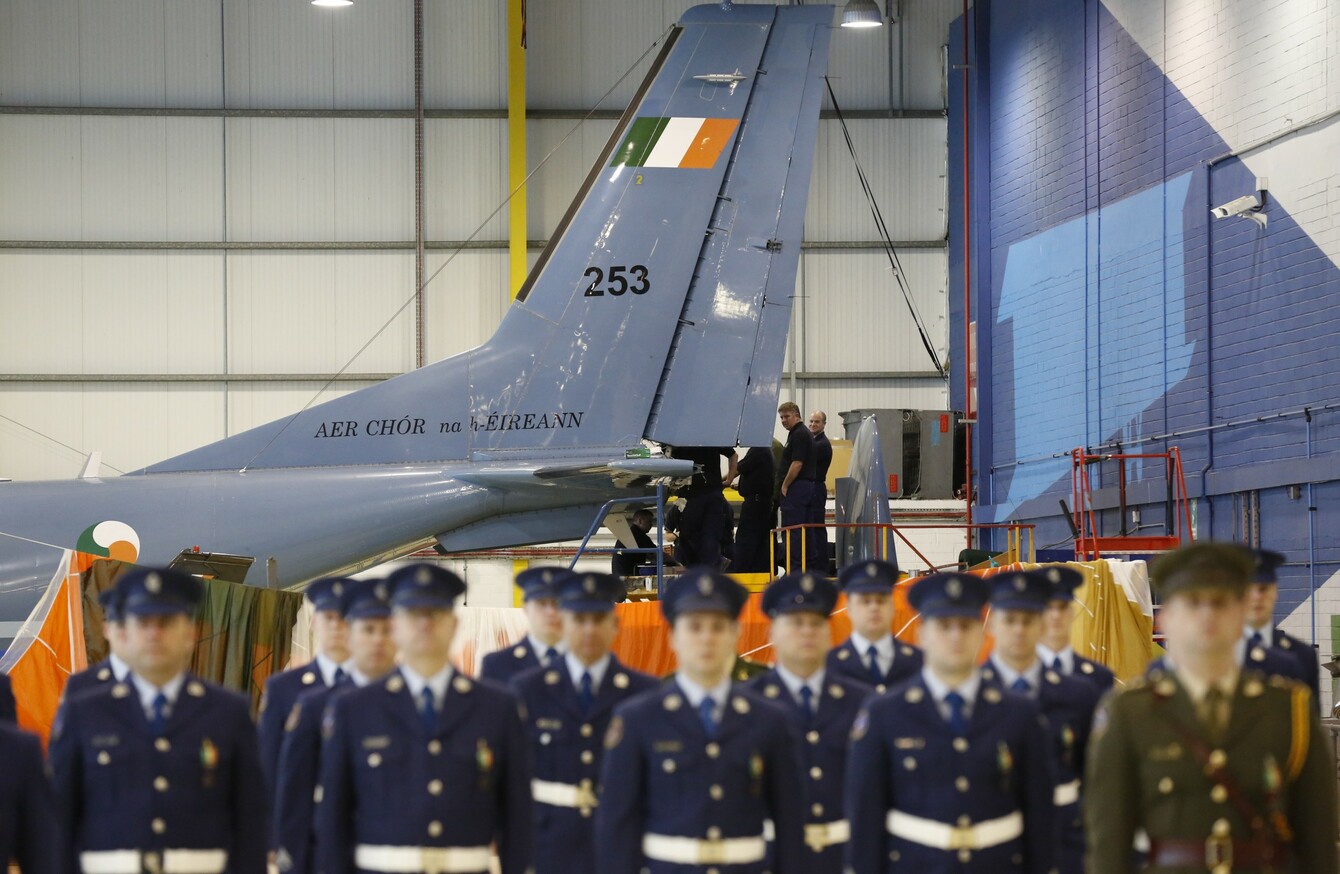 Stock Photo of Irish Air Corps.
Image: RollingNews.ie
Stock Photo of Irish Air Corps.
Image: RollingNews.ie
A DEFENCE FORCES whistleblower has made a protected disclosure alleging that a number of children of Air Corps workers have died as a result of being exposed to toxic chemicals at Baldonnel Airfield.
In a document seen by this publication, a Defence Forces whistleblower has said that he has uncovered "the untimely deaths of at least 20 adults…of which I believe died of illness related to unprotected chemical exposure".
The protected disclosure details the rank and specific illness of each of those who have passed away. We are not publishing these details as to do so would breach data protection rules.
There are also claims that the partners of male members of the force suffered serious fertility issues and a number of miscarriages. Other children, according to the protected disclosure, are living with life-changing illnesses.
It has previously been alleged that the Defence Forces failed to protect workers from exposure to harmful chemicals which have been proven to cause various cancers and autoimmune diseases.
In his address to 17 people, including Ministers, TDs, senators and a senior member of the Defence Forces, the former Air Corps mechanic claims that: "I have come across several personnel whose wives have had multiple miscarriages both in serving and in retired personnel. In one case, a retired member's wife had eight miscarriages in succession. I am also aware of three personnel who shared in an office in 'photo section' (area of Baldonnel's engineering wing) whose wives all had a miscarriage in the same six-month timeframe."
In another worrying claim, the latest protected disclosure details the illnesses contracted by children of those who served in the Air Corps at Baldonnel.
The whistleblower, with the permission of the children's parents, has claimed that :
A boy (5) died during surgery to address a 'malrotated intestine'
Girl (15) died of cancer (Ewing's sarcoma) – her father currently has leukaemia
Newborn girl – Died of ventricular septal defect (heart defect)
One stillborn girl – mother had suffered a number of previous miscarriages
It has been alleged that there was a systematic failure on the part of the Defence Forces which allowed Air Corps personnel be exposed to harmful chemicals during his time at Baldonnel. The Defence Forces, which are facing legal action by some former employees, have said, "Given these matters are subject to litigation, it would be inappropriate to comment further."
TheJournal.ie has obtained a detailed list of chemicals which were purchased for use by the Air Corps. These include the highly toxic Ardrox 666 and Ardrox 670.
Other chemicals which have been used at Baldonnel include:
Hexavalent chromium
Dichloromethane
Trichloroethylene
All these chemicals have been proven to cause serious damage to humans after long-term exposure.
When asked to specifically comment on the new accusations in relation to fertility matters, a statement from the Department of Defence stated: "In September 2016, the Minister appointed an independent third party to review allegations made in a number of protected disclosures relating to health and safety issues in the Air Corps which were received in late 2015 and early 2016.
"Once a final review is to hand, the Minister will determine any further steps required and ensure that all recommendations, whether arising from the work of the Health and Safety Authority or the ongoing protected disclosure review, will be acted upon to ensure the safety of the men and women of the Air Corps. It would be inappropriate to comment in advance of the Minister receiving and considering the report."
Earlier this year, TheJournal.ie reported how a large number of Air Corps members have experienced brain inflammations, Crohn's Disease, cardiac arrest, ulcerative colitis and leukaemia.
The general secretary of the representative association for Defence Force members, PDFORRA's Gerry Rooney, has said that chemicals and their use have been a problem for defence forces worldwide.
Speaking to TheJournal.ie, he said that the representative association is working closely with all the whistleblowers and said that attitudes within the force would have to change if better health and safety practices were to be implemented.
"There's a tendency in military organisations to focus on carrying out the operation at all costs.
"It's fairly clear there was a problem with chemicals and their use."
Sinn Féín TD Aengus Ó Snodaigh has accused junior Justice Minister Paul Kehoe of being indifferent "to the plight of the Defence Forces".
The Dublin South Central TD said: "His claims that the health and wellbeing of members of the Defence Forces are a priority for him, contrasts with his refusal to ban the anti-malaria drug Lariam, despite the fears that it has caused severe mental and physical side effects on serving and retired soldiers.
"Equally serious are the protective disclosures that have been made by retired Air Corps personnel in recent months, whose revelations about a lack of even the most basic health and safety procedures at Casement Aerodrome are alarming. Their claims that exposure to highly toxic chemicals has resulted in serious health complications, and in some cases fatalities, to personnel performing their duties from as far back as the 1990s have largely fallen on deaf ears."
Want to contact me anonymously and safely? Find all the details here.