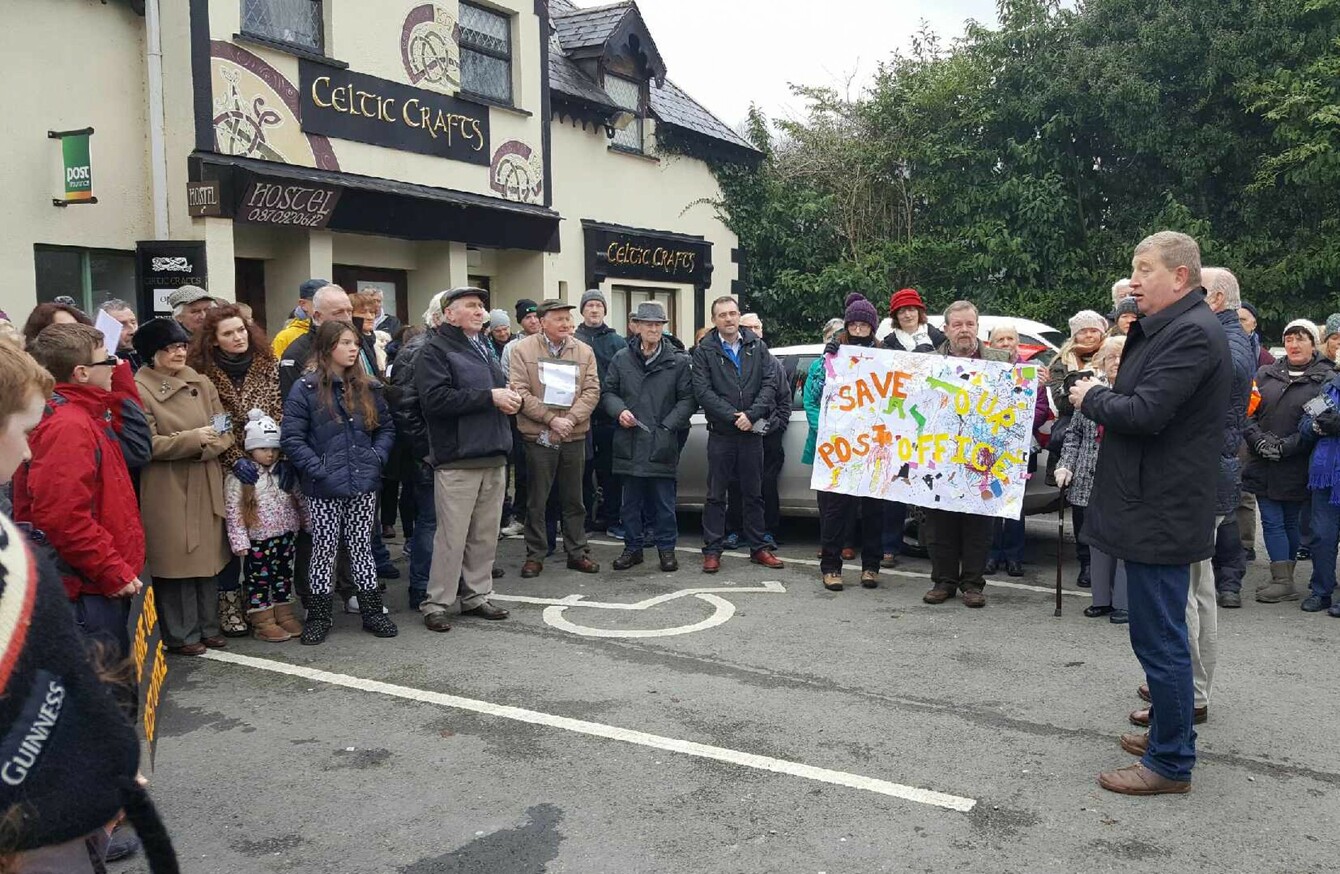 A RURAL POST office in Wicklow is just one of hundreds which are facing closure across Ireland.
Like many, the demise of the Laragh/Glendalough premises has been lamented by locals who consider it to be a communal hub, a place where friends of certain generations meet, a place where many lonely people get their only human contact of the week.
But on Friday, the premises, which is located between two other businesses, will close its doors for the very last time. Protesters, including TD Pat Casey, gathered outside the establishment on Saturday morning to voice their anger at the Government's decision to remove the office from the area.
The area welcomes over 1.2 million visitors every year to the Glendalough region and Casey said he cannot understand how they can close down the office.
"We know times are changing and a lot more people are using email but this post office, in particular, is very important. There's a social aspect here. We need to retain this service," Casey said.
"It's the lifeblood of the community at times. So many people travel to this area every year. We have so many tourists coming through. It can be a busy place. What we need is for someone to take it on. Over a million people visit here every year. If you can't make this rural post office work, then which ones will?"
In demand
However, the case of the Laragh/Glendalough premises is more contentious than a typical post office closure. It has been claimed that there was no public consultation hearing when a notice was sent that it would close in the New Year.
Casey, in a meeting with An Post representatives, said the public never got a chance to defend the service. He believes that, for this reason, there should be a delay in shutting it down.
To raise awareness, campaigners have started a 'postcard' campaign to drum up support. They will be sent, along with best wishes, to recovering communications minister Denis Naughten, who injured himself in a bicycle accident at the start of this year. 
"The end goal here is to retain the service. But at the very least we're looking for a stay. There needs to be more thought put into what happens," added Casey
The Government are not thinking of the social value of post offices. There's no public transport here so people walk to get their pension or what have you. The residents of Laragh, Glendalough and Trooperstown will now have to travel at least ten kilometres to either Roundwood or Rathdrum to avail of postal services. When you consider that Laragh is adjacent to one of Ireland's top tourist attractions the lack of imagination in generating additional services for the post office is breathtaking. If Laragh cannot retain a post office when it has 1.2 – 1.5 million potential customers – then what hope is there for any rural post office?
Laragh is one of 500 post offices which have been deemed as not "economically viable".
John Daly, director of retail operations for An Post, appeared before an Oireachtas committee late last year and stated that 500 post offices are not economically viable. Using the yardstick of economic viability, they do not have a future. Another brutal statistic was reported in the past week.
Since mail volumes hit their peak in 2007, deliveries have dropped 40%. Between 2007 and 2010, 198 post office branches nationwide closed down, with a further 24 net closures between 2011 and 2014, Fora.ie reported last year.
The organisation's own incoming chairman, Dermot Divilly, has admitted its mail business is fast becoming unsustainable.
Nevertheless, An Post hasn't given up on returning its deliveries business to strength, looking to reinvent with new services.
"We're not sitting here doing nothing. We are making every attempt to diversify," Liam O'Sullivan, An Post's director of mails operations, told Fora.
"What we're contending with is a worldwide postal-industry decline; it's not just happening here."