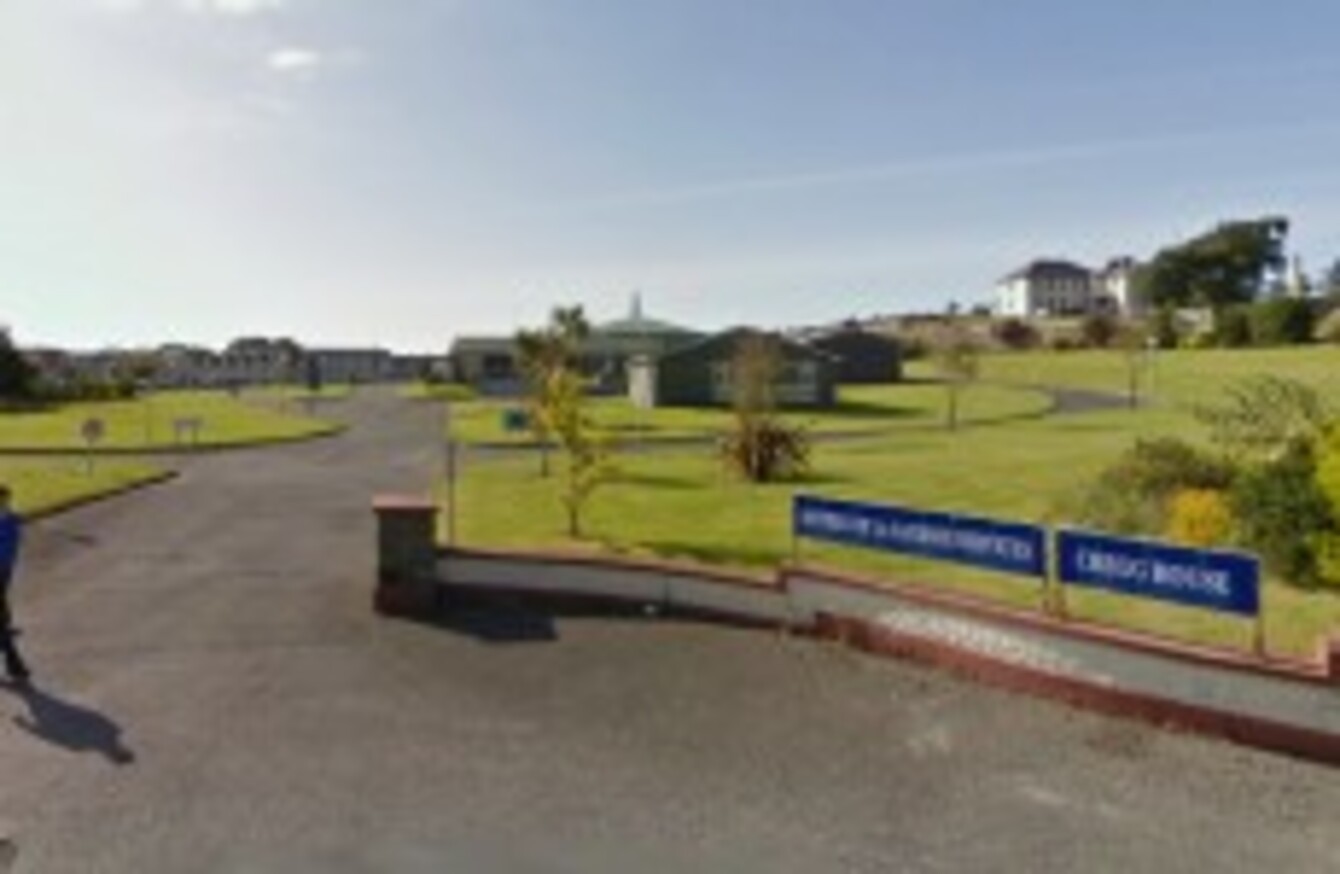 Cregg House, Sligo
Image: Google Street View
Cregg House, Sligo
Image: Google Street View
A PROTEST WILL take place in Sligo today over cuts at a care home for people with intellectual disabilities.
Organised by the No Cuts for Cregg group, the silent walk will leave from the Abbey Street carpark at 6pm.
Cregg House is run by the Daughters of Wisdom, who released a statement last week saying the trustees had informed families of service users of the "serious situation" which had arisen in regard to the funding of the services.
They described the situation as "unacceptable" and said that it may result in alternative trustee arrangements being made for the care and support of users of Wisdom Services.
Talks have been taking place in recent months between the local HSE and trustees. Almost 60 years ago, the Daughters of Wisdom were invited to establish the service for people with intellectual disabilities. There are currently 214 people using the service.
Provincial Sr Jean Quinn said in a statement:
This is work we value and believe in at every level. However we must be able to stand over the service we provide and without the necessary support and funding from the Government this is simply not possible. We are well aware of the current economic challenges and we have responded to this with efficiencies wherever possible; but there is a limit to the efficiencies which can be achieved, if we want to properly care for and support people with intellectual disability and their families.
Sr Quinn said the nuns have vacated their convent in order to make accommodation available for client services purposes.
We have assisted, from our own limited funds, both in terms of capital and operational expenditure, but this is not a sustainable option as we are a small Order with limited resources.
The building is functioning without a psychology service, "despite the promises made by the HSE", and its social work and speech and language services are "most inadequate".
Some of our residential accommodation is not fit for purpose. The funding offered for 2012 is, we estimate, €1.3m less than the amount required to maintain services at the 2011 level.
Sr Quinn said their preferred option would be to continue their involvement with the service, but as a consequence of this situation, "we are not in a position to enter into a further service level agreement with the HSE on the terms we have been offered".
We are also not in a position to contribute financially to the cost of the services being provided by Wisdom Services on behalf of the HSE. We are, however, most willing to co-operate fully with the HSE in whatever arrangements the HSE consider appropriate to meet the service needs of the users of Wisdom Services.
Senator Marc Mac Sharry spoke to TheJournal.ie about the situation. He said a meeting with Minister Kathleen Lynch will take place later this week about the issue.
Senator Mac Sharry said that Wisdom Services had been told it would receive €900,000 less from the HSE in 2012, following on from a drop of €400,000 in funding last year. He said that despite the cuts, "the HSE are effectively saying to them: you work away and manage the service".
"They are putting in a huge amount of their own resources – three of the nuns who work in the service work for free," said the Senator.
He added that comparable services had had their funding increased from between 13 and 89 per cent during the 'boom' years, but Cregg House had its funding increased by 6 per cent during this time. Senator Macsharry said that despite this, Cregg House is expected to take as big a cut in funding as these comparable services.
He said that while he understood that the HSE had to make cuts, "this is just ridiculous and this can't continue". Senator Mac Sharry added: "This broad brush approach is just not fair."
A spokesperson for the Department of Health said that under the HSE National Service Plan 2012, the disability budget nationally is being reduced by 3.7 per cent in 2012.
The NSP states that at least 2 per cent of this should not impact on services and needs to be generated from other savings and increased efficiencies. Despite this additional flexibility, aimed at the most minimal impact on front line services in the first instance, it is most regrettable that Wisdom Services do not appear to be in a position to agree a service level agreement with the HSE for 2012, despite the efforts of the HSE and other stakeholders to achieve this. In this context, the Department of Health is reassured that the HSE and Wisdom Services are working together to ensure that all service users will continue to receive the care and support they require, and that discussions are ongoing in this regard.