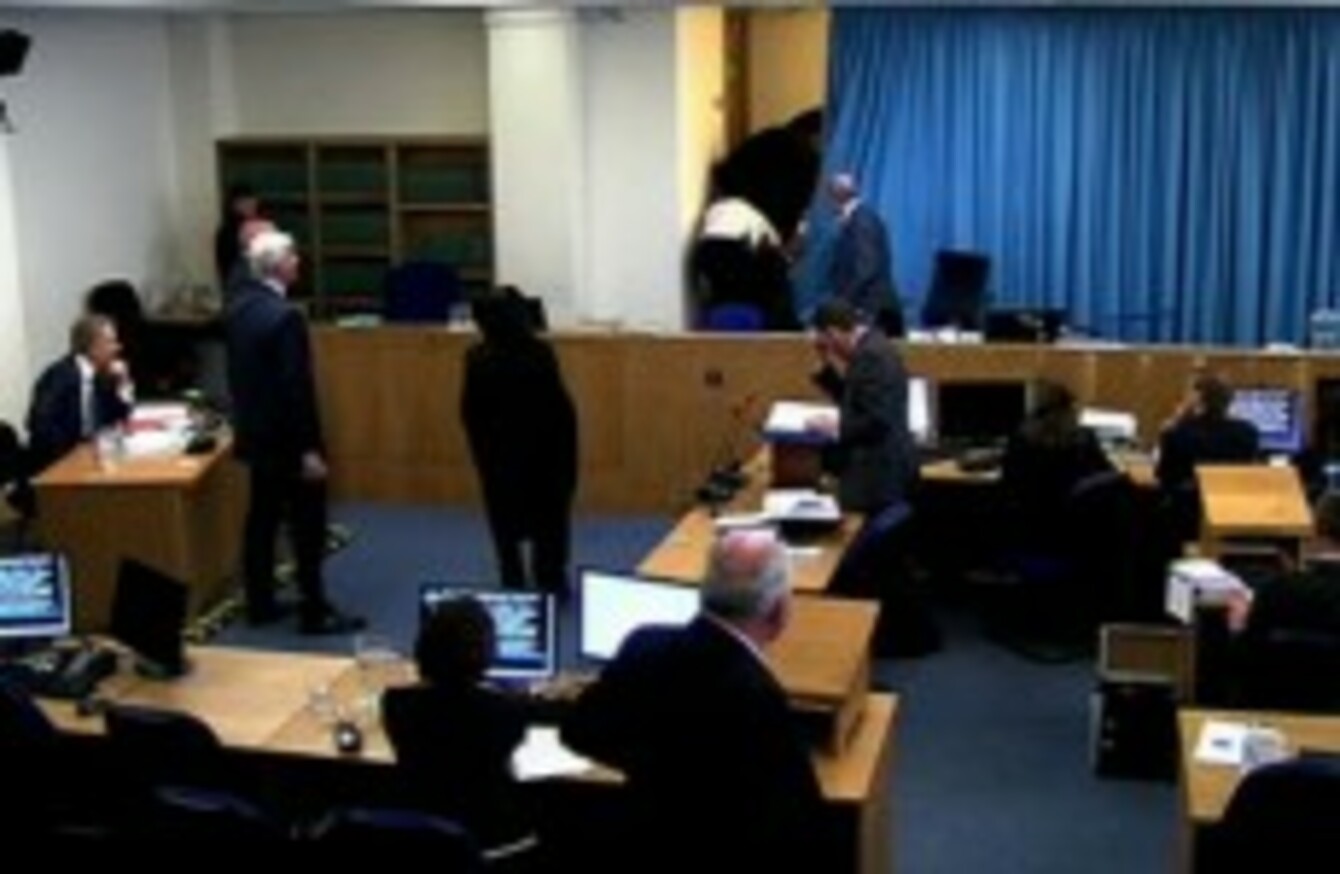 The protester (centre) is bundled from the room. Tony Blair can be seen seated at the left hand side of the room
The protester (centre) is bundled from the room. Tony Blair can be seen seated at the left hand side of the room
A PROTESTER HAS disrupted Tony Blair's evidence at the Leveson inquiry into media ethics, calling the former British prime minister a 'war criminal'.
Proceedings at the inquiry were disrupted for under a minute when the protester entered the room just after 12.15pm this afternoon and shouted about Blair's links with JP Morgan and his role in the Iraq war.
The protester, who was identified as anti-Iraq war protester David Lawley Wakelin by Guardian journalist Lisa O'Carroll, was forcibly removed from the inquiry courtroom.
The protester remained behind a barrier several feet away from where Blair was giving evidence.
Lord Justice Leveson apologised to Blair and said that the protester should not have been able to access the room through a private corridor. Leveson told the inquiry that he would investigate how the protester gained access to the room.
Earlier Blair had told the inquiry into media ethics and practices about his relationship with the media, including how he had always been closer to Rupert Murdoch than to Rebekah Brooks, describing Murdoch as the "key decision maker".
He criticised Brooks for the controversial Sarah's Law campaign which she ran as editor of the News of the World in response to the murder of 8-year-old Sarah Payne in 2000.
Blair also told the inquiry that he had become closer to Murdoch after he had stepped down as prime minister in 2007. Blair is a godfather to one of Murdoch's children, a situation which, he said, would not have happened while he was in office.
The former prime minister said that he hadn't made public information about meetings he held with Murdoch or any other media people at the time, but said he believed in future that it would probably have been best to make all the information available immediately in the interests of transparency.
(Tony Blair moves to clarify a number of points made by the protester immediately after he was removed from the room. Screengrab via Leveson Inquiry)