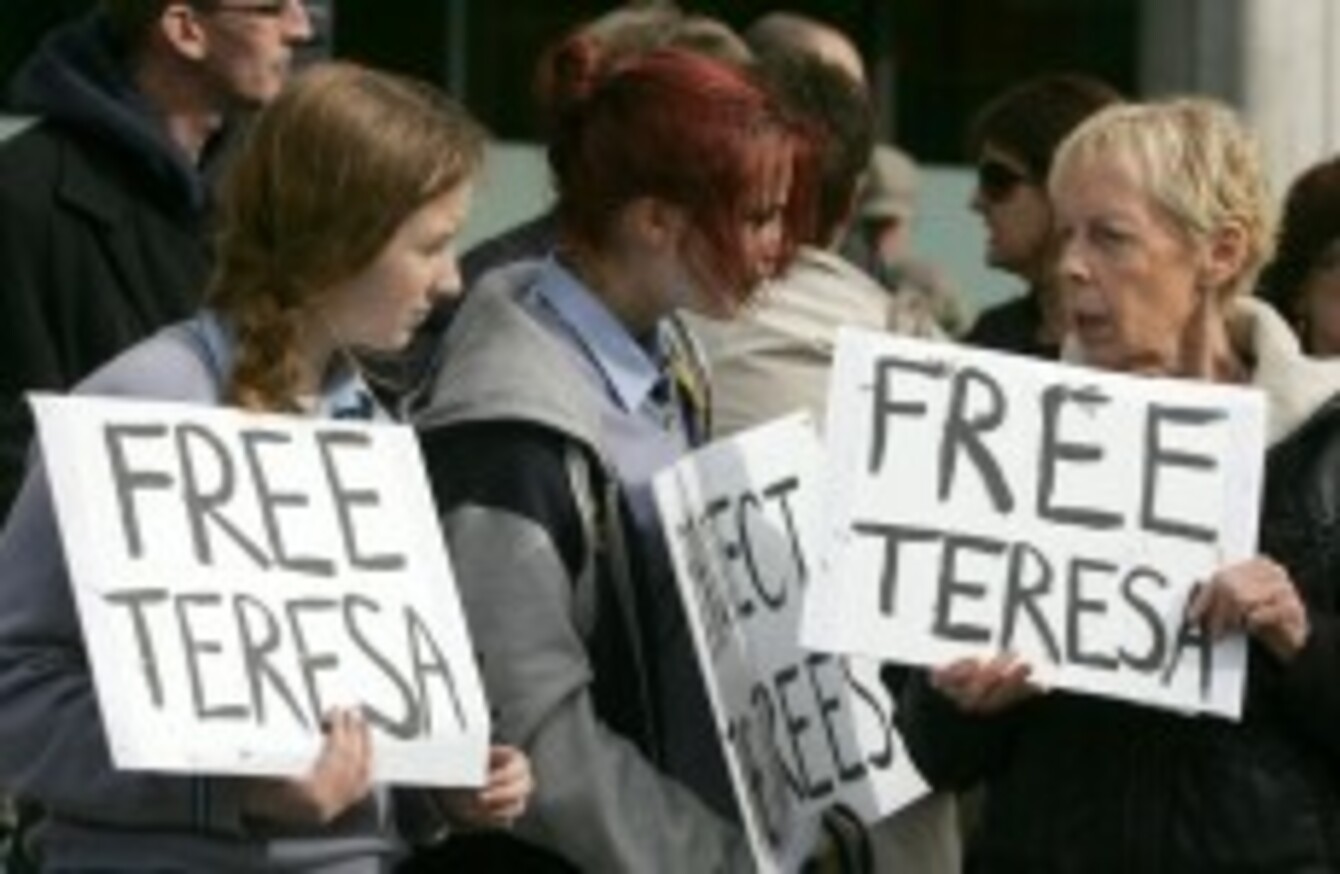 Supporters of Teresa Treacy at today's protest
Image: Sam Boal/Photocall Ireland
Supporters of Teresa Treacy at today's protest
Image: Sam Boal/Photocall Ireland
MORE THAN 100 people demonstrated outside ESB offices in Dublin this afternoon to protest against the jailing of 65-year-old Teresa Treacy, according to one supporter present.
The demonstrators held banners calling for the freeing of Ms Treacy, who was jailed two weeks ago for refusing to obey a court order allowing the ESB and Eirgrid onto her land to construct a power line. Her supporters, who have also set up a protest camp in an attempt to prevent work taking place on Ms Treacy's property near Tullamore, say the construction would involve the destruction of thousands of trees.
United Left Alliance TD Richard Boyd Barrett addressed protesters, urging them to support 'Camp Treacy'. Other members of the Oireachtas including Joe Higgins TD and Sinn Féin senator Trevor Ó Clochartaigh also attended the protest. A spokesperson for the Teresa Treacy Support Group told TheJournal.ie:
We mounted the protest at ESB today because the ESB deserve to be put under a lot of pressure. They are trying to intimidate Teresa Treacy with threats, and mounting costs. I got a call from Teresa Treacy this morning, to say that the ESB are trying to break her spirit – and the purpose of the protest is to say that we're all behind her.
He said they received no response from ESB staff inside the building. However, an ESB spokesperson acknowledged the demonstration, saying: "We understand why some people would choose to demonstrate, and we respect people's right to do that and they did so peacefully. "
He said ESB are "focused on resolving the situation", and are presenting compromise proposals which have been "developed in consultation with [Ms Treacy's] family and neighbours". It's understood the proposals involve a reduction of 50 per cent in the number of trees to be felled, and the planting of replacement trees once the power lines have been constructed.
"We're hopeful that this demonstrates our intent to resolve the situation," the spokesperson said. The Teresa Treacy Support Group have called for the lines to be routed underground.