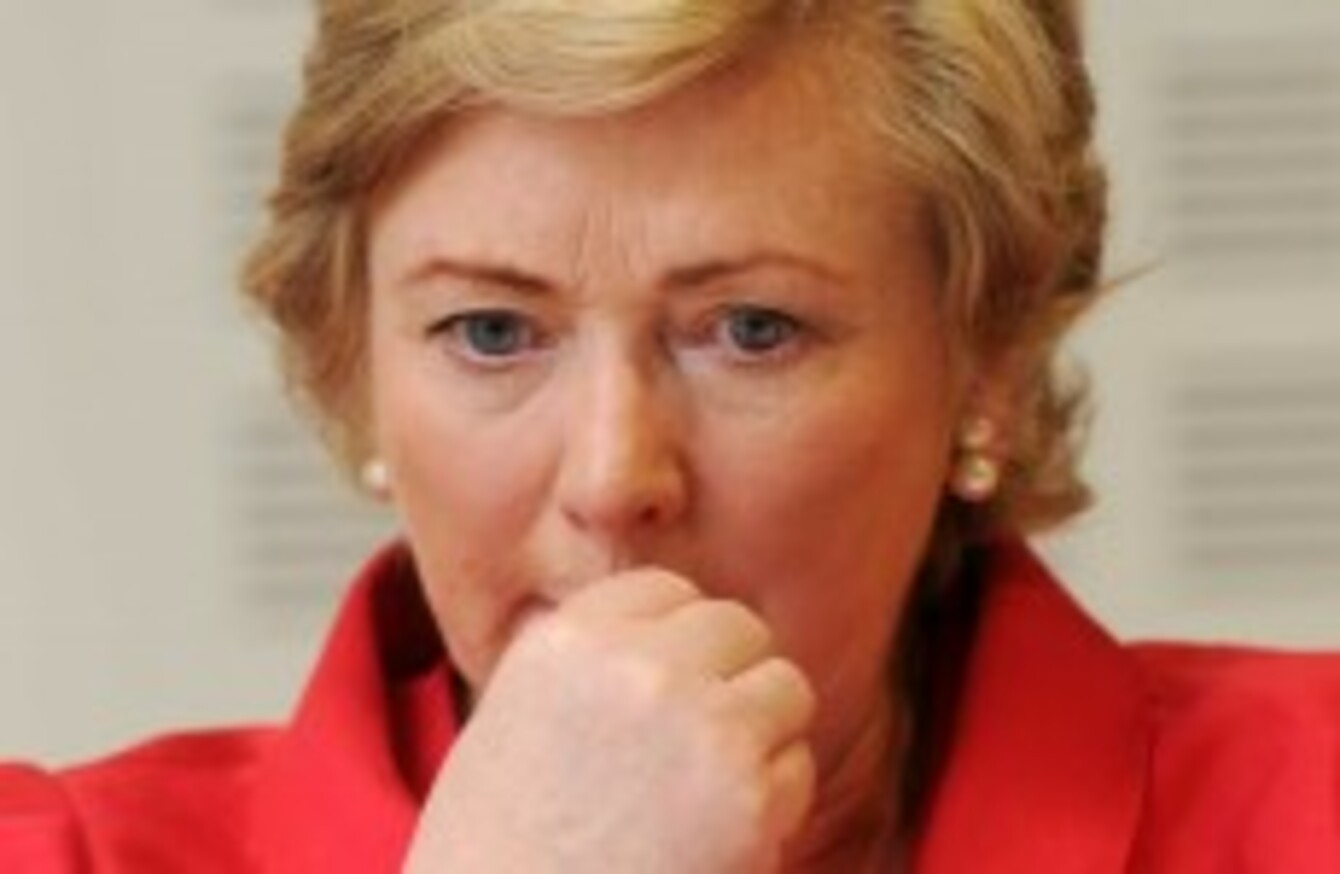 Frances Fitzgerald
Image: Laura Hutton/Photocall Ireland
Frances Fitzgerald
Image: Laura Hutton/Photocall Ireland
Updated 4.30pm 
JUSTICE MINISTER FRANCES Fitzgerald has asked the Garda Commissioner to liaise with the PSNI in carrying out a fresh assessment of the status of the Provisional IRA.
But in a statement today, the minister has also criticised Sinn Féin and asked if its leader Gerry Adams would apologise for the "dreadful legacy of crime and lawlessness" carried out by the PIRA.
The Fine Gael TD's strong criticism of Sinn Féin has prompted the party to suggest this afternoon that she may have breached the code of conduct for office holders with what Laois-Offaly TD Brian Stanley described as "political smears".
Announcing the fresh assessment earlier, Fitzgerald called on Sinn Féin and Adams to outline what steps the party will take to ensure it does not benefit from the proceeds of crime.
There is no doubt that people who have been associated with PIRA have been – and continue to be – involved in the most serious crime and neither Gerry Adams nor Sinn Fein can wash their hands of responsibility for that. It is an inevitable legacy of the brutal campaign which PIRA waged.
"And it is fair to ask Sinn Fein how they intend to address a legacy they are responsible for. It is a legacy of evasion which was bound to have people suspect a ballot box in one hand and sleight of hand with the other," she said.
Will Gerry Adams apologise for the dreadful legacy of crime and lawlessness left in the wake of the brutal campaign which PIRA waged and say what steps he takes to ensure there is no place in Sinn Fein for people who engage in serious crime?
What steps does Sinn Fein take to ensure that they do not benefit in any way from the proceeds of crime? Will he apologise for the fact that people who PIRA trained to kill may be continuing to do so in whatever capacity? And will he explain what parts of smuggling and money laundering ever honoured the legacy of 1916 which his party wish to hijack?
Responding this afternoon at Leinster House, Stanley said that Sinn Féin does not benefit from any form of criminality.
He said that Fitzgerald's attempt to make allegations in the form of questions was "cheap, electorally motivated stunt that undermines her role as the Minister for Justice".
"If the Minister has any information or suspicion of illegal activity it is her duty to bring it to the gardaí instead of casting political smears," he said.
The Minister must either back up her assertions or retract them. We believe that the Minister may have breached the code of conduct for office holders and we are currently looking into this.
The McGuigan controversy
Fitzgerald's decision to order a fresh assessment of the PIRA's status follows much political debate in the wake of comments made by a PSNI superintendent Kevin Geddes last week.
Geddes said that one of the major lines of inquiry into the death of former IRA prisoner Kevin McGuigan is that "members of Provisional IRA were involved in this murder".
The PSNI chief constable George Hamilton later said the PIRA still exists but is no longer engaged in terrorism.
He said that individual members cooperated in the shooting of Mr McGuigan in east Belfast on 12 August but said there is no evidence the killing was sanctioned by the organisation.
Meanwhile, a 47-year-old man has been arrested in Belfast city centre this afternoon by detectives investigating the McGuigan murder. He is currently being questioned at Antrim Police Station.
Sinn Féin has insisted that the IRA has gone and is no longer in existence but this has been disputed by several government and opposition politicians in recent days.
Fresh assessment
In a lengthy statement this morning, Fitzgerald said that making judgements about the existence or not of the military structure of the PIRA was complicated "by the fact that many, if not all, members of the PIRA were members of Sinn Féin".
She said: "I have asked the Garda Commissioner to liaise closely with the PSNI and carry out a fresh assessment of the status of PIRA in the light of any new evidence emerging during the PSNI investigation into the death of Mr McGuigan.
"I want to be clear about one thing even if it is stating the obvious. PIRA was an abhorrent organisation and the fact that people feel free to engage in serious crime even to the extent of killing people is its inevitable legacy.
My party needs no lectures from anyone on what PIRA and Sinn Fein represented. Nor, in fairness, do the Garda Siochana many of whose members paid the ultimate price because of their activities.
As was clear from what the Chief Constable said at the weekend there are no simplistic answers about the continued existence of PIRA. To simply say PIRA continues to exist as if nothing has changed would be quite wrong. To be blunt, making organisational judgements is complicated by the fact that many, if not all, members of PIRA were members of Sinn Fein.
Fitzgerald said that recent developments in the North are of "considerable concern" and said that it is a time for "cool heads and measured judgements".
Fitzgerald said that information from the Independent Monitoring Commission was that the PIRA remained on an exclusively political path with its military departments disbandment and terrorist capability lost. However she said that contrary to instructions some individual members of the PIRA were involved in illegal activity for personal gain.
She said these assessments have to be kept under review in light of the current PSNI investigation into McGuigan's death.