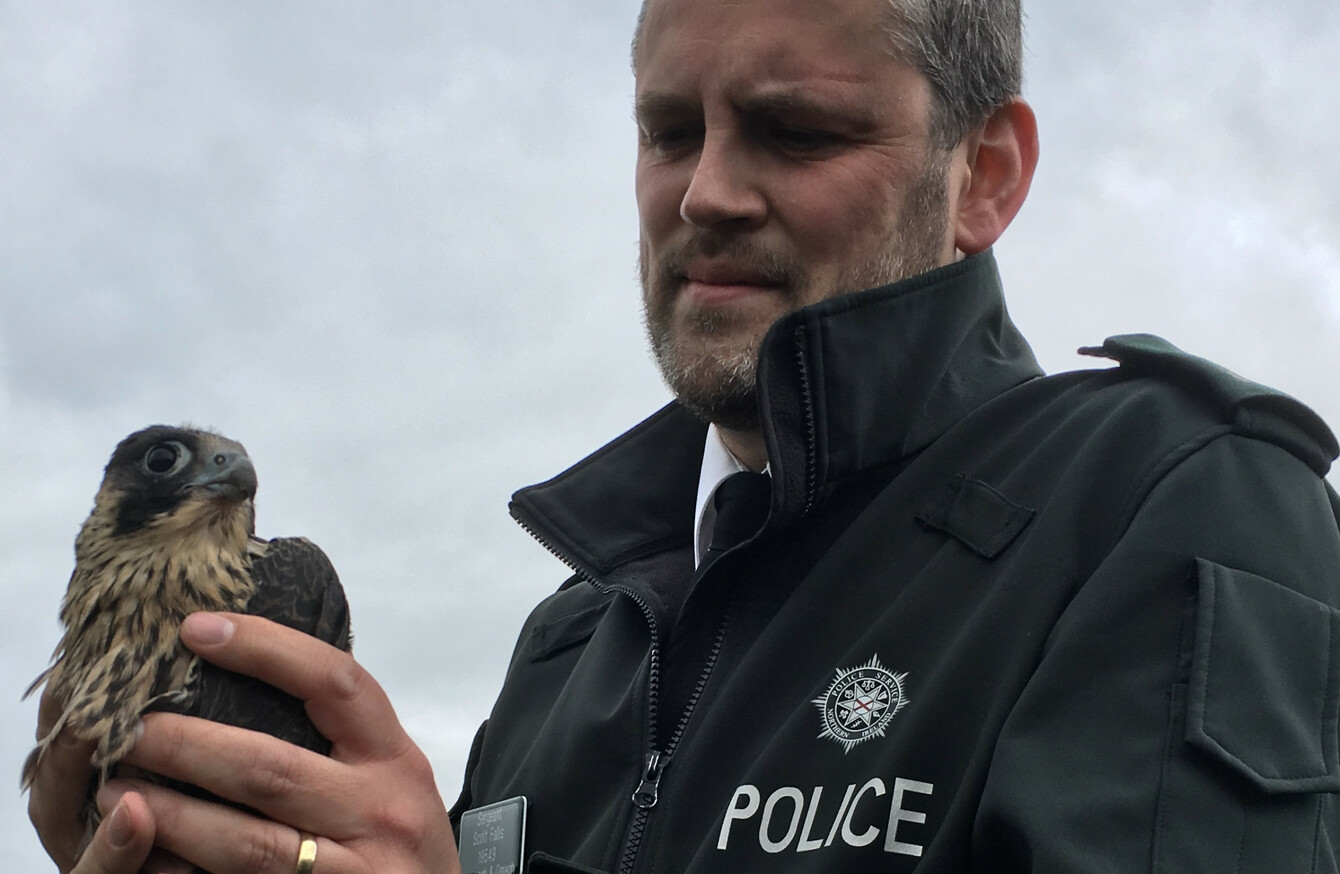 Image: PSNI
Image: PSNI
THE PSNI HAS been part of a UK initiative to prevent and stop the harassment and maltreatment of a native falcon, the peregrine – and it seems to be working.
Instances of persecution against the large, powerful bird of prey can include theft of eggs and chicks from nests or the killing of adults and chicks through poisoning, shooting or trapping.
As part of the pilot project, the PSNI has been using drones, fitted with specialist cameras, throughout the nesting season to monitor hot-spot areas across Northern Ireland in order to prevent crime against peregrines.
The Northern Ireland Raptor Study Group, which monitors peregrine breeding sites every year across Northern Ireland, said that there has been "a very clear reduction in the number of persecution incidents" this year, when the initiative began.
"The average number of successful nests in Northern Ireland each year is 49 – in 2017 there were 55," the group said.
Among these was a nest site in Co Armagh at which persecution has been recorded for at least the past 30 years, and for the first time in 15 years a pair of peregrines at this site was successful in producing young.
"In total, 138 peregrine chicks have fledged this year, compared to the average annual production of 109. We still recorded a number of suspected persecution incidents, but overall this was certainly lower than in an average year."
PSNI Wildlife Liaison Officer, Emma Meredith, said, "We are delighted to have been of assistance in the fight against wildlife crime, and are pleased to be able to continue to work with our partners. As far as we are aware, the Police Service of Northern Ireland is one of the first police services in the UK to use this technology in this way."
#Open journalism No news is bad news Support The Journal

Your contributions will help us continue to deliver the stories that are important to you

Support us now
She said that the PSNI take all types of crime seriously and this includes wildlife crime.
"On occasions, baits, such as a rabbit carcass or sausages, have been laid laced with poison in the public domain.
Be under no illusion that some poisons could also be fatal to humans, not only wildlife suffers but also any child, adult or pet could find and ultimately consume poisoned baits.
If you find what appears to be a poisoned bait or suspicious dead bird, the PSNI advises to leave it in situ and call the police on 101.