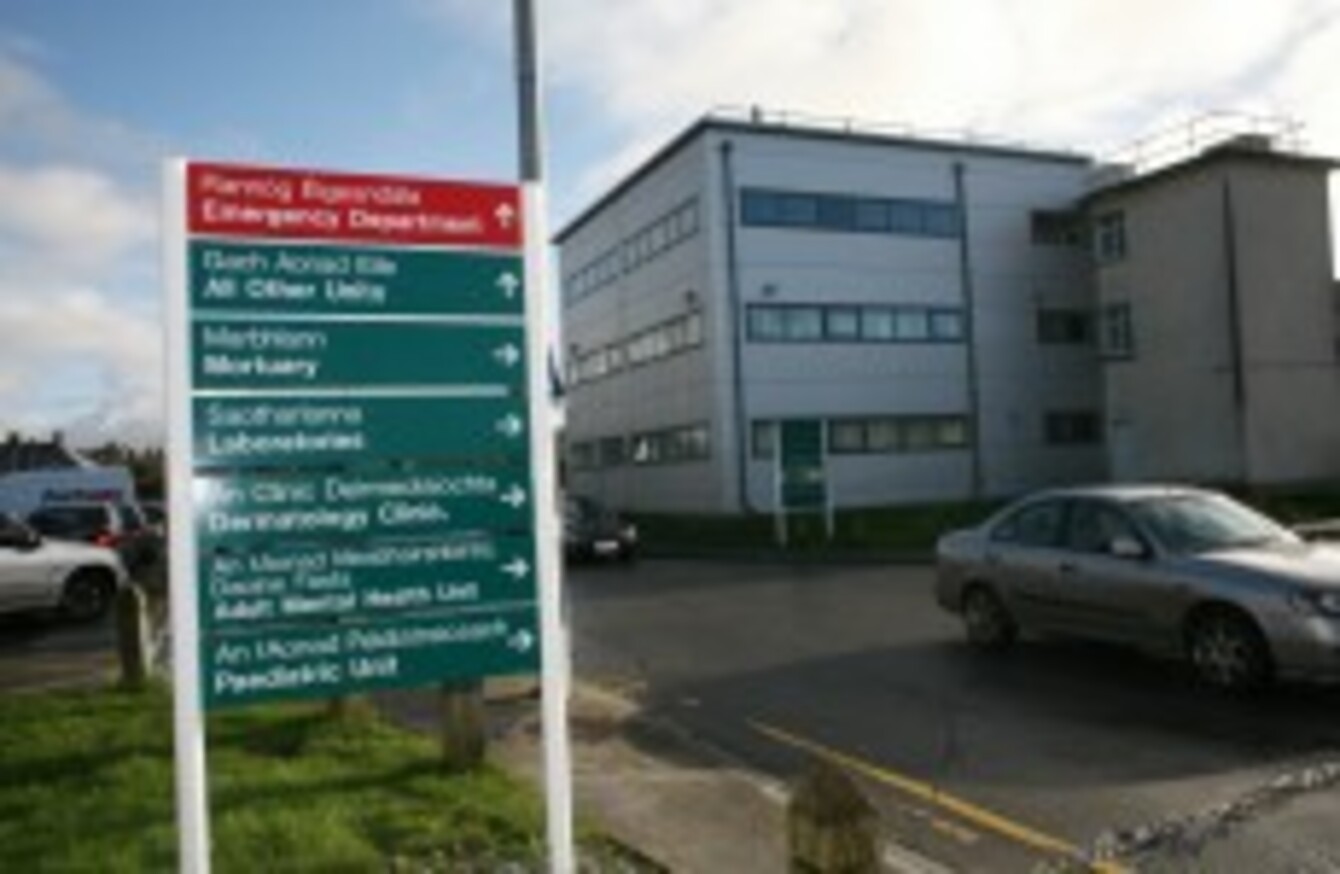 University Hospital Galway
Image: Brian Farrell/Photocall Ireland
University Hospital Galway
Image: Brian Farrell/Photocall Ireland
A PSYCHIATRIC PATIENT assaulted and injured three nurses in a Donegal hospital but cannot be kept in a suitable intensive care unit as there is none available.
The situation highlights the issues being faced by psychiatric nurses in Ireland, Des Kavanagh of the Psychiatric Nurses Association indicated to TheJournal.ie today.
Psychiatric nurses in Galway are preparing to protest on Thursday afternoon due to the pressures they are facing at University Hospital Galway.
Galway care
Historically there were two acute units in Galway: one in Ballinasloe and one in UHG. Nurses also had access to secure wards in Ballinsaloe.
"Today we have access to one acute unit for everything," said Kavanagh. "That means there is huge pressure." He said the unit is "nearly always completely full" and there is a "huge number of people detained against their will".
The percentage of people detained against their will at this hospital is around 50%, where the national average is 11%, he said.
Kavanagh said there is a big demand for one-to-one nursing. which is prescribed by a psychiatrist.
This means we require a significant number of nurses on a daily basis which we don't have.
While the staff have been told they can recruit psychiatric nurses through an agency, the approved agency does not have enough nurses, said Kavanagh.
"Some days they are up to six nurses short and have had managers of units working one-to-one, which is unheard of," said Kavanagh.
Danger to patients and staff
Kavanagh said that staff say to him that the situation "is dangerous in terms of patient care and dangerous in terms of patient safety" and they have been protesting internally at UHG for a number of months.
Part of the reason for the public protest on Thursday afternoon is to alert the public to the difficulties and "create pressure on employers to sort it out".
Up until the current issues, if a violent or aggressive patient was admitted, they could be transferred to a secure ward in Galway, but this is no longer available.
"Anyone in that situation has to be treated in the acute unit," said Kavanagh.
He said that the HSE has put in place parts of Vision for Change, but not all of it. "There are supposed to be intensive care rehab units, specially staffed to help people who are disturbed or exhibiting challenging behaviour to manage their own behaviour," said Kavanagh.
But he said that they won't be available until at the earliest 2017.
He said that nurses don't know when they will be required to care for a patient exhibiting aggressive behaviour.
There is obviously a concern for safety of patients, but equally a concern among staff.
Kavanagh said that there are similar issues in Sligo and Donegal. There is no longer a secure ward able to use on the grounds of the hospital in Sligo.
"At moment we've a case in Donegal where a person assaulted and injured three nurses," said Kavanagh. In the past they might have been nursed in the Sligo unit but because of the shortage of accommodation in Sligo, they have to be cared for in Donegal.
This patient has been in Donegal for 12 months. Rather than being in a secure unit, they are in an acute unit. Preferably, they should be in an intensive care unit, he said.
Of the Minister for Mental Health, Kathleen Lynch, Kavanagh said "she excuses everything" and "she sees no evil, hears no evil".
Kavanagh said that nurses on the ground "are extremely worried" about the risks to them professionally, and that they would be vulnerable in events.