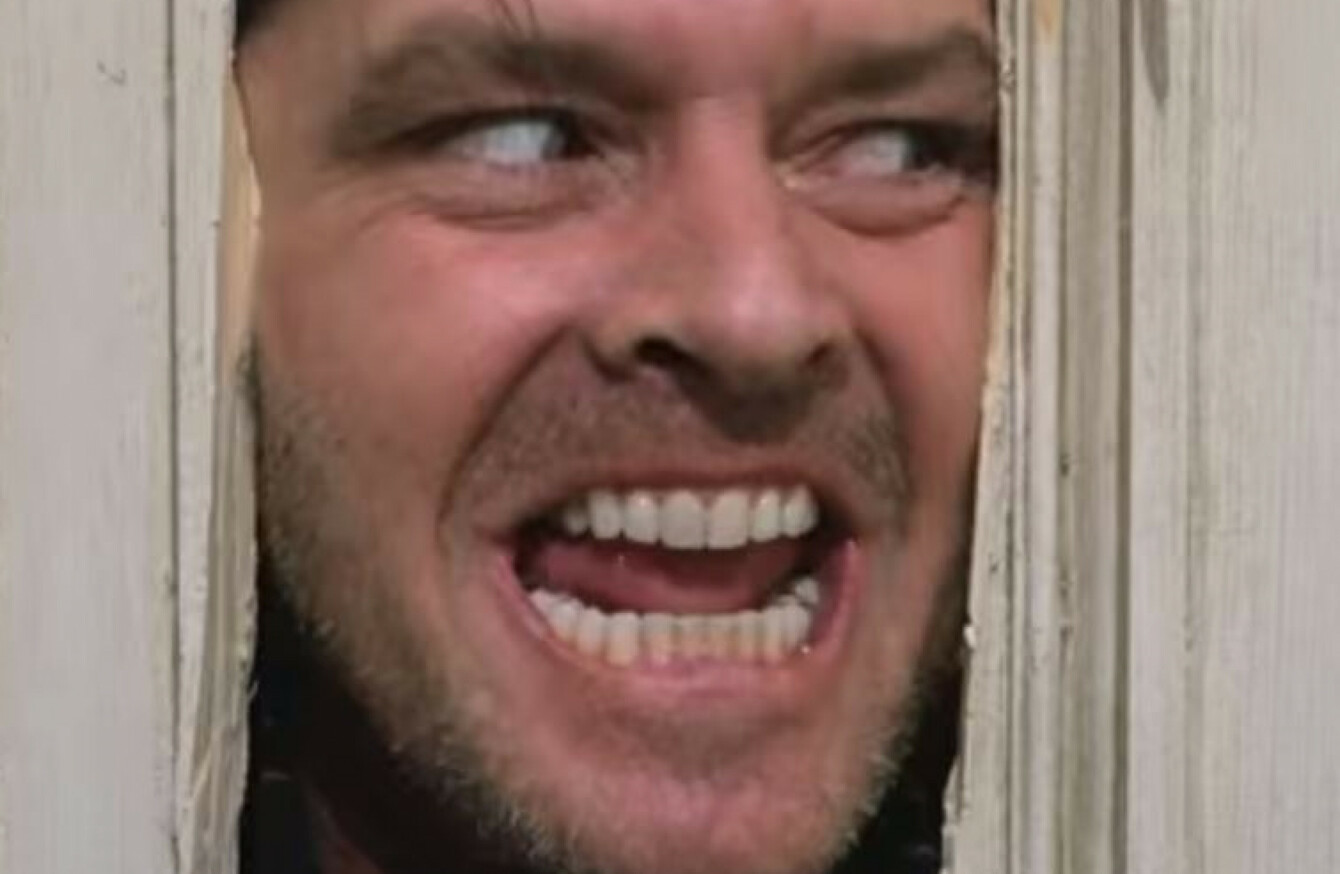 Jack Nicholson in The Shining
Image: Screengrab from The Shining, via Warner Bros
Jack Nicholson in The Shining
Image: Screengrab from The Shining, via Warner Bros
FEAR ISN'T AN emotion people like, most of the time. Over the coming days, however, plenty of us will be seeking it out.
So why do some people like being scared, cinematically at least?
John Francis Leader, a consulting psychologist and cognitive scientist, explains that fear is "an essential part of who we are" and something many people like to explore, particularly at Halloween.
"If you go back thousands of years, humans had to deal with physical fear more regularly … Now, generally speaking, we don't get chased too often day to day, hopefully," he says.
Leader notes that fear can be a good thing and protect us from danger.
"Thousands of years ago, if Uncle Bob was going to be eaten by a lion or tiger it was no good if the rush of adrenalin only hit you when the animal's teeth were in his arm, it would be more useful to feel fear when the animal's approaching, or, better yet, when it's rustling in the bushes."
Leader tells TheJournal.ie part of the desire to feel sacred stems from wanting to go "back to our roots" and "connect with a big aspect of who we are".
We are creatures who were built with an adrenaline system and an ability to feel fear who are now placed in an unusually safe world.
Leader helps people deal with issues such as anxiety. He tells us that clients with a good imagination often tell him they'd be too anxious to ever watch a horror film because "even just a little bit of a suggestion and their imagination will run away with it".
This can make it hard for them to move on from the fear long after the person who was watching the same film with them has forgotten about it.
Aside from the thrill this somewhat artificial fear gives us, Leader says it also helps us to "make sense and process some of the fear we have" naturally.
Comfort in humour and tropes
"In the category we call horror there are lots of different things going on … everything from zombies to more psychological films and slasher films," Leader notes.
Perhaps unsurprisingly he prefers chillers and thrillers, "something that makes you think".
Leader says the popularity of shows such as Charlie Brooker's Black Mirror are in part due to the fact they're realistic – or will be in the not too distant future, meaning people find it easier to imagine themselves in some of the situations.
He says "non-realism" can also play an important role in the horror and thriller genres, as do certain tropes and stereotypical characters.
"Before you watch [a certain film or programme] you know the certain type of characters that will be in it."
The comfort found in some of these familiar aspects helps people feel "less scared", he says.
"Watching violence alone isn't appealing to most people, they just find it disgusting," Leader tells us, noting that dark comedy "makes it easier to watch and reminds you that it's not to be taken too seriously".
Low budget, better outcome?
"I'm a Stanley Kubrick fan, The Shining and those type of films. There have also been some very good low budget psychological films recently.
#Open journalism No news is bad news Support The Journal

Your contributions will help us continue to deliver the stories that are important to you

Support us now
"Horror is an interesting industry, very good work is often done with unnamed actors and low budgets – the exception in Hollywood really."
Leader says making a good horror film is "kind of like a musician making a good Christmas song" – seasonal and not easy to do.
Why do we have Halloween? We like a bit of a purge to explore our darker side.
"[Author] Stephen King wrote about it and it goes back to the biological points we were making before," he adds.
Leader will be exploring why people are drawn to thrill-seeking entertainment at the Science of Horror Movies workshop happening next month.
At the event, clips from horror movies chosen by film critic Gordon Hayden will be played to people who are hooked up to biometric equipment to see how they react physically and emotionally.
Leader hopes the event "can help us understand the fears we have and how to control them a bit more".
"We may know something at end of night that we won't know at beginning," he adds.
More information on the Science of Horror Movies event, which will take place at 7pm on 15 November at Movies@Dundrum as part of the SFI's Science Week, can be read here.
More details about Science Week are available here.