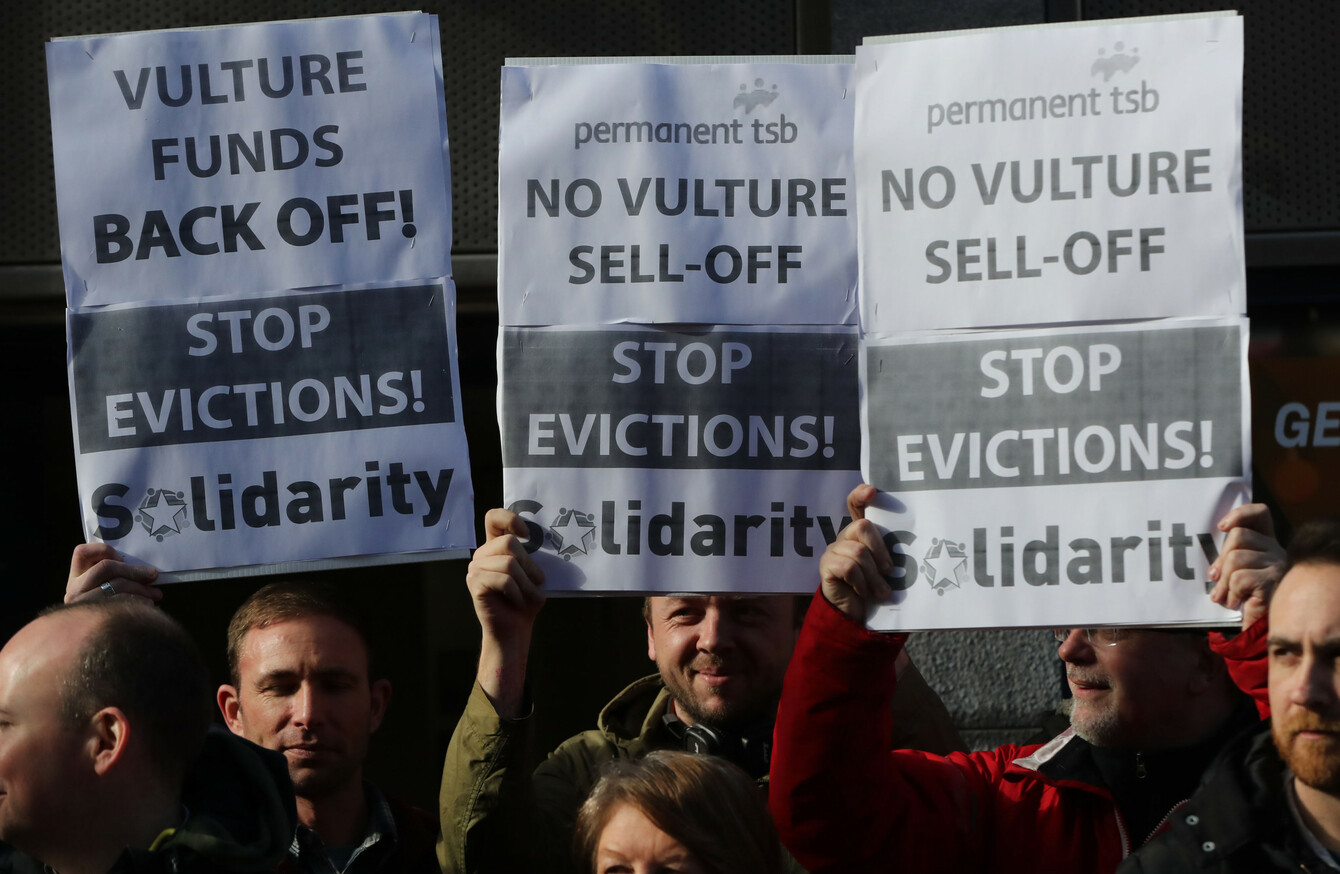 Solidarity activists protest outside a Permanent TSB branch in Dublin.
Image: Niall Carson
Solidarity activists protest outside a Permanent TSB branch in Dublin.
Image: Niall Carson
FINANCE MINISTER PASCHAL Donohoe has said he is conscious of the concerns of some homeowners who have engaged and reached a mortgage arrangement with PTSB, that they may not have their deals honoured by the buyer of the lender's €3.7 billion loan book.
PTSB, which is 75% State owned, has been defending its plan to sell off a book of non-performing loans known as Project Glas.
The proposed sell-off of 18,000 properties, including 14,000 private dwelling homes, has become the subject of a political battle in recent days, and the issue dominated Leaders' Questions yesterday.
TheJournal.ie highlighted to the minister this afternoon that some homeowners who have already made arrangements with the bank about paying their debt, such as split-mortgage arrangements, could have their deal thrown out if the loans are sold on.
The minister didn't deny this was a possibility, stating:
I am very conscious, as you have highlighted, that there will be people that have restructured their mortgages that will need to engage with the lender again in the future and I am conscious of the worry they will have.
The minister said that "no legal rights that anyone has in the future will be affected in any sale, when and if that sale happens".
The current legal rights of any home loan owner will be maintained.
Fianna Fáil has sought to challenge the government on this issue in recent days, and has launched a bid to block the planned PTSB sale to an unregulated vulture fund.
The party finance spokesperson Michael McGrath has proposed legislation to bring vulture funds in regulatory line with other banks and financial institutions.
The party is concerned that there are currently gaps in the protections available to mortgage-holders if the loans end up in the hands of vulture funds (which are so-called because they buy assets at low prices with a view to selling them on for a profit).
CEO of the Irish Mortgage Holders Association, David Hall told TheJournal.ie that under the present rules, subsidiary companies, that essentially act a middle-man between the mortgage holder and the vulture fund are regulated by the Central Bank, but the international vulture fund is not.
"The government are trying to deflect against the fact that thousands of mortgage-holders did the right thing, they engaged with the banks, they did everything they could to meet their payments, the bank offered them a deal, they signed that deal and have adhered to the contract," said Hall.
Is the minister going to underwrite these agreements made with PTSB, and ensure that the buyer of these loans adhere to the agreements reached?
He questioned why such mortgage-holders who have engaged with the bank should be included in the sale, stating that under the code of conduct rules a "non-cooperating" borrower can only be deemed so if the homeowner is in arrears for three months and "where a borrower has not entered into an alternative repayment arrangement".
Defending the sale 
In a statement last night confirming it intended to move ahead with the sale, Permanent TSB said that around €2 billion worth of the loans it planned to sell on were comprised of private dwelling home loans.
It said the loans were "typically owned by customers who have not engaged with the bank, whose mortgages are unsustainable or who have been unable to meet the terms of various treatments put in place".
Of this portion of Project Glas, some account holders have not engaged with the Bank for over 7 years and on average the loans are over 3.5 years in arrears.
Many have made no payments at all for years.
Last night, TheJournal.ie asked Permanent TSB's spokesperson whether the bank could provide a further breakdown on how many customers had not engaged in over seven years. They said that no further information was available.
The request for a further breakdown of the figures was submitted again today.
The spokesperson said the bank would  not be providing any additional information beyond what was in the statement yesterday.
Fianna Fáil's John McGuinness, who is chair of the Oireachtas Finance Committee, told the Sean O'Rourke programme on RTÉ earlier today that it was not true that only people who are not engaging or are failing to pay their debt would impacted by the sale.
McGuinness said families who are engaging, and homeowners who have reached arrangements with PTSB will find their loans thrown into the loan bundle and sold on.
Donohoe told TheJournal.ie this afternoon that Ireland has a "legal framework that has ensured that loan owners have been protected from the kind of difficulties that we feared in the past".
I will review that legal framework now again… to make sure it is as strong and as fair as it needs to be.
The minister said he was meeting with Michael McGrath to discuss Fianna Fáil proposals on to how to beef up vulture fund regulation, and he would also discuss the issue with the Central Bank today.
"I have always indicated that I would keep the legislation as to how these matters are dealt with under review. Today I will be asking the Central Bank on any further views they might have on the legal and regulatory arrangement that we have in how these matters are dealt with," he said.
"I am deeply conscious of the worry and concern that an announcement like this has made," said the minister.
However, he went on to say that as minister, he must ensure the bank has a viable future.
I need to ensure that PTSB has a secure future in Irish banking, which I believe it does. In order to do so, they need to, at the request of the regulator [the European Central Bank], address issues that are there, and what I will aim to do is build on the legal and regulatory environment that we have to make sure that everybody is treated as fairly as possible and I will do that work across the coming weeks.
"The future health of PTSB is vital to the Irish economy – it is our third biggest bank it has deposits of over €17 billion, it has over 2,000 people working in it – it is a vital element of how Irish banking can lend more to Irish companies, citizens and businesses in the future," he said.
The level of non-performing loans with the bank stand at 28%, said the minister, adding that this is five times the European average and exceptionally high.
"It is very important in the coming period that the issue of non-performing loans in that bank be addressed," said Donohoe, who added that it was the European Central Bank that has indicated that level of non-performing loan has to come down.
"PTSB are required to meet that direction.
"The are required to do this by the Central Bank  – this is a European Central Bank which we have assigned responsibility to, to regulate banks that go above a certain size and the are being required to do that because the level of non-performing loans, such as on their balance sheet now, is a great difficulty for that bank now and could be a more acute difficulty if economic circumstances change in the future," said the minister.
While the minister said he will be reviewing what regulations are already in place, in the same breath, he said the rules in place appear to be working:
"I will look at the regulatory environment that we have, the regulatory environment that has facilitated the elimination of a large number of non-performing loans in the banking sector in the last number of years – that has avoided the type of house repossessions that we feared in our darkest days. It is a strong environment that has the right level of regulation in place, but I will look at it afresh in light of the kind change that could develop to ensure it is as strong as it needs to be."
The minister also said he is "confident" that the legal and policies in place at present will prevent mass home repossessions that have been threatened.