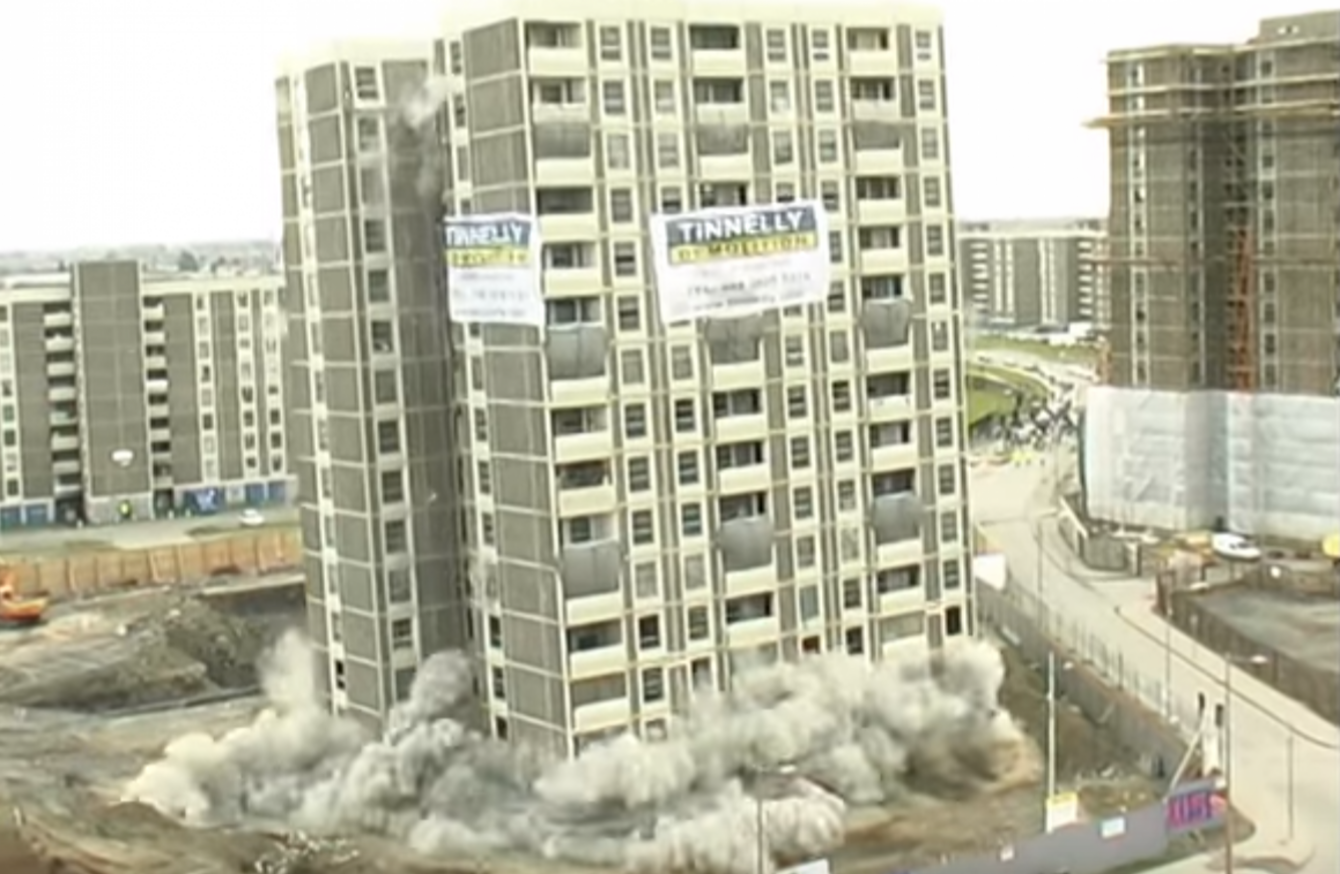 Image: Youtube
Image: Youtube
THE MASTER OF the High Court has said he does not want to see a repeat of the Ballymun project as an answer to the housing crisis.
Speaking to the new Dáil homelessness committee, which was set up in the wake of the general election to tackle the ongoing housing crisis, Edmund Honohan said a "big bang" was needed to address the problem.
"I personally don't want to see Ballymun again," Honohan told TDs today.
The last tower of the north Dublin development still standing was demolished last year as part of a €2 billion regeneration project.
The Ballymun development, including its iconic 'seven towers', was built in the 1960s to accommodate residents of Dublin's inner city. The regeneration scheme, which began in the late 90s, has seen over 2,000 new social homes constructed in the area.
Honohan said local authorities needed to learn from the mistakes of the past. He said he was concerned history could be repeated if councils sought to source accommodation too quickly.
Empty properties could be brought up to house those currently in need of a permanent place to live, he added.
Speaking about the current state of the market, Honohan said:
The prices that we are being quoted, in all parts of the market, are more than can be afforded by the economy.
Rents on the rise
The latest Daft rental report for the first quarter of 2016, released today, shows the average monthly rent in Ireland has surpassed €1,000 for the first time since 2008.
The number of properties available for rent is also the lowest on record, according to the property website, with fewer than 3,100 homes on offer nationwide.
Honohan insisted it was up to the government to fix this crisis, not local authorities.
We need to assert the right of the Irish government to attend to a national crisis in as economic and efficient a way as possible.
Vacant properties
He suggested the State acquire vacant houses across the country – purchasing them for market value price and using them for public housing.
We acquire them all, pay previous owners and then decide what to do with them.
The plan would freeze evictions and repossessions, he said, and give room for a mortgage-to-rent scheme to allow people to live in the homes and lease them from the state.
The Master of the High Court has been vocal on repossessed homes over the past few months, maintaining they should be nationalised.
The committee on housing and homelessness was established on 14 April and will hear from a range of experts and groups before presented a final report to the Dáil before the summer recess.