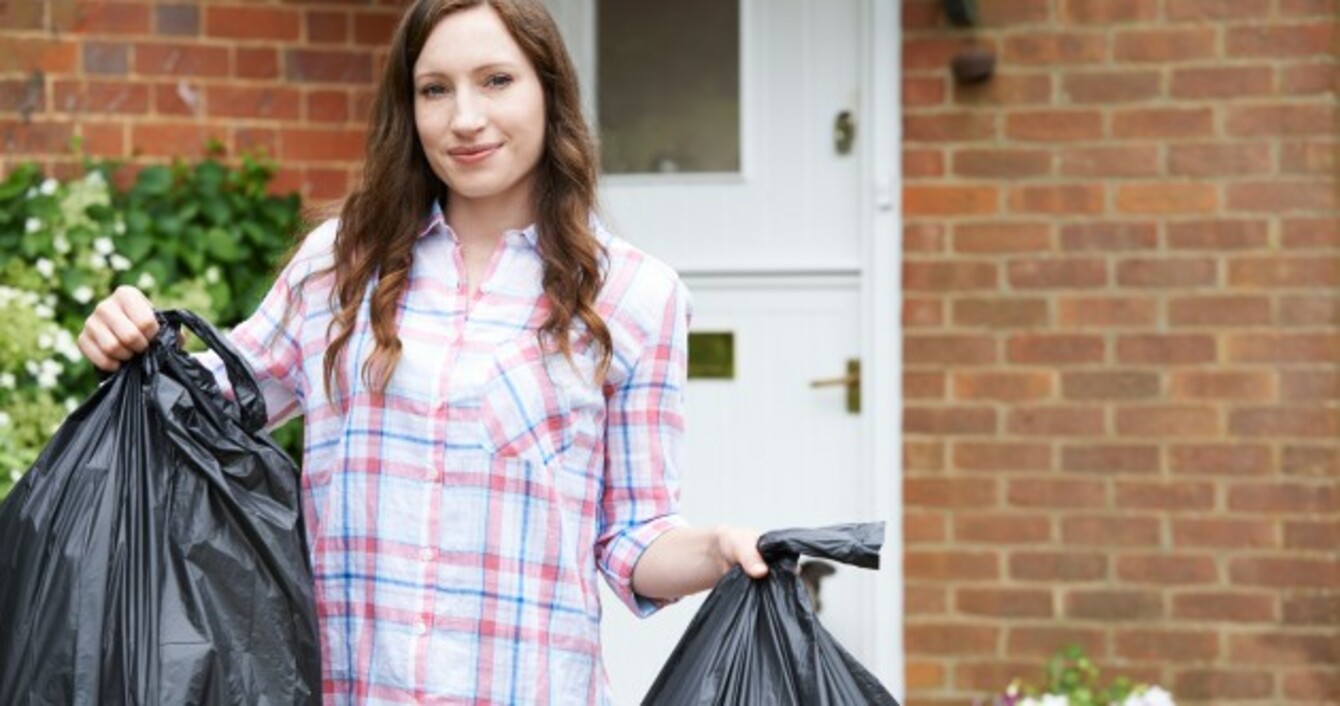 Image: Shutterstock/SpeedKingz
Image: Shutterstock/SpeedKingz
Updated 15.45 
NEW BIN CHARGES will see the collection of individual bags banned at a national level.
The 'pay-by-weight' legislation will take effect this summer and will change the way the public pay for bin collection.
Some homeowners currently without wheelie bins will no longer be able to leave out individual bin bags for collection. 
However, exemptions will be made for those living in areas where landscape prevents collection of wheelie bins (for example, where an access way is too narrow or too steep), or where there is a lack of storage space (for example, in a terrace house with no garden). 
This means that many flats in Ireland's urban centres are likely to be exempt.
In a statement to TheJournal.ie, a spokesperson for the Department of the Environment said these areas will be "determined by local authorities in accordance with guidelines issued by the Department".
In these cases the bags will be exempt from the weight requirements.
The new system will do away with annual flat fees from 1 July.
Green bin charge
This follows Environment Minister Alan Kelly today defending the change in the way that public will be paying for their bins.
Specifically, controversy had arisen over charges for green recycling bins – which some members of the public will now be paying for the first time.
But, according to a statement released by Kelly today: "While some people might think that this will mean that they are to be charged for the first time for the recycling bin, the reality is that all households have been charged in some way for this service.
Where a collector offered this bin at a zero charge, the true price was reflected in higher residual waste charges. In other words, the recycling bin was paid for by hidden cross-subsidisation.
So will we be better off?
The Department of the Environment has said that breaking down figures available from the EPA and the CSO has shown that 87% of households will see a reduction in their waste bills.
Of the rest, 8.5% will see no change in their bills and just under 5% will see an increase in their bills.
The department has said that the new measures aim at reducing waste, and could result in as much as 440,000 tonnes of waste being diverted away from landfills each year.
#Open journalism No news is bad news Support The Journal

Your contributions will help us continue to deliver the stories that are important to you

Support us now
Is this actually how it is going to play out? 
The pay-by-weight legislation – which had originally been scheduled to be introduced last summer – has already been piloted in the Dun Laoghaire-Rathdown area where a drop in the amount of waste being put out by the public has already been noted.
It is difficult to know at the moment exactly how much individuals will be paying for the different bin charges – as costs between providers can vary, with a person's address also being a factor.
However, the department has told TheJournal.ie that minimum charges will be in place, and work out as follows:
Recycling / Green Bin – 2 cents a kilo
Food waste / brown bin – 6 cents a kilo 
Residual waste / black bin – 11 cents a kilo
On the potential benefit that the change could bring, Minister Kelly went on to say:
"The message is, the more you put into your green and brown bins, the less you pay. It's better for the environment and the more we can use waste as a resource for energy, remake plastic materials and develop an effective and efficient waste sector."
Update: The Department of the Environment wish to clarify that the changes do not impact on people putting their refuse into plastic bags and then into their wheelie bins.  
- First published 12.20pm