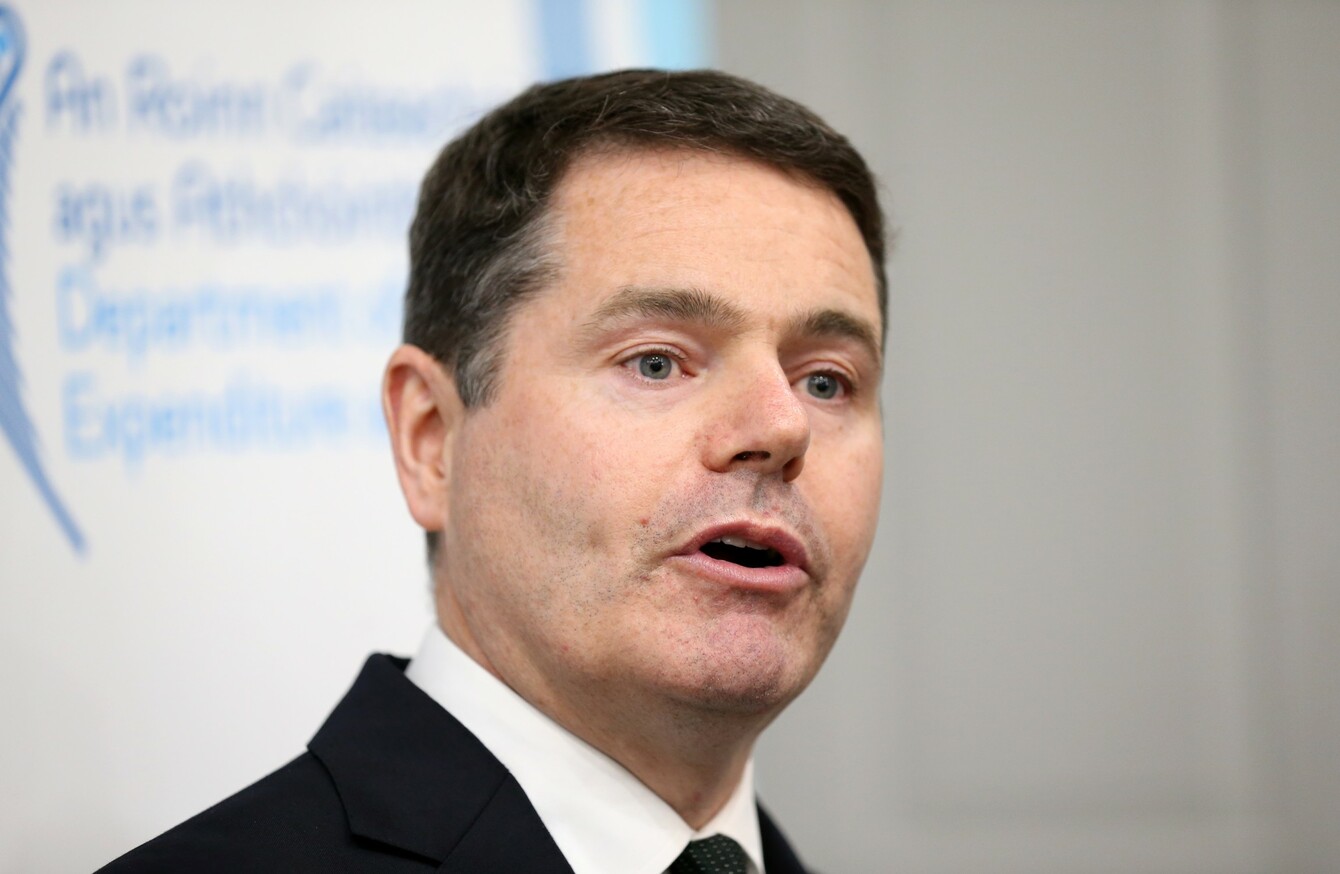 Minister for Public Expenditure and Reform, Paschal Donohoe talking to the media about the proposals issued by the Workplace Relations Commission on an extension to the Lansdowne Road Agreement.
Image: RollingNews.ie
Minister for Public Expenditure and Reform, Paschal Donohoe talking to the media about the proposals issued by the Workplace Relations Commission on an extension to the Lansdowne Road Agreement.
Image: RollingNews.ie
Updated 6pm
MINISTER FOR PUBLIC EXPENDITURE and Reform Paschal Donohoe has said the new pay deal reached with public sector unions is "fair to workers and taxpayers".
The deal reached between government and the union on the new draft pay agreement will see pay restoration for the vast majority of public sector workers.
It is believed that more than 300,000 government employees will benefit from pay restoration and changes to pension contribution arrangements in the draft deal agreed late last night. Over three years, the deal will cost the government €887 million.
While the government has said there will be "no weakening of outsourcing protections", unions were unable to agree a change in working hours or prevent two-tier pay scales persisting in the sector.
Minister for Public Expenditure and Reform Paschal Donohoe welcomed the agreement and said that the provisions put the public sector on a "more sustainable footing and secures industrial peace so that our public service remains a rewarding place for those who work in it".
"We had to come up with an agreement that would be fair to everybody. It would be fair to those who work in the public services, but also those that depend on our public services," said the minister.
Workers will now be balloted on whether or not they agree with the proposals, which would act as a successor to the Lansdowne Road agreement.
What does it mean for public service workers? 
By 2020, more than 90% of workers will have gained pay restoration, according to trade union Impact.
They said: "By 2020, more than 90% of public servants will be out of Fempi (financial emergency measures in the public interest) pay provisions, and almost a quarter will have exited Fempi pension levy payments."
All workers earning up to €70,000 will have this restoration by 2020.
By 2020, workers will have increases ranging between 6.2% and 7.4% through a combination of pay and pension levy adjustments.
For those earning €30,000 or less, pay and pension adjustments are worth 7.4% over the lifetime of the three-year deal.
Those earning between €50,000 and €55,000 will have increases worth 7%, while workers earning between €55,000 and €80,000 will earn between 6.6% and 6.9% more by 2020.
These increases will be made on an incremental basis, with the first increase of 1% set to take effect from 1 January 2018.
The two-tier pay structure remains in the public sector, while there is little change in pension arrangements. The increases to pensions are the lowest for those who entered the public sector after 2013.
New pension contribution 
The existing pension related deduction (PRD) will be converted into a permanent contribution while providing what the government called "modest increases in the threshold".
Minister Donohoe said this contribution will ensure make public pensions "sustainable into the future".
While there is no change to the pay scales for post-2010 entrants to the sector, there is a "process" in place to look at this again. There is also a process to review rostering arrangements, including Saturday working, but no change can be made without agreement.
While workers will be able to opt out of extra hours which were introduced over previous public pay deals, they will also receive a pay cut for doing so.
#Open journalism No news is bad news Support The Journal

Your contributions will help us continue to deliver the stories that are important to you

Support us now
Opt-out of hours 
The opt-out option will only be available upon the approval of management and will not impact on frontline services.
"If there are public servants out there in relation to the Haddington Road hours, who are facing particular challenges from a work-life balance point of view… we will offer them the opportunity not to work those hours, but it is only fair that if they are not working those hours they don't get paid for them. I think that would be understood by employers all over the country," the minister told reporters today.
Donohoe said he had to strike a balance, particularly with the hours agreed under the Croke Park Agreement, which he said have made a massive difference to the delivery of frontline services, particularly in schools.
"If I were to lose those hours the Exchequer would need to double the number of people it is looking to hire this year to maintain the same level of public services, let alone maintain it," he said.
Eoin Ronayne, from the Civil and Public Services Union which represents more lower paid workers, told RTÉ's Morning Ireland that there's "a lot to take in".
"It's been a very difficult couple of weeks," he said. "There's a lot of disappointments and a lot of gains. We didn't make the progress we'd like to make on the hours, for example."
Joanne Irwin, president of the Teachers' Union of Ireland, said that from their point of view, these talks were not satisfactory.
She told Morning Ireland: "My initial reaction on it is that it would have addressed new-entry pay and it doesn't. [Union members] won't be too pleased.
Our new entrants have waited long enough.
A representative of another trade union Siptu said on Today with Sean O'Rourke that their key objective to protect jobs from being outsourced has been satisfied by the new draft pay agreement.
But he said that they went into the agreement with a long list of demands, so not all of them have been achieved.
With reporting by Christina Finn