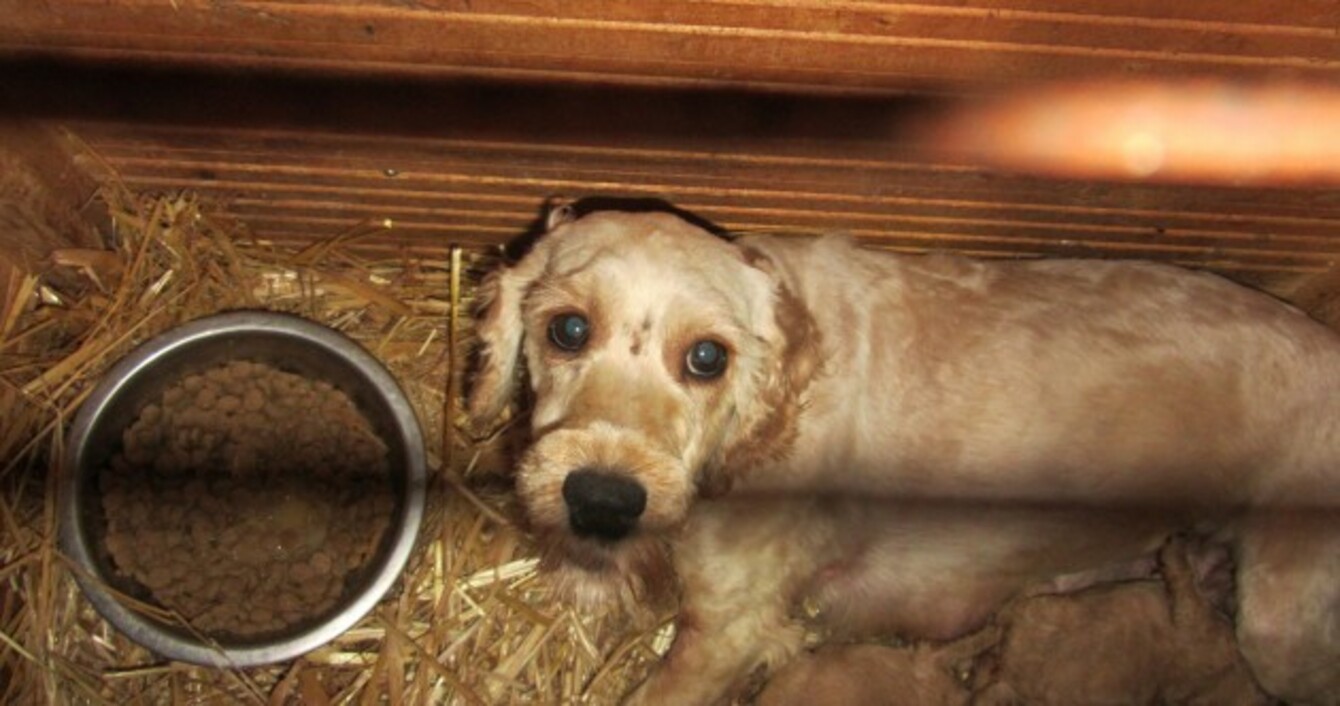 Image: ISPCA
Image: ISPCA
THE ISPCA HAS issued a warning to people considering buying a puppy to not support puppy farms in the run up to Christmas.
The organisation has said the coming weeks mark "the busiest time for rogue breeders advertising puppies for sale and buyers need to beware and understand where these puppies are originating from".
In a statement the ISPCA noted: "Many puppies are bred in appalling conditions, are not vaccinated or microchipped and may be in need of veterinary care."
The organisation said it has saved hundreds of puppies from "deplorable conditions", noting dogs sometimes have no access to daylight, have inappropriate bedding and are cooped up in a small kennel or breeding cage.
"In the worst cases there is limited food or access to clean drinking water with minimal human interaction or veterinary care.
They arrive at our centres terrified, often huddled together silently. After extensive veterinary treatment and rehabilitation, the ISPCA finds loving homes for these puppies where they will receive the love and kindness they deserve.
The ISPCA is encouraging people to adopt a dog after the festive season to reduce the risk of supporting this "cruel trade", adding: "Buying a sick puppy is a heartbreaking experience for any family to endure, especially at Christmas."
ISPCA CEO Dr Andrew Kelly said puppy breeding in Ireland is big business and the organisation needs the public's help to reduce the demand.
Large numbers of puppies are bred in Ireland, taken far too early from their mothers to be sold in Ireland or shipped illegally to the UK where they will be sold to unsuspecting families purely for profit with no regard for their welfare. Many of these puppies have had a very unpleasant start in life, sold to people who believe they are purchasing a healthy and happy puppy. Unfortunately they may have purchased a sick puppy, sometimes diagnosed with the contagious and often fatal parvovirus.
'Don't be hoodwinked' 
Broadcaster and ISPCA supporter Charlie Bird shared his own experience with rogue breeders to raise awareness.
"Please don't be hoodwinked or fooled by rogue breeders like my wife and I were. We decided to buy a puppy from a breeder in Cork whose website seemed great. We visited the sellers at their house in Cork and were led to believe that they had reared the puppies in their house.
We asked all the right questions. We asked to see the father of the puppies and were told that he had tragically been run over. This was not true.
Bird said they were "horrified to find out that it was in fact a large-scale puppy farm with almost 100 breeding females".
The ISPCA notes that pets "never make good Christmas gifts and should never be bought on a whim or given as a surprise".
If you're thinking of buying a dog, here is their advice:
Don't buy a puppy from unscrupulous breeders fuelling demand – do your research
Always try to adopt from the ISPCA, your local rescue or dog pound
Report suspicious activity online
Check if the seller is a registered commercial breeder and check the local authority registration details
Reputable breeders do not advertise puppies for sale through online websites, pet shops or newspaper adverts, or meet at petrol stations, car parks or at the side of a road
Check websites have signed up to the Pet Advertising Advisory Group (IPAAG) minimum standards
Always ask to see both parents of the puppy interacting with the litter. If you're told this can't happen, ask why
Responsible breeders will want to do a home check and ask you important questions about your lifestyle in order to ensure you are a suitable owner for their puppy
Ask to see where mother, father and puppies are living. If you are concerned by excuses made as to why the parents are not there, don't buy a puppy out of guilt
Warning signals include other dogs hidden from sight in nearby sheds or if can you hear loud music playing to drown out the barking noise
Also check if there is a lot of traffic coming and going from the property and if someone actually lives there
Ask to see the puppies' veterinary records for vaccinations and parasite treatments, microchipping certificate, etc
Ensure you obtain a proper receipt
Be cautious of large numbers of puppies for sale online using the same adverts/phone numbers