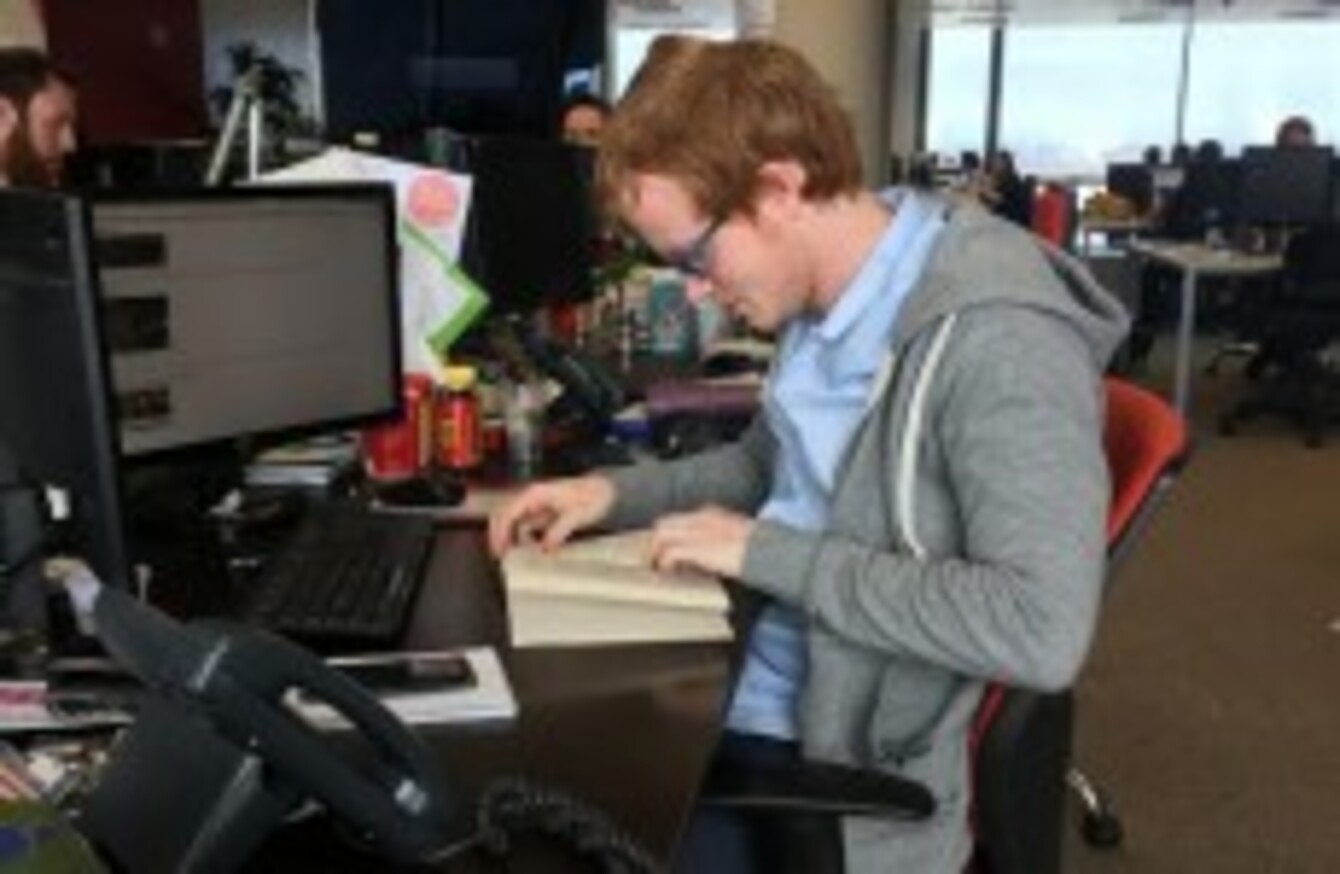 The things we do for our readers...
Image: Christine Bohan
The things we do for our readers...
Image: Christine Bohan
THE NEW INSTALMENT of the insanely successful 50 Shades of Grey book series is out today.
Entitled simply Grey, the book is told from the point of view of the male protagonist, Christian.
But we know what you're all wondering. How filthy is it? Never one to let our readers down, we here in TheJournal.ie newsroom took on the onerous task of reading it and found the smuttiest bits that we possibly could.
*WARNING: CONTAINS FILTH*
The book is laid out as a diary, so we all took different dates and present the smut without plot or context. Because there isn't any, anyway.
Paul Hosford – Sunday May 22, 2011 (Page 126)
I thrust into her again and again, watching my cock disappear and reappear from her mouth. It's beyond erotic. I'm so close. Suddenly she bares her teeth, gently squeezing me, and I'm undone, ejaculating into the back of her throat, crying out my pleasure.
Sinéad O'Carroll – 1 June 2011 (Page 419) 
"When did you start your period, Anastasia?" I want to fuck you without a condom. "Yesterday," she breathes. "Good." I step back and spin her around. "Hold onto the sink," I command. Grasping her hips, I left her and pull her backward so she's bent over. My hand glides down her ass to the blue string, and I tug out the tampon, which I toss in the toilet. She gasps, shocked, I think, but I grab my cock and slide into her quickly… I pick up speed, and I grasp her hips, building… building, then hammering into her. Claiming her. Possessing her… "That's right, baby," I murmur, my voice hoarse as I pound into her with a punishing I-own-you rhythm."
(Editor's note: This is not good sex education – you can get both pregnant and/or an STD during your period. Just saying, Grey.)
Peter Bodkin – 30 May 2011 (Page 349)
With my finger I circle inside her once more, then withdraw and remove the balls from my mouth. Gently, I insert the first ball into her, then the second, leaving the tag outside, draped against her clitoris. I kiss her bare ass and slide her panties back into place … 'How does that feel?' I ask. 'Strange.' 'Strange good or strange bad?' 'Strange good,' she answers."
Nicky Ryan – 27 May 2011 (Page 276)
Kavanagh says he wants to upgrade his media network to high-speed fiber-optic connections. GEH can do it for them – but are they serious about buying in? It's a big investment up front, but a great payoff down the line."
Cianan Brennan – 30 May 2011 (Page 358, in which Christian talks like Troy McClure from The Simpsons)
"Damn right. Only me!" Her words are a siren's call to my libido. Losing all self-restraint, I sweep everything off my desk, sending my papers, phone, and pens all clattering or floating to the floor, but I don't give a damn. I lift Ana and lay her across my desk so her hair spills over the edge and onto the seat of my chair.

"You want it, you got it, baby," I growl, shipping out the condom and unzipping my pants. Making quick work of covering my cock, I stare down at the insatiable Miss Steele. "I sure hope you're ready," I warn her, grabbing hold of her wrists and keeping them at her sides. With one swift move I'm inside her.

"Ah… Christ, Ana. You're so ready."
Órla Ryan – 3 June 2011 (Page 477)
She grasps when I grab her hips and kiss the sweet junction beneath her pubic hair. Moving my hands to the back of her thighs I part her legs, exposing her clitoris to my tongue. When I start my sensual assault her fingers dive into my hair. My tongue torments her, and she moans and tips her head back against the wall.She smells exquisite. She tastes better. As she purrs she tilts her pelvis toward my invading, insistent tongue, and her legs begin to tremble.

Enough. I want to come inside her.
Rónán Duffy – 3 June 2011 (Page 489, Twice in one day? The horny divils)
I tease each of her nipples until they are glistening with my saliva and standing to attention. She writhes as much as the restrains allow and groans beneath me. My tongue trails down her belly, around her naval, laving her. Tasting her. Venerating her. Moving down, through her pubic hair to the sweet exposed clitoris that's begging for the touch of my tongue. Around and around I swirl, drinking in her scent, drinking in her reaction until I feel her tremble beneath.Oh no. Not yet, Ana. I stop as she huffs her voiceless disappointment.I kneel up between her legs and pull open my fly, freeing my erection.
Christina Finn – 30 May 2011 (Page 351, Grey is clearly an ass man)
I want to see her ass in all its rosy glory. Unhurriedly, teasing her, I tug down her panties, skimming my fingertips down her thighs, the backs of her knees, and her calves. She lifts her feet, and I discard her panties on the floor. She squirms, but stops when I place my hand flat against her pink, glowing skin. Grabbing her hair again, I start anew. Gently first, then resuming the pattern.She's wet; her arousal is on my palm. I grip her hair harder and she moans, eyes closed, mouth open and slack.Fuck, she's hot. "Good girl." My voice is hoarse, my breathing erratic. I spank her a couple of more times until I can bear it no more. I want her. Now.I wrap my fingers around the tab and draw the balls out of her. She cries out in pleasure. Turning her over, I pause to yank my pants off and put on a wretched condom.
Michael Sheils McNamee – 3 June 2011 (Page 491)
A pleasurable rumble resonates deep in her throat. "What was that music?" she asks. "It's called Spem in Alium, a forty-part motet by Thomas Tallis.""It was… overwhelming.""I've always wanted to fuck to it.""Not another first, Mr Grey?"I grin. "Indeed, Miss Steele.""Well, it's the first time I've fucked to it, too," she says, her voice betraying her fatigue."You and I, we're giving each other many first.""What did I say to you in my sleep, Chris – er, Sir?"Not this again. Put her out of her misery, Grey. "You said lots of things, Anastasia. You talked about cages and strawberries. That you wanted more, and that you missed me."
Cliódhna Russell – June 7 2011 (page 537)
We're fucking. Fucking hard. Against the bathroom door. She's mine. I bury myself in her, again and again. Glorifying in her: the feel of her, her smell, her taste. Fisting my hand in her hair, holding her in place. Holding her ass. Her legs wrapped around my waist. She cannot move; she's pinioned by me. Wrapped around me like silk. Her hands pulling my hair. Oh yes. I'm home, she's home. This is the place I want to be…inside her…
Sean Farrell – May 23, 2011 (page 162/3)
"I don't remember reading about nipple clamps in the Bible. Perhaps you were taught from a modern translation", she goads me, her eyes shining and provocative. Oh that smart mouth."Well I thought I should come and remind you how nice it was knowing me" The challenge is there in my voice. Her mouth drops open in surprise, but I glide my fingers to her chin and coax it closed. "What do you say to that, Miss Steele?' I whisper, as we stare at each other.Suddenly she launches herself at me. Shit.

Somehow I grab her arms before she can touch me, and twist so that she lands on the bed, beneath me, and I have her arms stretched out above her head. Turning her face to mine, I kiss her hard, my tongue exploring and reclaiming her. her body rises in response as she kisses me back with equal ardor. Oh, Ana. What you do to me. Once she's squirming for more, I stop and gaze down at her. It's time for Plan B…
So there you are now. We're going to go take some cold showers.