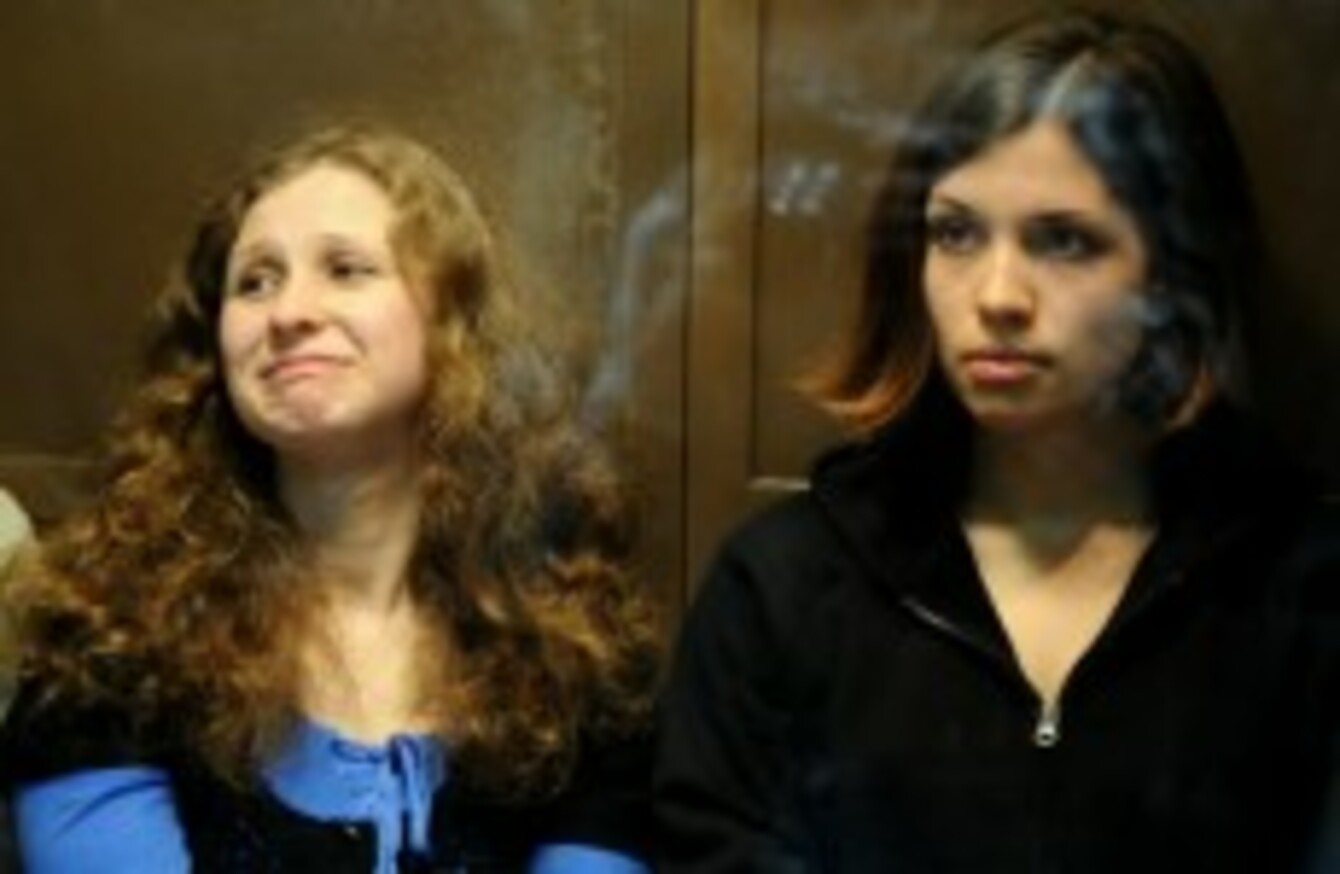 Maria Alyokhina (left), seen here with another Pussy Riot member Nadezhda Tolokonnikova.
Image: Stanislav Krasilnikov / PA Images
Maria Alyokhina (left), seen here with another Pussy Riot member Nadezhda Tolokonnikova.
Image: Stanislav Krasilnikov / PA Images
Updated 11.02 AM
THE THIRD MEMBER of the Russian punk bank Pussy Riot jailed has been released from custody following an amnesty law passed by parliament.
Nadezhda Tolokonnikova left the prison colony in the eastern Siberian city Krasnoyarsk today, hours after another band member, Maria Alekhina, was released in another region.
"Nadya is free!" wrote Pyotr Verzilov, as his wife walked out of the prison hospital in the Siberian city Krasnoyarsk after a Kremlin-backed amnesty.
The amnesty that enabled their release is seen as the Kremlin's attempt to soothe criticism of Russia's human rights record ahead of the Winter Olympics in Sochi in February.
The third member, Yekaterina Samutsevich, was released on suspended sentence months after all three were found guilty of hooliganism motivated by religious hatred and sentenced to two years in prison for the performance at Moscow's main cathedral in March 2012.
The two members of the punk Pussy Riot band freed today served one year and 10 months for staging a protest performance in Moscow's biggest cathedral.
Maria Alyokhina, was earlier freed from prison  after receiving amnesty, her lawyer and prison officials said.
"Today around 9 a.m. (0500 GMT) she walked out to freedom," said the spokeswoman of the prison service in Nizhny Novgorod Yelena Nikishova.
"I don't know what her further plans are," she told AFP.
Her lawyer Pyotr Zaikin told RIA Novosti that the 25-year-old was apparently headed to the train station in the city in a prison convoy.
Reporters waiting for Alyokhina by her colony number two in Nizhny Novgorod did not get a chance to speak with her after she was whisked away, her other lawyer told AFP.
"She is being driven away in a black car, which probably belongs to the head of the colony," said Irina Khrunova.
"They didn't hand her over to her lawyer, probably to avoid a media frenzy," she said.
Alyokhina and bandmate Nadezhda Tolokonnikova, 24, whose two-year sentences for hooliganism in a Moscow church would have run out in early March, were granted amnesty last week after parliament approved a Kremlin-backed bill.
The two women were convicted and jailed on charges of hooliganism motivated by religious hatred after staging a "punk prayer" in Moscow's largest cathedral in Februrary 2012, ahead of Vladimir Putin's reelection, to protest the Orthodox Church's support of the strongman during the campaign.
Their jailing turned them from almost unknown rebel punks on the fringes of Russian society to the stars of a global cause celebre symbolising the repression of civil dissent under Putin.
Additional reporting by Associated Press.