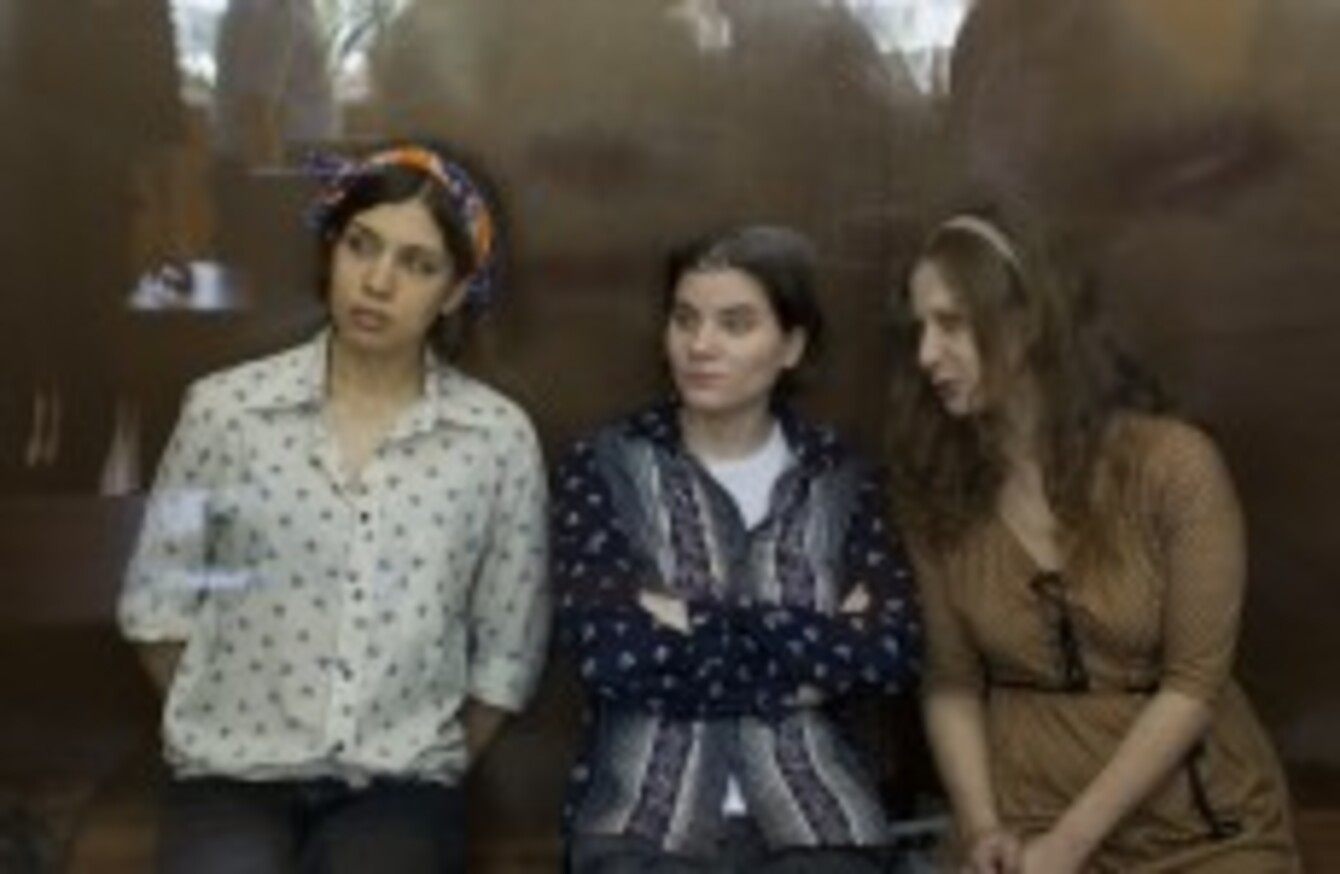 Image: Misha Japaridze/AP/Press Association Images
Image: Misha Japaridze/AP/Press Association Images
PRESIDENT VLADIMIR PUTIN'S unexpected call for leniency in the Pussy Riot trial failed yesterday to convince the wary defence that the three members of the all-girl punk band will be set free soon.
"I do not think that they should be judged too severely," he said in reference to a February "punk prayer" performance that the balaclava-clad Pussy Riot band members staged inside Moscow's biggest cathedral against his rule.
He added that he expected the band members to "draw their own conclusions" and learn from their mistakes.
I hope that the court will make the right, well-founded ruling.
Protests
Meanwhile, EuroNews reports that three demonstrators climbed the balcony of the building facing Moscow courthouse to declare their support for the women.
The Guardian reports that one of the women's lawyers, Violetta Volkova, described the women as being tortured because they were being denied food and enough sleep.
The punk band's one-minute stunt inside the Christ the Saviour Cathedral – itself a symbol of the Church's resurgence under Putin's 12-year rule -has turned into a global cause celebre symbolising Russia's lack of freedoms.
Group leader Nadezhda Tolokonnikova and band mates Maria Alyokhina and Yekaterina Samutsevich have already been in pre-trial detention for five months and could face seven years if convicted of hooliganism motivated by religious hatred.
The spirits of Feygin and other defence attorneys seemed to be sagging again badly by Friday evening after the presiding judge had barred 14 of the 17 defence witnesses from testifying in court.
Prosecution
The prosecution had earlier sought to keep all the defence witnesses from attending the hearings – a move they justified by claiming their irrelevance to the case.
Pussy Riot supporters had earlier expressed fears that Putin had made his London comments primarily to calm Western anger rather than push for the women's release.
Pussy Riot's attorneys meanwhile have openly admitted that their best – and possibly only – form of defence rested on drawing global condemnation to what they see as disproportionate punishment for a prank stunt.
Hollywood star Danny De Vito joined the ranks of the band's growing global celebrity fan club on Friday by tweeting about them to his 2.3 million followers.
"Mr Putin… Pussy Riot… set 'em free," the actor wrote.
- Additional reporting AFP, 2012