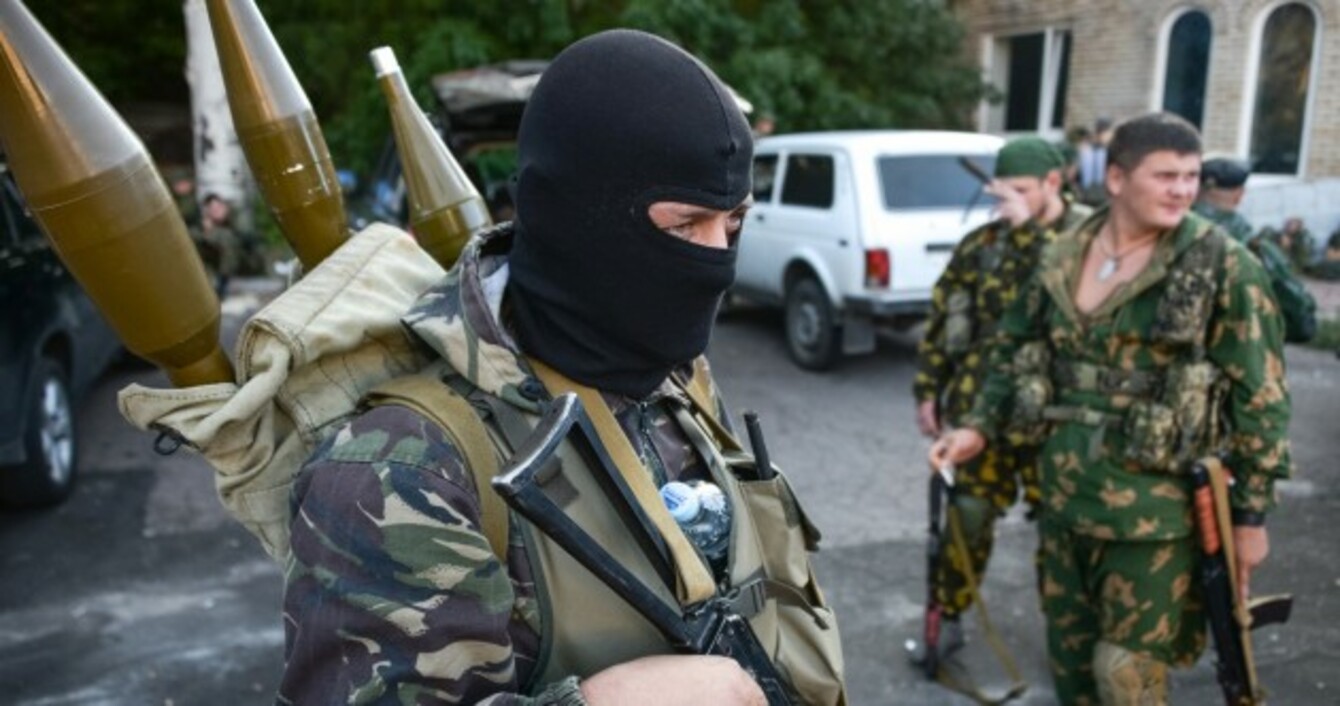 Pro-Russian rebels in Donetsk, eastern Ukraine
Image: AP/Press Association Images
Pro-Russian rebels in Donetsk, eastern Ukraine
Image: AP/Press Association Images
RUSSIAN PRESIDENT VLADIMIR Putin has called for a "political solution" to the crisis in eastern Ukraine, including talks about "statehood" for the region.
Meanwhile, Ukrainian military sources are claiming that Russian tanks are battling with Ukrainian government soldiers at Lugansk airport in east Ukraine this morning.
Yesterday, authorities in Kiev said a border guard vessel operating in the Azov Sea was attacked by land-based forces.
Pro-Russian rebels have recently opened a new offensive along the seacoast.
The alleged incident came after comments made by Putin, who told Russian national TV network Channel 1 that Ukraine must immediately start talks to resolve the crisis.
[Ukraine should] hold substantive, meaningful talks, not about technical issues but about the question of the political organization of society and statehood in southeast Ukraine, with the goal of safeguarding the legitimate interests of those people who live there.
Despite the use of the word "statehood," Putin did not envision sovereignty for the two separatist eastern regions that style themselves as "Novorossiya" (New Russia ), his spokesman Dmitry Peskov said later, according to a Russian news report.
Putin's remarks came a day after EU leaders decided to put off any new sanctions against Russia for at least a week.
'For God's sake, can't we help these people defend themselves?'
Source: PigMine5/YouTube
Meanwhile, two prominent U.S. senators said yesterday that the Obama administration should not only push for tougher sanctions on Russia, but should also send weapons to help Ukraine defend itself.
"We should be providing the Ukrainians with the type of defensive weapons that will impose a cost on Putin for further aggression," Democratic Senator Robert Menendez, chairman of the Senate Foreign Relations Committee, said on CNN's "State of the Union."
This is no longer the question of some rebel separatists, this is a direct invasion by Russia. And we must recognize it as that.
He said the issue of supplying weapons to Ukraine "may be very well on the table right now" for the Obama administration considering "these are changed circumstances."
Senator John McCain said that if unchecked in Ukraine, Russia could begin to threaten other nations in Eastern Europe, including Moldova and the Baltic states, former Soviet republics. McCain denied that providing weapons to Ukraine could make things worse.
For God's sake, can't we help these people defend themselves? This is not an incursion, this is an invasion.
Give them the weapons they need, give them the wherewithal they need, give them the ability to fight. They will fight.
Contains reporting from the Associated Press.