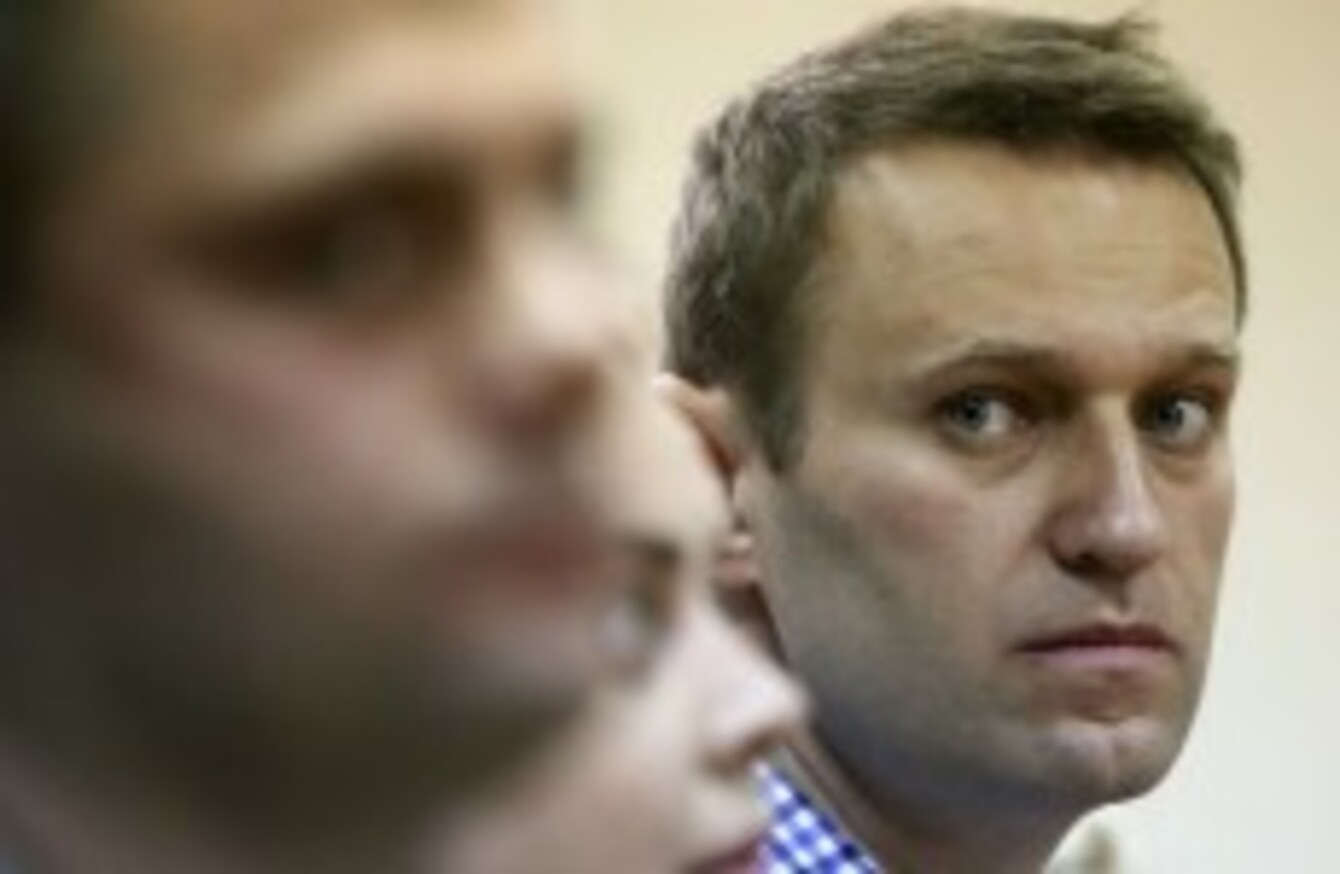 Russian opposition leader Alexei Navalny, right, listens to the judge while attending his trial at a court in Kirov, Russia
Image: Dmitry Lovetsky/AP/PA Images
Russian opposition leader Alexei Navalny, right, listens to the judge while attending his trial at a court in Kirov, Russia
Image: Dmitry Lovetsky/AP/PA Images
A COURT IN Russia's northern Kirov region has sentenced protest leader Alexei Navalny to five years in a penal colony after finding him guilty of embezzlement in a timber deal.
"Navalny… committed a grave crime," said judge Sergei Blinov as he delivered the sentence. Navalny hugged his wife and mother and was then handcuffed by court bailiffs who led him away, an AFP correspondent in court reported.
The court had earlier convicted protest leader Alexei Navalny of embezzlement, in a verdict that will disqualify one of President Vladimir Putin's fiercest critics from politics.
Judge Sergei Blinov said he found Navalny guilty of colluding to steal money in a timber deal while acting as an unpaid advisor to the local government in the northern Kirov region. Sentencing is expected to be announced later in the day.
"The court has established that Navalny organised the criminal act and led the execution of this large-scale embezzlement," said Blinov as he began reading the verdict in an almost inaudible mumble at high speed.
(Bailiffs stand guard as judge Sergei Blinov, right, reads a verdict in a court in Kirov, Russia. Dmitry Lovetsky/AP/PA Images)
Navalny showed little emotion at the cramped courthouse in Kirov as the verdict was read out. But he immediately picked up his mobile phone to tweet his reaction.
"'Organised'… That means that there is going to be no beautiful scene with an acquittal," Navalny wrote. His co-accused, Pyotr Ofitserov, was also found guilty.
Navalny, 37, who emerged as a powerful new political force in mass anti-Putin protests that broke out in December 2011, has dismissed the charges against him as absurd and a set-up to end his budding political career.
Prosecutors in the regional capital of Kirov, a sleepy city 900 kilometres (560 miles) north of Moscow, are seeking a six-year prison colony sentence. But the conviction alone will remove Navalny from politics once the appeals process is over.
Navalny had bluntly predicted on his blog ahead of his trial that he would be found guilty and that Putin would be behind the decision, with the only suspense whether he would be sent to jail or given a suspended sentence.
The verdict comes a day after Navalny was accepted as a candidate for the high-profile Moscow mayoral race in September, raising the bizarre prospect that he could run for office while behind bars.
Navalny's disqualification from politics would only take effect after the appeals process is exhausted, so he could still theoretically campaign during this period.
The trial is seen by the opposition as part of a wider crackdown on activists who took to the streets to demand an end to Putin's rule in the run-up to his return to the Kremlin in May 2012 for a third term.
Many have spent months in cells awaiting trial and face long jail terms for crowd violence.
With his streetwise rhetoric and charisma, Navalny emerged as the most effective of the opposition leaders who led the unprecedented protests against Putin.
Navalny has said he wants to challenge Putin in the next presidential elections in 2018 and coined the phrase "the party of crooks and thieves" to describe the ruling United Russia party.
In a typically uncompromising gesture, Navalny this week published a detailed report accusing one of Putin's closest allies, the head of Russian Railways, Vladimir Yakunin, of possessing vast undeclared property and business assets.
But some within the opposition have criticised Navalny, saying he lacks a clear vision for the country beyond cracking down on corruption and bluntly vowing to jail opponents should he win power.
Navalny has also yet to win wide recognition beyond his powerbase in Moscow, where he has become a hero for many in the Internet-savvy middle class who yearn to live in a different Russia.
© – AFP