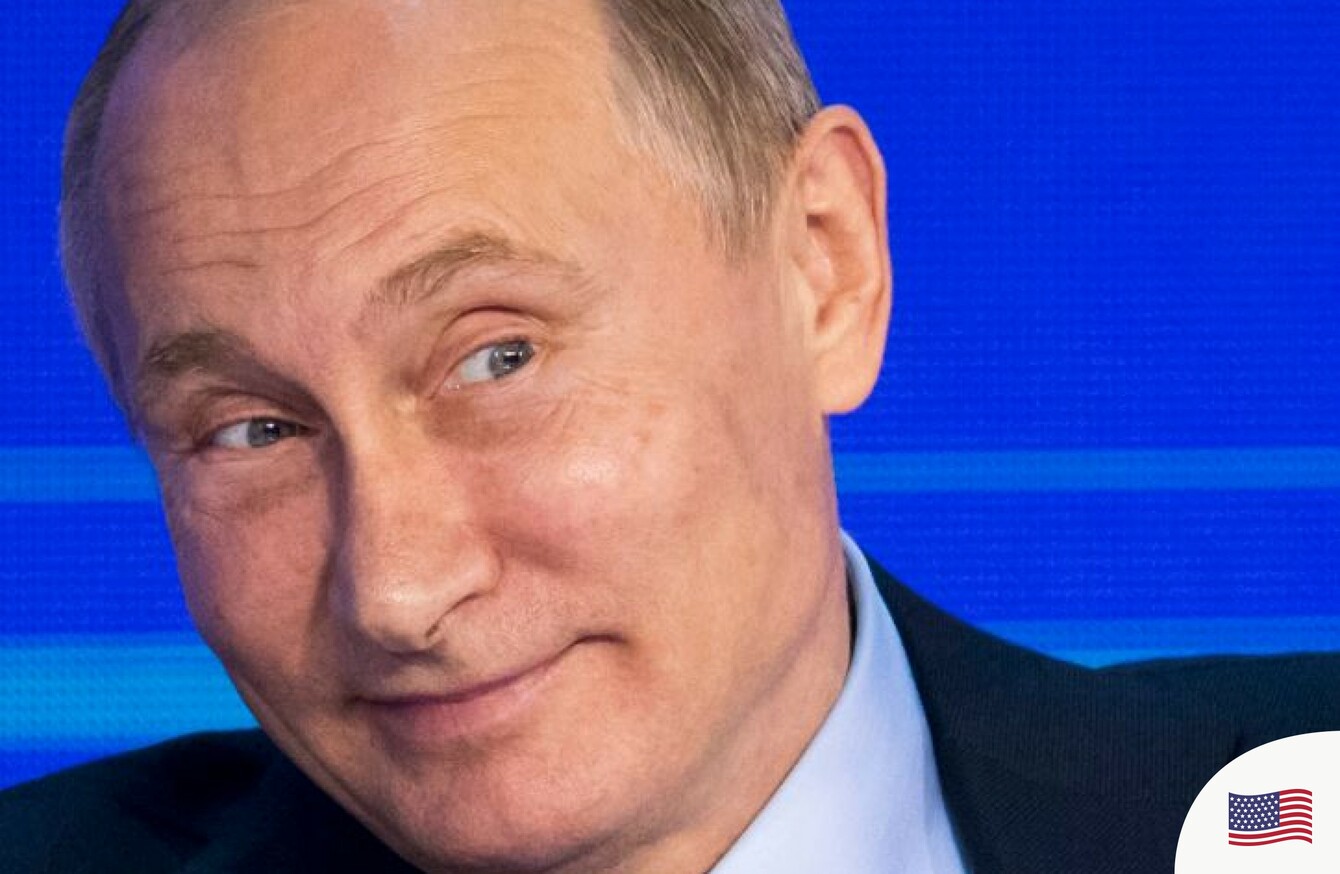 Putin
Image: Alexander Zemlianichenko AP/Press Association Images
Putin
Image: Alexander Zemlianichenko AP/Press Association Images
RUSSIAN PRESIDENT VLADIMIR Putin has congratulated Donald Trump on his victory in US presidential election, saying he hopes to work with him to improve relations.
In a statement, the Kremlin said Putin "expressed hope for mutual work on bringing US-Russia relations out of their critical condition as well as on working out outstanding issues on the international agenda" in his congratulatory telegram.
"The President of Russia also expressed certainty that building constructive dialogue between Moscow and Washington" would "be in the interest of the people of our countries and the entire world community".
Putin has tacitly supported Trump during the campaign, while Trump repeatedly flattered and praised the Russian leader and said he was willing to work with him.
Russia's parliament today  broke into applause upon learning of Trump's stunning upset victory over Hillary Clinton, who is seen as anti-Russian by many in the Russian establishment, mostly due to her stint as Secretary of State in 2009-2013.
EU officials
Meanwhile, the EU's top officials Donald Tusk and Jean-Claude Juncker have sent Trump their "sincere  congratulations" and invited him to an EU-US summit.
"We would take this opportunity to invite you to visit Europe for an EU-US summit at your earliest convenience," Tusk and Juncker said in a letter to Trump.
"Today, it is more important than ever to strengthen transatlantic relations," they said.
Other leaders
In a statement, British Prime Minister Theresa May said: "Britain and the United States have an enduring and special relationship based on the values of freedom, democracy and enterprise.
"We are, and will remain, strong and close partners on trade, security and defence.
I look forward to working with President-elect Donald Trump, building on these ties to ensure the security and prosperity of our nations in the years ahead.
Jeremy Corbyn, leader of the Labour party in the UK, said Trump's "answers to the big questions facing America are wrong":
Meanwhile, British eurosceptic politician Nigel Farage, instrumental in promoting Britain's shock vote in June to leave the European Union, tweeted:
Can't watch the video, click here. 
Right-wing 
French politician Marine Le Pen, head of the far-right anti-immigration National Front (FN) party, tweeted: "Congratulations to the new president of the United States Donald Trump and to the free American people."
Hungarian Prime Minister Viktor Orban, who leads a right-wing coalition with a strong anti-immigration stance, said: "Congratulations. What a great news. Democracy is still alive."
Matteo Salvini, leader of Italy's far-right anti-immigration party the Northern League, tweeted: "Now it's our turn."
Japanese Prime Minister Shinzo Abe, offered his"heartfelt congratulations", saying: "Japan and the United States are unshakeable allies connected by common values such as freedom, democracy, basic human rights and rule of law."
Iran's Foreign Minister Mohammad Javad Zarif stated:
Every US president has to understand the realities of today's world. The most important thing is that the future US president sticks to agreements, to engagements undertaken.
Palestinian president Mahmud Abbas, through a spokesman, said: "We are ready to deal with the elected president on the basis of a two-state solution and to establish a Palestinian state on the 1967 borders."
Lech Walesa, Nobel peace prize winner and former Polish president, stated:
We have to fix the democratic system because if we do not, we will see more of this kind of incident or, worse, democracy will find itself out on the street.
Australian Foreign Minister Julia Bishop, said: "We will do what we can to ensure the new US administration is focused on our region because that is in our national interest."
Swedish Prime Minister Stefan Lofven, stated: "This is an election outcome that many people feel concerned about, but that we have prepared for.
Sweden has a long tradition of cooperation with US governments, regardless of party political affiliations, and the Swedish government will contact the administration … to safeguard Swedish and European interests, and to promote global security and stability.
Dutch Foreign Minister Bert Koenders, added: "We will judge him by his deeds."
- © AFP 2016, with reporting by Órla Ryan