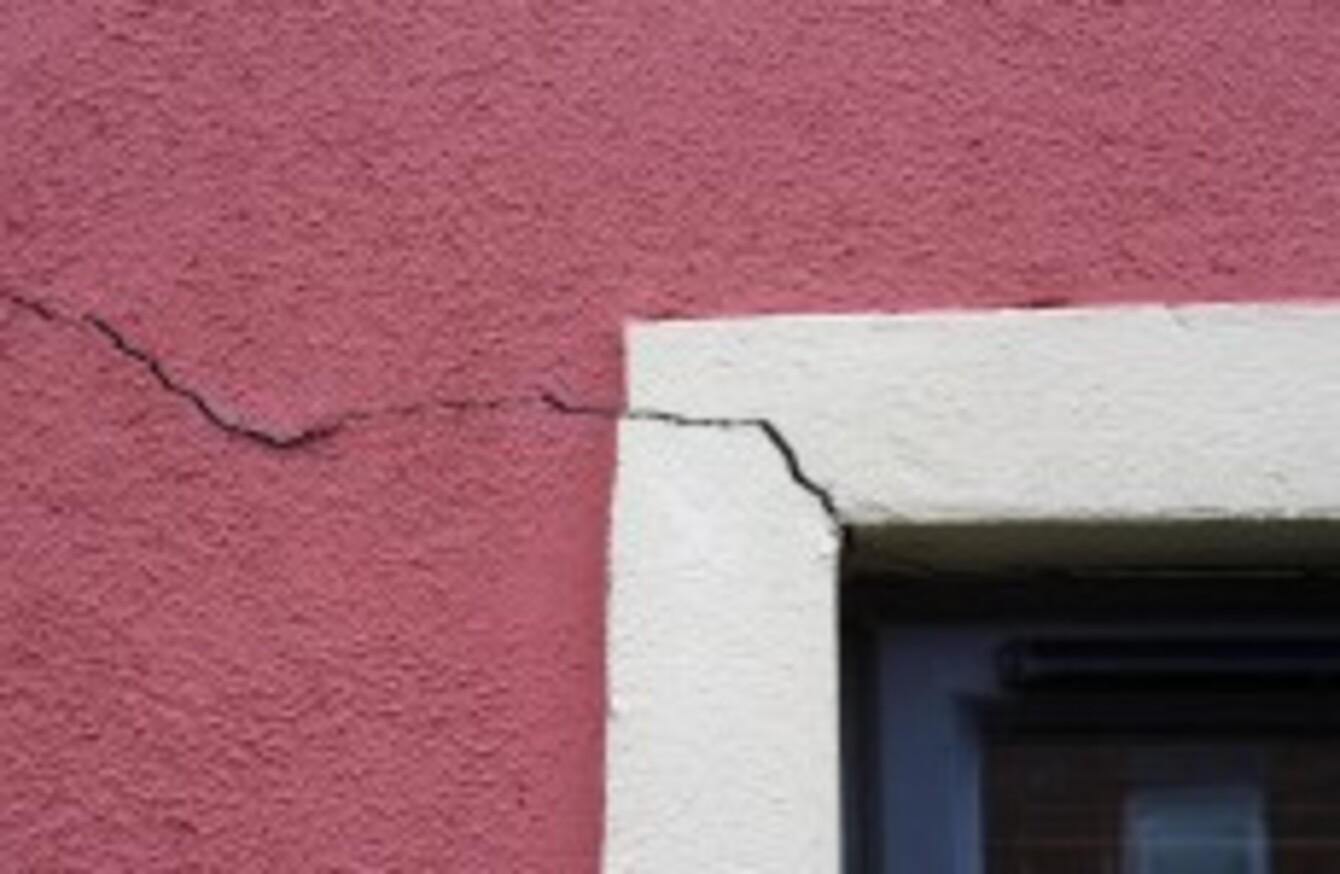 Image: James Horan/Photocall Ireland
Image: James Horan/Photocall Ireland
THERE WERE 418 applications to the Pyrite Resolution Board for funds to repair damage made by to people's homes by the 'fool's gold'.
A report in 2012 identified 10,300 homes that were possibly contaminated by pyrite, and the Pyrite Resolution Board was set up earlier this year to begin taking applications for remedial work.
An initial funding allocation of €10 million was approved for the board.
Homeowners whose properties have been affected by 'pyrite heave' (where the sub-standard building material has caused structural damage) can apply for the damage to be repaired and the material replaced.
Pyrite has been reported to have led to walls cracking, floors bulging and doors sticking.
Here is the county breakdown for applications:
The online application process was launched on 26 February 2014 and can be accessed on the Board's website.
The number of completed applications submitted since the launch to 15 April 2014 was 418.
There were an additional 146 individuals who have begun but not yet completed their applications.
The audit process has been completed for over 50 per cent of applications received.
"Overall the Damage Condition Ratings recorded have been satisfactory in all cases audited thus far," said the board. "A small number of applications with a Damage Condition Rating of 1 have been received. While these do not qualify under the Scheme some may fall to be considered under the "exceptional" heading at a later stage."
Housing agencies
A total of 84 applications spread over five different developments have been recently validated and referred to the Housing Agency for the Verification stage.
The Housing Agency will begin the assessment and damage verification process. After this, a recommendation will be made to the PRB about whether or not the dwelling should be included in the remediation scheme.
Redress
The board said that generally applications "declare little by way of actions taken, whether by applicants themselves or builders/developers, to seek redress from others who may have liability".
It seems clear that applicants may be slow to declare such actions as they would worry that this might affect their eligibility for remediation by the PRB or that their application may be deferred as allowed for under the legislation. In many of these cases homeowners have been living with severe damage for a considerable period of time.
The board said that some solicitors and builders' representatives have been in contact with PRB looking to progress actions or settlements and getting the necessary cooperation from homeowners.
"It also seems that settlements being negotiated in some cases might not meet the full costs of remediation, but that the builders/developers wish to find a mechanism that would contribute towards the Pyrite Remediation Scheme," noted the board.
These parties are currently considering proposals which they would then bring to the PRB.
According to he board, it seems appropriate that the board should agree "that as much funds as possible be contributed from those liable for the pyrite damage, while not unduly delaying or frustrating homeowners in their need to have their damaged dwellings remediated".
The board said it has been "tacitly acknowledged" that homeowners want to be assured that they would not be disadvantaged by cooperating with builder/developers in their actions, "subject to receiving satisfactory proposals that can be legally recommended".