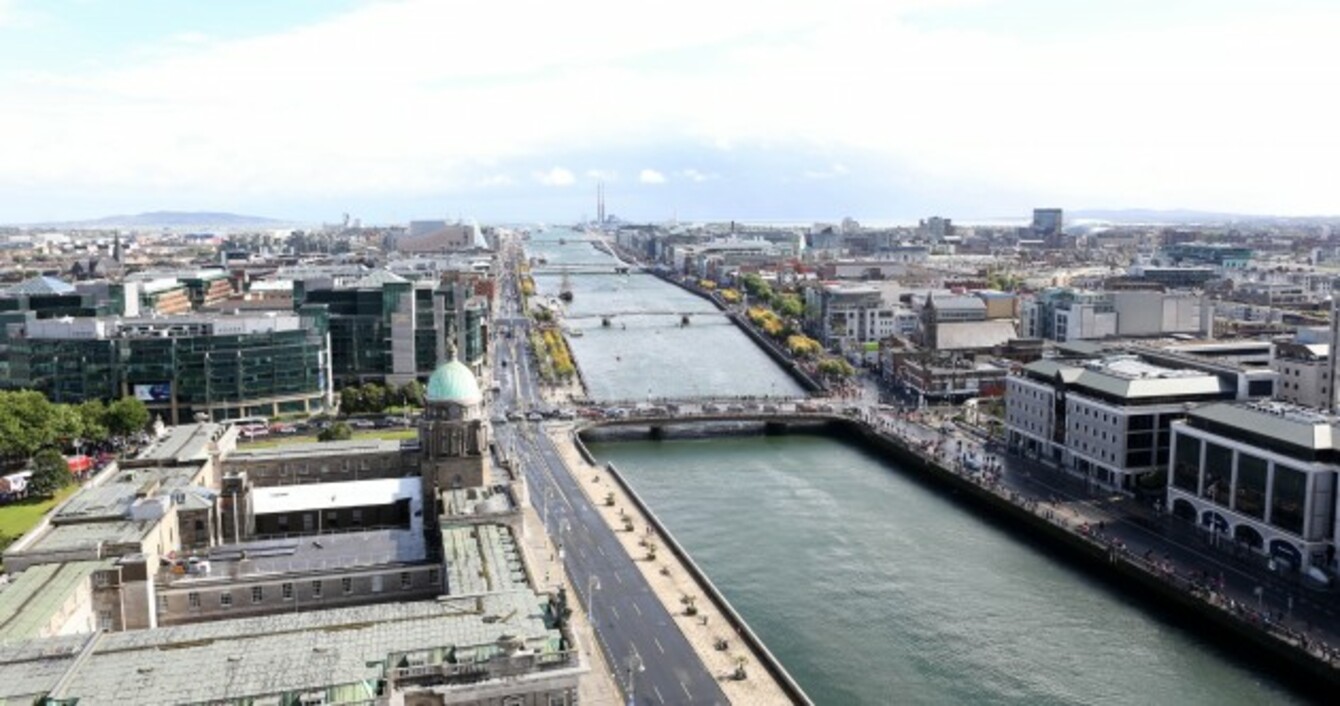 The view from Liberty Hall in Dublin looking over the Custom House.
Image: Sam Boal/Photocall Ireland
The view from Liberty Hall in Dublin looking over the Custom House.
Image: Sam Boal/Photocall Ireland
DUBLINERS SHOULD BE the 34th happiest urbanites in the world according to business consultants Mercer.
That's because Ireland's capital has been placed 34 on a list of 223 cities in Mercer's Quality of Living Ranking. Dublin's place in the list puts it above London, which is in at 38, but below a range of central European cities which dominate the list.
Vienna was found to be top of the livability pile, beating nearby Zurich into second place.
Some of Ireland's recent emigrants may be experiencing a better quality of life than those of us still on these shores, with Auckland in New Zealand being named as the world's third most livable city and Vancouver on Canada's west coast in fifth.
Mercer say that their research is undertaken to help multinationals organisations compensate their expat employees and say that they analyze 39 different factors in 10 categories.
Mercer's Noel O'Connor says that Dublin's relatively high place on the list is due to a number of reasons.
"Some of the factors placing Dublin firmly in the top 50 for quality of living worldwide include our educational facilities, lower levels of air pollution and recreational and social activities," he said.
European cities enjoy a high overall quality of living compared to those in other regions. Healthcare, infrastructure, and recreational facilities are generally of a very high standard. Political stability and relatively low crime levels enable expatriates to feel safe and secure in most locations.
The dance floor at the state opera in Vienna, Austria. Pic: (AP Photo/Ronald Zak)
Worldwide
The highest ranking Asian city on the list is Singapore which is in 25th place overall, with Japanese capital Tokyo in 43rd.
In the Middle East and Africa region Dubai is the highest ranked city, even though it fails to break the top 50 in 73rd place. The highest ranking city on the African continent is Durban in South Africa in 85th position.
Overall, the United States fared rather poorly compared to their northern neighbours, with Canadian cities making up four of the top five positions in North America, with only San Francisco getting through in fifth place.
Iraqi capital Baghdad was the lowest ranked city in terms of livability in 223rd place.
The Top 5
1. Vienna, Austria.
2. Zurich, Switzerland.
3. Auckland, New Zealand
4. Munich, Germany.
5. Vancouver, Canada.