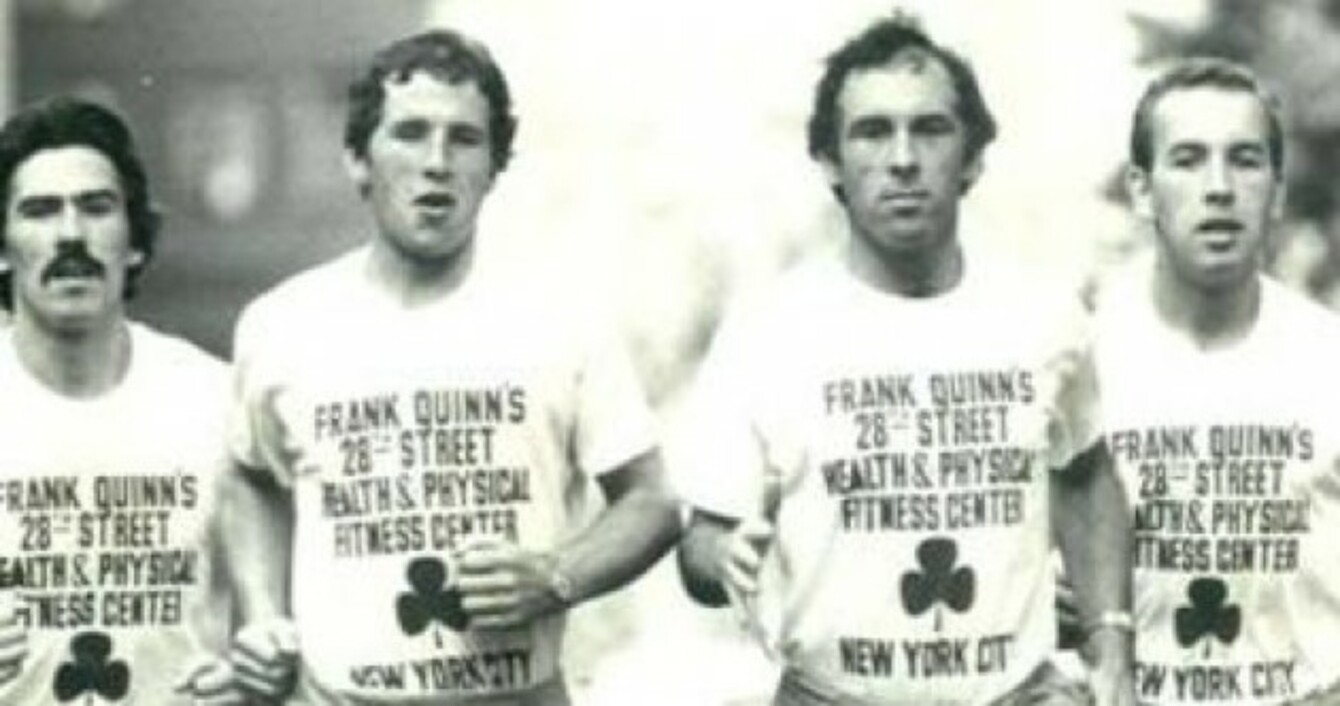 The Quinn brothers running in the NYC marathon in the 1980s. (L-R) Sean, Brian, Frank and Michael.
Image: MS IRELAND/QUINN BROTHERS
The Quinn brothers running in the NYC marathon in the 1980s. (L-R) Sean, Brian, Frank and Michael.
Image: MS IRELAND/QUINN BROTHERS
IN 1980, THREE brothers from Tyrone living in New York City were gathered in their local pub, when one of them came up with the great idea to run the New York City marathon.
None of them were particularly fit or athletic but in typical sibling rivalry and in the spirit of good competition, the idea got legs and soon they were summoning their fourth brother, who still lived in Tyrone, to come over and join them in the race.
1980s and the New York Marathon
"We were four fairly unfit lads but we had youth on our side. We were about 22 or 23 years old and played GAA so we weren't too worried," says Mick Quinn.
The brothers were the first set of four brothers in the world to run the New York marathon together. Once this news got out, the story was soon picked up by the New York Times who wanted an exclusive with the Quinn brothers.
The other TV networks jumped on the story and soon everybody knew the Quinn brothers. Mick said: "A few days before the race our story was one of the leads across the networks – ABC, CBS, NBC."
"At the time, the big news was that Russia had invaded Afghanistan, and our story was right up next to that on the front pages. Once the media picked it up there was no turning back – we had to get fitter and fitter," Mick told TheJournal.ie.
33 years later…
Now, 33 years on, the Quinn brothers will run again.
This time the four brothers now in their 50s will be running closer to home at this year's Dublin City Marathon on the 28 October.
Looking back on his time in New York (he was there on a J1 visa) he said it wasn't too difficult to convince his brother to come over to New York. "Brian was running a farm back in Tyrone, so he was only too happy to get away for a week, but he didn't expect to end up in the US newspapers".
It really was blown up into this huge thing – but that didn't surprise me in the US. It was all over the national US news, not just regional. It meant there was no backing out – we would have to run faster now that everyone was watching.
Mick said he and a few of his brothers have kept up the running or walking over the years, but said now that they are doing it again, they have had to up their game.
Athletes in training
"I've been out jogging or walking as I put it, every day. I've tried to get more fit and shed a few pounds by eating lettuce leaves and the like. We have all got a bit more rounder and balder than we were back then!" he said.
All the Quinn brothers now live in Ireland. Mick has a pharmacy business while his brothers have a family business which includes well-known pub Toners on Baggot Street. Mick said:
When we decided to run again we wanted to do it for someone, so we rang the MS Society and told them our story and they were delighted for us to run in their name.

So far, we have raised about €3000, but we are hoping to raise more. It is surprising, in these times that people do still give, but it's great to see and it is for a great cause.
Present day Quinn brothers (L-R) Sean, Brian, Frank and Michael Quinn.
To get behind the Quinn brothers and support their efforts check out their sponsorship page or pop a few coins in the MS Society buckets in locations throughout the country. All funds raised will go towards MS Ireland services nationwide.