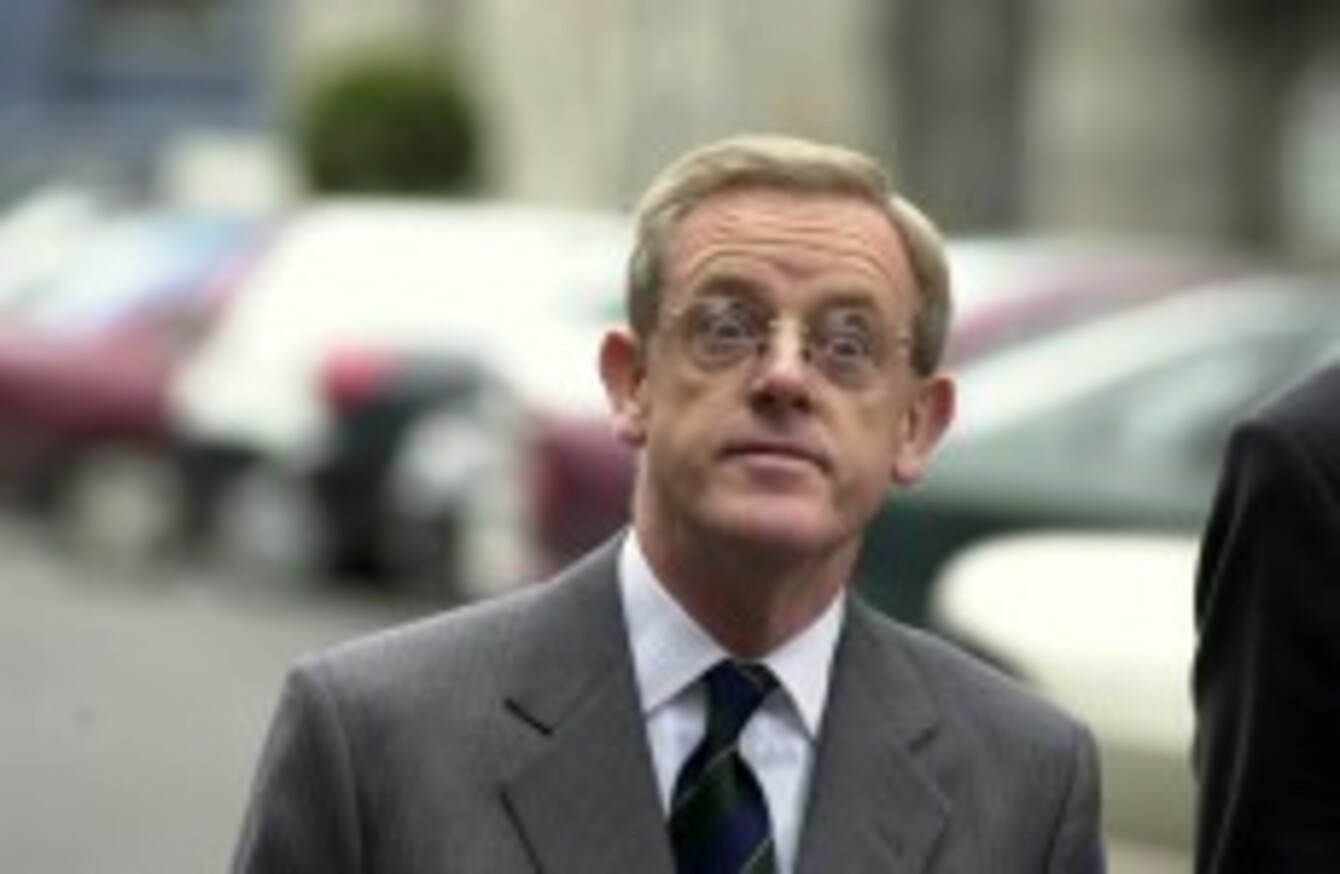 Frank Dunlop
Image: Eamonn Farrell/Photocall Ireland
Frank Dunlop
Image: Eamonn Farrell/Photocall Ireland
MORE THAN A year after the rest of the report was published, the final chapter of the Mahon Tribunal report was published on Wednesday afternoon.
It was a long time coming. The Tribunal was opened by Mr Justice Fergus Flood in January 1998 and sat for more than 900 days (with more than 400 witnesses) before it finally published its report – minus this chapter –  in March 2012.
The final chapter – which looked at alleged corruption around planning in the Carrickmines are of south Dublin –  had not been published over fears that it could prejudice a criminal trial which was taking place. The trial, which revolved around alleged payments made to former local authority councillors, collapsed last week, paving the way for the long-awaited publication of the last chapter.
The chapter makes for fascinating reading (you can take a look at it here).  The small web of  businessmen, developers, local authority officials and lobbyists who gave evidence at Mahon give an insight into the murky world of planning in the 1980s and 1990s in parts of Dublin, when decisions were made on the basis of who the applicants knew – and how much they were willing to pay.
Here are some of the choice quotes from the final chapter:
Solicitor and developer John Caldwell was asked what he thought of lobbyist Frank Dunlop, who has admitted giving bribes to councillors:
Mr Dunlop was a man with the biggest ego and the biggest set of  confidence, not that I have ever met, but certainly he would be up there.
He was a very articulate individual, very polished, very professional in the,  in his image [....] and the way he spoke. He was a man that you felt that you could have confidence in .[…] He was a lobbyist and a lobbyist has a skill set and he has a set of years of experience in what he does and he goes to sell a package and a vision. He is a seller of ideas.
Again on Frank Dunlop: Here, former councillor John O'Halloran described the work of the lobbyist:
Well, as he was the professional we weren't going to dictate to him exactly what he should. What we asked him to do is to ensure that we would have a successful outcome to our rezoning motion and whatever he had to do and how he did it, well, that was up to him. This is a task that we didn't know very much about because we had never done it before so it was up to him to do it and he had the reputation of being good at this particular task
… and property developer Gerard Kilcoyne described Frank Dunlop in football terms:
The way I see it in soccer parlance it is like looking at the first division and saying there is only one side and no other side existed and that side is Manchester United, for example, in this particular case Mr Dunlop was the sole person who specialised in this area and he had no competition and he had a good reputation and he had a list of very top class clients and Mr O'Halloran was recommending him to Dr. Darragh and myself and we weren't in the business of disputing it or disagreeing with him
The final report of the Mahon Tribunal (Photo: Sasko Lazarov/Photocall Ireland)
Former Fianna Fáil councillor Don Lydon was asked by the Tribunal about councillors receiving money from developer and lobbyists:
They got money at election time and he (Mr Dunlop) may have assumed that by doing that they voted a certain way but I don't believe they always did. I think they made up their own minds. That may be a very stupid belief but that's what I think […] I didn't say they took money on the nod.
Gerard Kilcoyne said that a business acquaintance  had warned him to be careful about businessman Jim Kennedy. The final chapter of the Mahon report found Frank Dunlop made corrupt payments to politicians on behalf of Kennedy:
..you would have to be very weary [sic] of Mr. Kennedy that he was a sort of slippery type of person and you would want to be very cautious in your dealings with him because he was, he had a lot of strong native intelligence and he was by nature a property speculator and he was a far thinking far seeing individual and he might be five or six leaps ahead of the average person including myself, he said in any dealings you have with this gentleman he will just have to be doubly certain and treble certain you have the best legal advice and that you get the best property advice and just be careful and be weary [sic]
Judge Alan Mahon (Pic: Laura Hutton/Photocall Ireland)
Land agent Sam Stanley told the Tribunal that Jim Kennedy had made no secret of his close association with former Dublin Assistant City and County Manager George Redmond
I would go so far as to say he probably boasted about it
Gerard Carroll, a technical at Dublin City Council received an instruction to prepare a map showing the most up-to-date zoning proposals for the Carrickmines area in 1989 or 1990.  He realised the importance of the map and its sensitivity:
I felt  duped, I felt that I had been used by somebody to get a map for Jim Kennedy,  but I was not going to get involved at that stage. I knew enough about Jim  Kennedy to stay well away from him
George Redmond (Photo: Laura Hutton/Photocall Ireland)
Here, John Caldwell, a solicitor and developer, tries to explain the source of the funds for the 50 per cent he contributed to the shareholding cost in Paisley Park development land:
As I indicated the last time I gave evidence in relation to it, I thought that the source of the fundings were a number of sources, and what I've done since that and it is to try and find something which makes it that more concrete to try and deal with it here with the Tribunal. I've, and I've spoken to Mr. Bullock in relation to it, because he was the chap in charge of the funds and dealing with the funds, so in terms of the sources of it, it's transactional driven insofar as I'm concerned, and if you like, I mean I can start and go through some of those sources at this point in time, but that's the generality of it.
Robert Tracey, who was selling land which was zoned as agricultural, received a visit from two men in late 1986/early 1987 who suggested he needed to pay money or else his land would not be rezoned:
I would not agree to the deal of £5,000 option and both explained the amount of money they would be out of pocket to get the lands rezoned, submit plans and get them passed. Both of them said "£20,000 had to be "thrown in" to the Fianna Fail party for starters. There are men who have to get £10,000 each". There were few subsequent meetings both in my house and in Jack's house. I remember that there were three (3) men in the Planning Office who had to be paid £10,000. At a subsequent meeting the offer was increased to £10,000 option, but I still refused that.
Landowner Jack Tracey told the Tribunal how he refused to pay money to get planning permission:
I had sought planning permission to build one house on those lands about four (4) years ago. Permission was refused. I discussed this with Jim Kennedy and Sam Stanley. Stanley told me that if I paid £50,000 Jim Kennedy would get Planning Permission on Appeal to An Bord Pleanala. I did not agree to that.