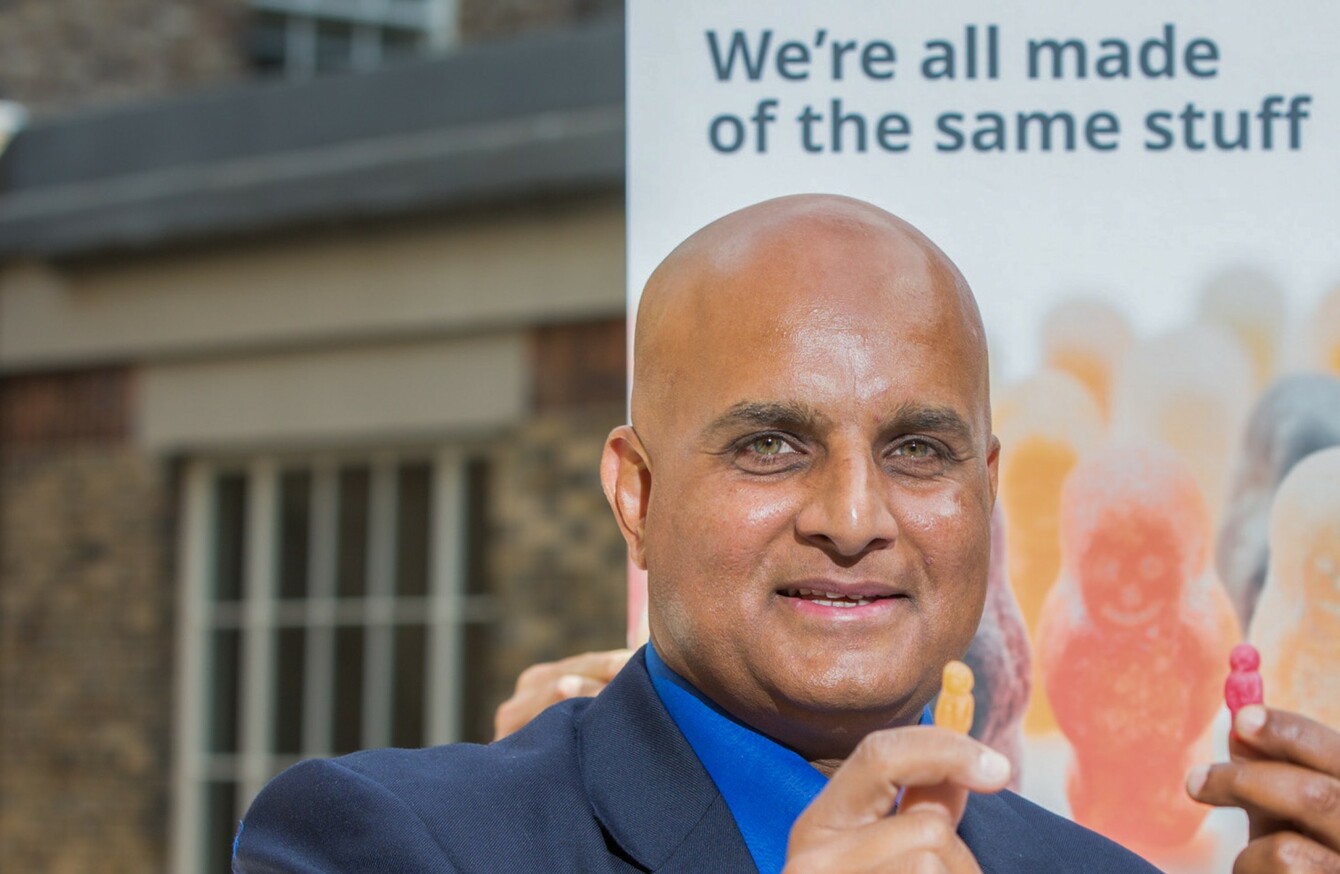 Shahbaz Rana (left) and Sammy Akorede of the Luas at the launch of the Immigrant Council's anti-racism campaign on public transport this weke.
Image: Karl Hussey/Dublin Bus
Shahbaz Rana (left) and Sammy Akorede of the Luas at the launch of the Immigrant Council's anti-racism campaign on public transport this weke.
Image: Karl Hussey/Dublin Bus
SHAHBAZ RANA HAS been living in Ireland for more than 20 years, and experiences frequent racist abuse in his job as driver for Dublin Bus.
His workplace – public transport – is home to a fifth of all reported racism in Ireland.
A Muslim originally from Pakistan, Rana is a magnet for the most vitriolic, ignorant and violent of passengers.
He's been called a 'foreign ****'. A 'Paki'. A 'Nigerian bastard'. A 'Romanian bastard'.
He's been spat on, threatened, told to go home. As far as he's concerned, he is home.
"I'm with Dublin Bus the last 14 years," the 41-year-old tells TheJournal.ie. 
I've been in Ireland around 25 years now. I met my wife here, I've two lovely kids.
"My wife is from here, so she has no hassle. I'm the only one suffering all the time.
In my job or even normal socialising, you get abuse from other people fairly regularly.
"People are always trying to not pay the fare. It's normal for people to say 'go back to your country'. You just have to ignore them, otherwise there's more problems."
Spat in the face
He's had customers spit in his face twice, once in George's Street, Dublin 2 last year and another in Rathmines, Dublin 6.
"You just have to move on," he says.
You get annoyed, but you just have to sit back and relax, because he's going to be gone fairly quickly.
"I can't just get off the bus and start chasing him. I think it's company policy now that you can't leave the bus unattended. You have to think of those things."
Knife
Rana drives on the 15 bus route, which goes from Clongriffin in north Dublin to Rathmines and Templeogue via George's Street.
Earlier this year he intervened when he saw a male and female mugging a woman near the 15A terminus at Grand Canal Dock, and got a gash on his arm for his troubles. He recalls:
I chased the man and he stabbed me in the arm. I took the knife off him.
"The guards came down and arrested the man and his girlfriend who was there as well.
My hand was all cut, I had to go hospital. It was just a small scar. I see incidents like that all the time, people getting mugged, their mobiles getting snatched.
"I was out in Temple Bar a few years ago and somebody smashed a bottle off my head."
'Romanian'
Hailing from Lahore in Pakistan, Rana is Muslim, but Islam is not a huge part of his life.
"I'm more of a modern Muslim," he says. "People wearing hijab and niqab probably encounter more abuse.
"I've been here a long time, I wear normal clothes, so I don't really get [Islamophobic] abuse, it's more 'foreign this' and 'foreign that'."
Paki bastard. Nigerian bastard. Romanian bastard, all the nationalities.
They need more education, so we thought the campaign would really help, you know.
"You could say I get something hurled at me like that every second day. It's my job to face the public."
Rise in racism
This week the Immigrant Council of Ireland reported an 11% increase in racist incidents.
Their 2016 #StopRacism campaign, coordinated with the NTA and transport companies, is designed to encourage those who witness racism to report it.
"Racist incidents are under-reported, which makes it difficult to assess and tackle racism where it occurs," said Brian Killoran, head of the Immigrant Council of Ireland.
"While public transport in Ireland is safe and inclusive, like all public spaces it is not immune to negative behaviours of this nature.
The focus of our work with the National Transport Authority and our partners in public transport is to encourage people who witness racism to come forward, report it and receive support to address the issue.
"This is the fourth year of our anti-racism campaign on transport networks and, each year, we've seen an increase in the numbers of people challenging and reporting racism as a result."
Getting worse
From Rana's perspective, the problem of racism has deteriorated in the last few years.
"Since the recession hit you get more and more abuse. I can understand people are frustrated at not getting jobs.
Although I'm sure if you keep looking for jobs you get one eventually.
People make excuses.
"I used to report them all the time, but it's ridiculous because nobody paid attention. Dublin Bus are great, they treat you like family.
"But the Guards need to do something, we need transport police or something like that."