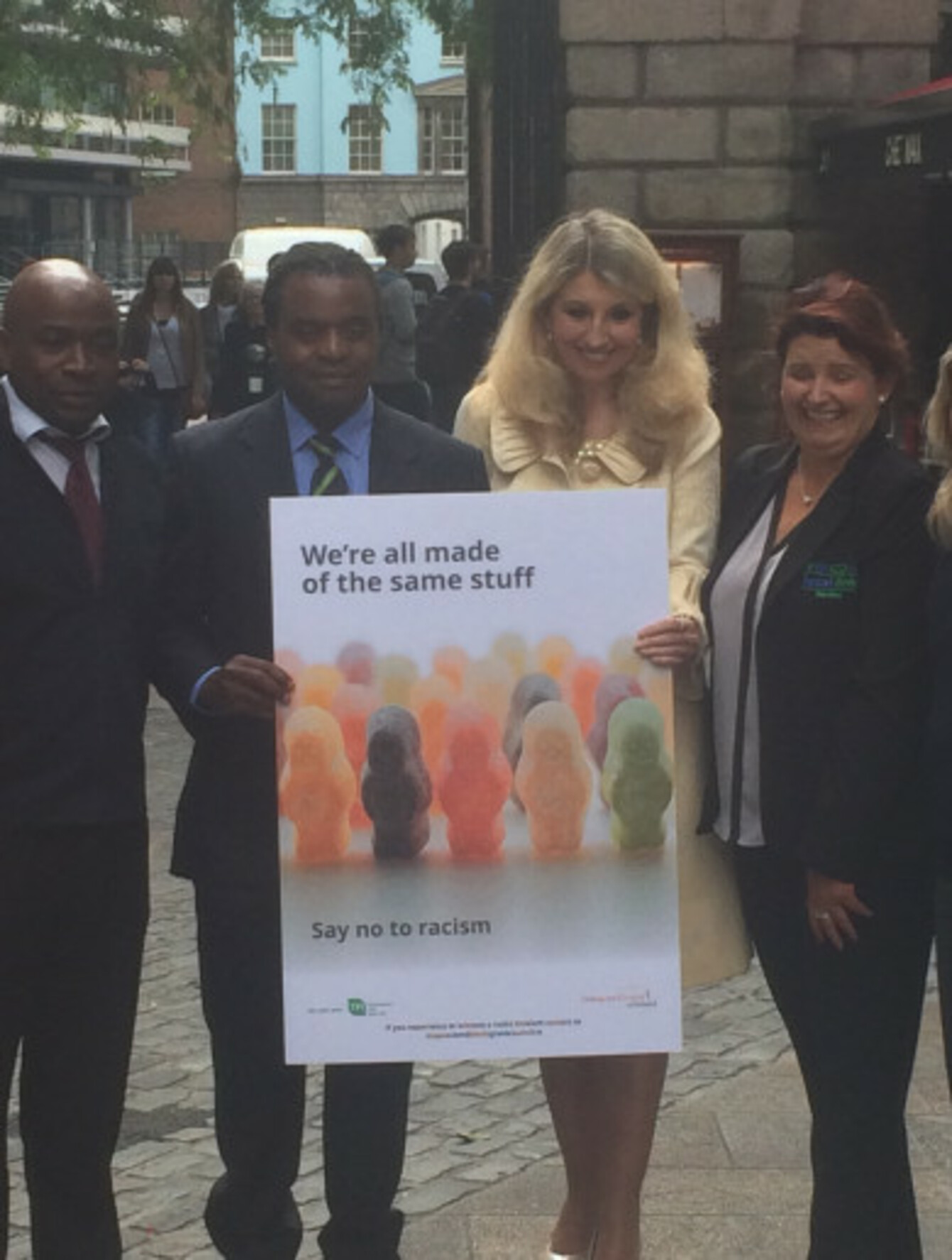 Image: Sean Murray/TheJournal.ie
Image: Sean Murray/TheJournal.ie
IRELAND'S PUBLIC TRANSPORT companies united today to launch a new public anti-racism campaign.
In collaboration with the Immigrant Council of Ireland, Dublin City Council and Transport for Ireland, the campaign urges people to report any incidences of racial abuse – whether it's done to them or they witness it – on our public transport system.
The diverse nature of Ireland's transport workforce highlighted the need for such a campaign which is now in its fifth year, organisers said.
As part of the initiative, a huge poster bearing the message "we're all made of the same stuff… say no to racism" has been placed on Dublin's Dame Street.
Brian Killoran, CEO of the Immigrant Council of Ireland said that "it's a massive opportunity to send out a couple of really strong messages".
Firstly, racism is in no way tolerated on Ireland's transport services. It's a really strong message for us all to send out. Second of all, it's to celebrate the diversity that exists not just in Ireland but the companies that we work in. It's reflective of how Ireland has changed over the years and what a massively positive contribution that is.
.@immigrationIRL CEO Brian Killoran on new anti-racist campaign on public transport pic.twitter.com/My2bMmitmP

— Sean Murray (@SeanMJourno) August 14, 2017
The diversity of the transport workforce was also highlighted at the launch of the campaign on Dame Street today.
Ethnic minorities make up 17% of Dublin Bus' workforce. Bus Éireann counts staff from 33 different backgrounds among its workers, and 30 different nationalities make up the 264-strong Transdev (Luas operator) workforce.
Anne Graham, chief executive of Transport for Ireland, said that we cannot just assume that our country has progressed beyond racism now in 2017.
She said: "Ireland has become more diverse and more mature in recent years.
However that doesn't mean we can be complacent, and prejudice and intolerance – whoever the target may be – need to be tackled head on.
In all, a total of 1,065 posters will be displayed on Ireland's transport system promoting this anti-racism message over the next few weeks.