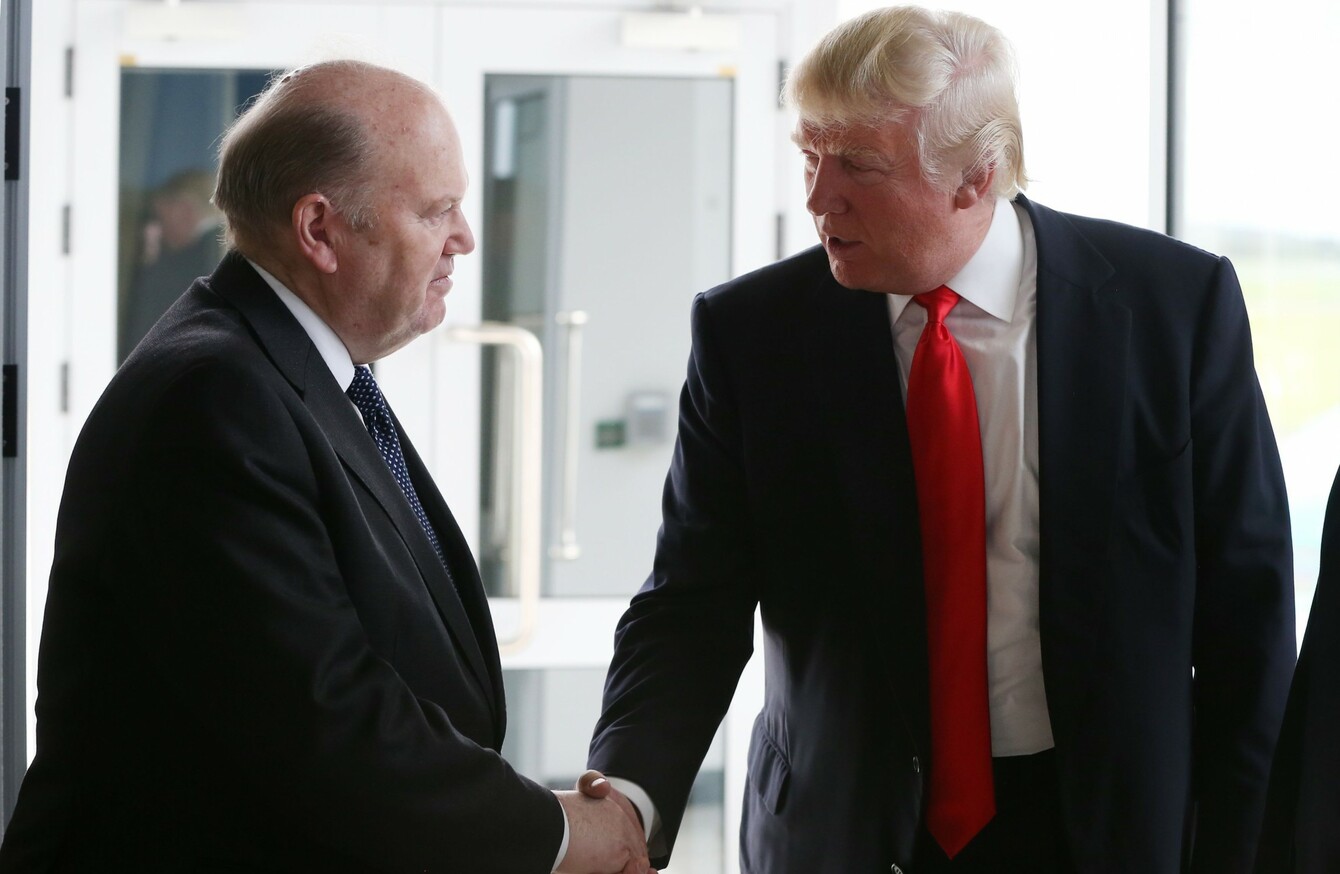 Finance Minister Michael Noonan with Donald Trump in 2014.
Image: Niall Carson
Finance Minister Michael Noonan with Donald Trump in 2014.
Image: Niall Carson
AMERICA HAS SPOKEN and Donald Trump has been elected to be the next president of the United States.
Over the course of the election campaign, international leaders and our very own Irish elected representatives have spoken out against the businessman who will soon take up home in the White House.
Despite Irish politicians vocalising some very strong opinions about Trump, there has been a significant row back in the last week.
So, what were Irish polticians saying about the president-election throughout the campaign?
Taoiseach Enda Kenny called Trump's views "racist and dangerous".
"If Trump's comments are racist and dangerous, which they are, there is an alternative to vote for."
On Trump's comments about Muslims:
Taoiseach Enda Kenny said "comments made in the United States are not acceptable to me or to people in this country. Free speech is one thing. The comments made are unacceptable".
Kenny told TheJournal.ie that he found the US election campaign the most "unedifying" campaign he has ever witnessed.
'Not something Ireland will tolerate'
Fianna Fáil leader Micheál Martin said the Irish government should respond to Trump's comments on Muslims, stating "that it's something we wouldn't tolerate in our democracy".
At an event in Dublin last month, Martin said Trump's comments were a "very sad reflection on where we are" adding that they were "just unacceptable indeed".
In May, Martin asked the Taoiseach if he would refuse to host Trump if he asked to visit Ireland during his campaign in an attempt to "moderate his image".
Mary Mitchell O'Connor: told the Sunday Independent in October:
I think that it is totally unacceptable the way he talks about women. And what really disgusted me was the way he spoke about people with disability. It is reprehensible.
But added: "But if I had to work with him, if he is the president of the US, I will absolutely work with him and I will have a working relationship."
'Misogynistic remarks'
Social Protection Minister Leo Varadkar has accused Trump of making "sexist" and "misogynistic" remarks.
"I think any reasonable person would agree some of the comments he's made are racist, particularly in relation to latinos and also many of the things he has said are sexist," he said.
In May, People Before Profit TD Richard Boyd Barrett asked the Taoiseach if Trump was elected president would Ireland continue with its policy of facilitating the US military at Shannon Airport.
"If the Taoiseach did that it would beggar belief because everybody recognises what a dangerous man Donald Trump is."
He also called Trump a "dangerous and vile racist", a "warmonger" and "sexist".
Green Party leader Eamon Ryan, AAA-PBP TDs Paul Murphy and Richard Boyd Barrett organised the 'Trump Not Welcome' protest in June when it was hinted the then presumtive nominee was planning a trip to Ireland.
Since Tuesday's result, many of the politicians mentioned above have toned down their opinions on the president-elect.
Taoiseach Enda Kenny said in the Dáil this week that he had stated that comments Trump had made were "racist".
However, he added that the people in the United States had made a democratic decision.
He said he listened to Trump's victory speech and said it sounded like Trump wanted "to heal wounds" and he supported that.
Kenny said he would be happy to meet Trump to discuss future relations of Ireland and the US. The traditional St Patrick's Day visit to the White House is set to go ahead next year, with Trump extending the invite to Kenny this week.