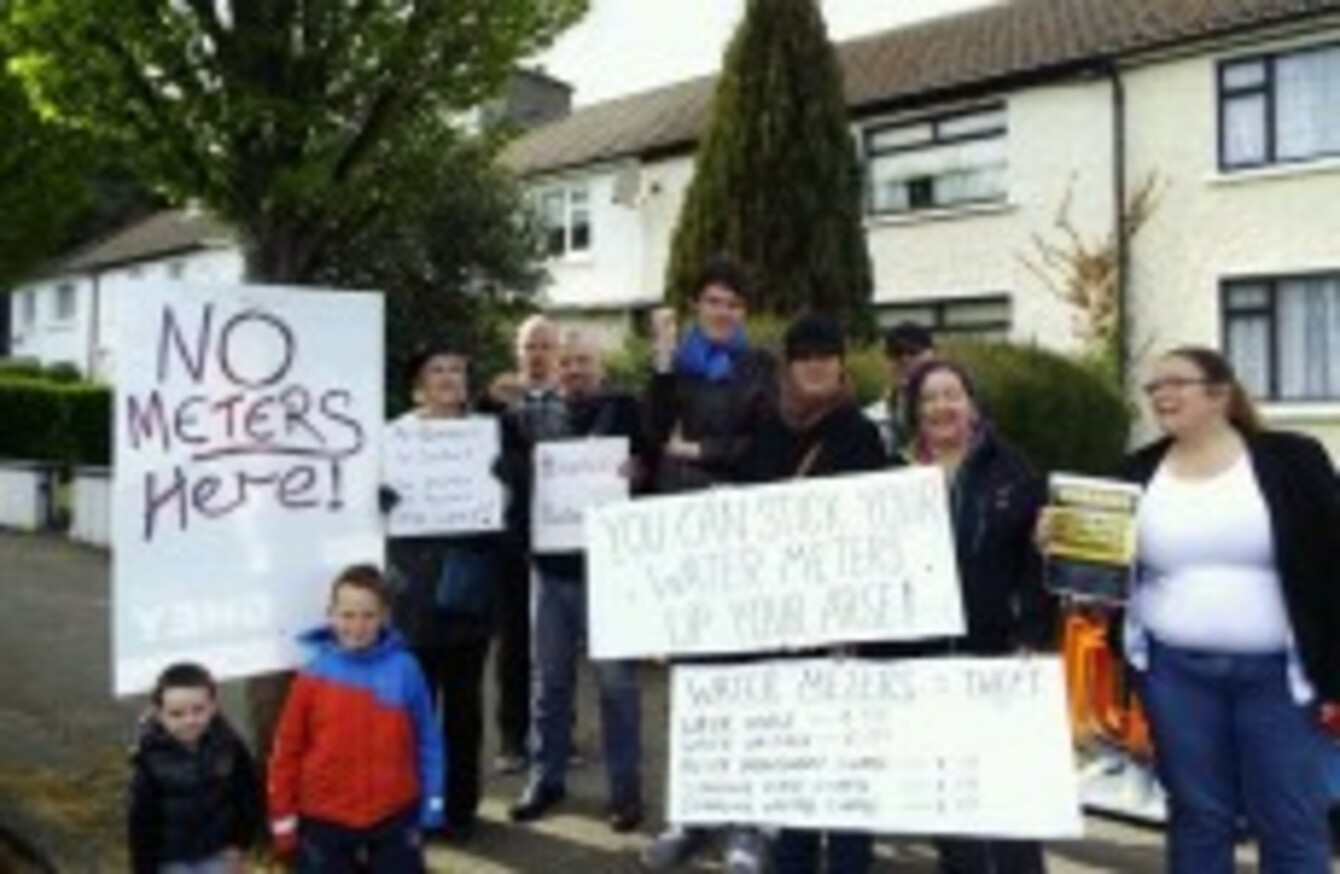 Image: Dublin Says No
Image: Dublin Says No
A GROUP OF anti-water protesters will be back out on the streets of Raheny today to prevent Irish Water workers from installing meters.
The protest has been organised by 'Dublin Says No' after a resident in the Dublin suburb put out a call online for people to come and support her. Some of the group are already on site at Watermill Drive this morning with demonstrator Derek Byrne telling TheJournal.ie it was a nice day for a protest.
"It's a lovely day – the sun is splitting the sky and I can stay as long as I want to, I only live down the road," he said. Up to 30 people are expected to take part throughout the day.
Yesterday the group claimed they ran workers out of the whole area but Irish Water said staff continued work in neighbouring areas. Byrne's message to Irish Water this morning was that "this is only the beginning".
"The next stage of the protest will be taken further, there'll be an occupation of their offices – anything can happen throughout the course of a protest," he said. A campaign group in Cork also maintained a protest against water meter installation at a housing estate in Cork yesterday and Byrne said this is "going to build up everywhere".
He said this is the charge that "broke the camel's back" after people were forced to pay bin charges and the property tax.
People don't have the money – it's just not there. We've given too much and we're getting nothing back.
Yesterday's protest finished at around 6pm and Byrne said he has "all the time in the world" today to stop Irish Water workers from getting those meters in.
Speaking to RTÉ's Morning Ireland today, Minister for Social Protection Joan Burton said the issue of water charges, which has caused a rift between Labour and Fine Gael mininsters, will be discussed again at next week's CAbinet meeting.
She said the Labour party is particularly concerned about older people and people "who would have particular needs and I'm thinking of people who might have a disability and people like carers that they would be protected in relation to the charges issue".
"Fine Gael, I suppose are concerned very much with people in business and so on," she said. "I'm the minister for Social Protection so I have a function in the Cabinet to seek to protect people who are, for one reason or another, vulnerable and on very low incomes."
She added that she was "disappointed" about the lack of progress on metering and would like Minister Hogan to come back to Cabinet to talk about how the issue with the number of meters can be addressed.