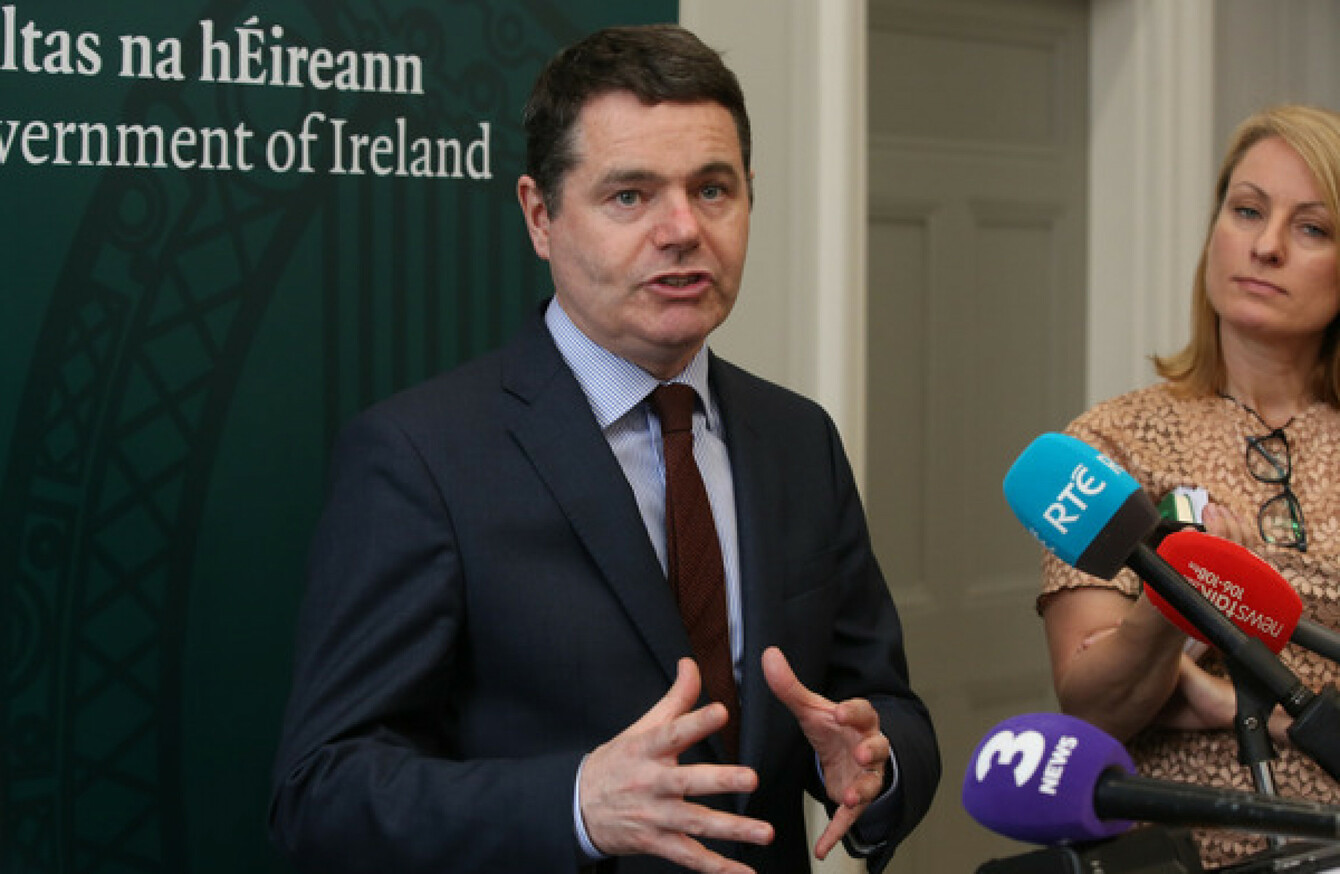 Image: Sam Boal/RollingNews.ie
Image: Sam Boal/RollingNews.ie
Updated 3pm
FINANCE MINISTER PASCHAL Donohoe has defended the establishment of a 'rainy day' fund which aims to give Ireland some financial cushion against future economic shocks.
First mooted in 2016 the Government announced today that it approved drafting of a bill to set up the fund.
Minister Donohoe said money will start going into the fund next year.
The initial deposit will be €500 million next year. Further annual contributions 500 million will be added to the pot in 2020 and 2021. These amounts are on top of the €1.5 billion in seed funding which has already been committed to.
It will be managed by the National Treasury Management Agency (NTMA).
The monies will be diverted from the Ireland Strategic Investment Fund (ISIF), which was set up to support economic activity.
Donohoe defended this monetary reassignment saying that later this year he expects there will be more people working in Ireland than ever before and tax revenue will reach record levels.
"With those kind of developments we need to plan for how we can look after living standards, retain jobs and invest in the future in our public services," he said.
The quantity of money that we had in the ISIF has helped get our economy to a point of nearly full employment and, with that in mind, it's appropriate to look at how we can use that funding in a new and better way.
Donohoe has said that the medium-term plan is to get the fund up to approximately €8 billion.
Minister Paschal Donohoe says the irony isn't lost on him that he's announcing the rainy day fund on this sunny afternoon.

He says there will be triple lock mechanism for withdrawing from the fund pic.twitter.com/0pLm0UeYYR

— TheJournal Politics (@TJ_Politics) May 23, 2018
He said the fund will go towards protecting Ireland's economy from "external shocks".
The legislation, which brings the rainy day fund into effect, sets out that subsequent governments will have to continue to pay into the pot up until 2021. After that three-year period, the government will have to change the law to amend the amount of money it wants to pay.
The minister said the fund will not be used to fund pensions into the future, stating that any monies to deal with pensions will be a separate fund.
The fund has been criticised by opposition parties with Sinn Féin finance spokesperson, Pearse Doherty, describing it as "ill-thought out and ill-timed", while earlier this year Labour leader, Brendan Howlin said is was "useless".
"Paschal Donohoe has been told by the Fiscal Council among others that his rainy day fund can't operate as they would like," Howlin said, explaining that the fund would have no real impact in the event of another crisis because it will take too long for it to generate a sufficient amount of money.
Fianna Fáil welcomed the announcement of the fund saying it has been endorsed by the European Commission, the Irish Fiscal Advisory Council and the International Monetary Fund.
"Establishing a 'rainy day fund' is the responsible thing to do when the economic tailwinds are positive," Finance spokesperson, Michael McGrath said.
Additional reporting Christina Finn