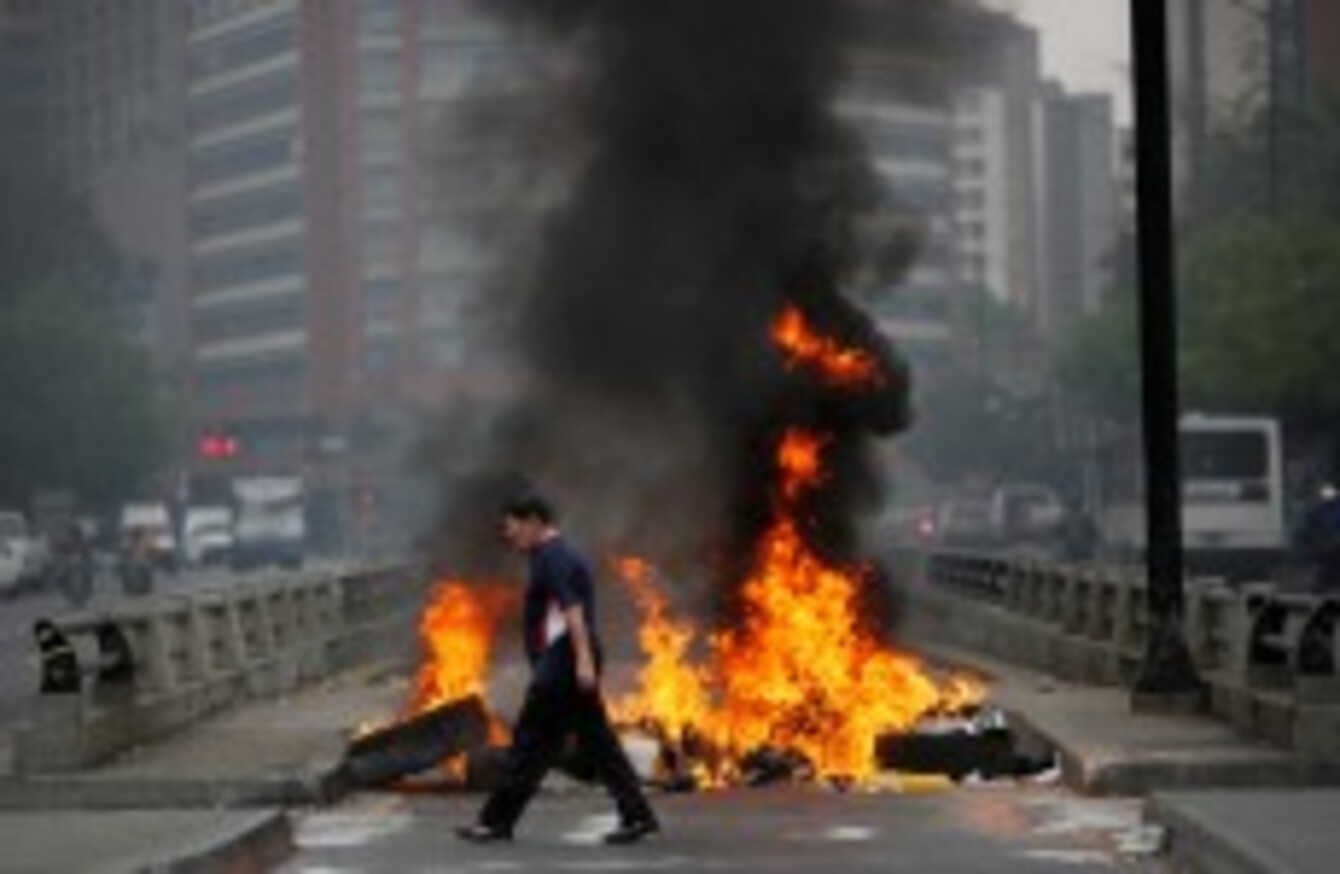 A pedestrian walks in front of a burning barricade blocking the highway in Chacao, Caracas, Venezuela
Image: AP Photo/Rodrigo Abd
A pedestrian walks in front of a burning barricade blocking the highway in Chacao, Caracas, Venezuela
Image: AP Photo/Rodrigo Abd
ANGRY VENEZUELAN STUDENTS geared up to stage a fresh rally today, the latest in three weeks of anti-government protests that have left at least 14 people dead.
The leftist government of President Nicolas Maduro, which has clashed with the United States for years, said meanwhile it would name an ambassador to Washington today.
The two countries have been without mutual envoys since 2010.
Olive branch
This olive branch came even though Venezuela last week announced the expulsion of three US diplomats on grounds they were conspiring with student protesters.
Maduro said he wanted to enhance dialogue with Washington because he said Americans did not understand what is happening with the violence in his oil-rich country.
He has likened it to an attempted coup.
Pic: AP Photo/Carlos Becerra
Yesterday, protesters erected barricades in major cities in some of the worst demonstrations against the government since the protests began.
Tires were burned in cities from the Andes to the plains to Caracas near the Caribbean, adding to the pressure on Maduro's administration.
Police firing tear gas dispersed some 50 demonstrators in Caracas late Monday. They had been blocking streets with barricades in the district of Chacao.
Tear gas
In San Cristobal, near the Colombian border, where some of the country's recent protests first erupted among students on February 4, riot police used tear gas to break up a demonstration.
In the latest reported death a student who was on a rooftop terrace fell backwards to his death on the street as police were breaking up the crowd.
With 45 people still under arrest after marches largely inspired by the country's dire shortages of basic goods and longstanding problems with inflation, the potential for escalation remained visible.
In a rare public split within Maduro's ranks, a ruling party governor called for the release of all jailed protesters, an intervention that came ahead of a meeting of his counterparts, called by the president.
Jose Gregorio Vielma Mora, the governor of the western state of Tachira where the student-led protests began, also criticized the government's use of the military, calling the response "a grave error" and "unacceptable excess."
A pro-Government march last Sunday. Pic: AP Photo/Rodrigo Abd
Maduro insists the protests are a US-inspired coup d'etat to assail his democratic rule, less than a year since he was narrowly elected successor to the late leftist icon Hugo Chavez, whose policies he has continued.
The students, however, have been a vanguard for public outrage at what they see as grim prospects for Venezuelans that they attribute to economic mismanagement under Maduro and Chavez.
Opposition leader not center stage

Around 50,000 people turned out Saturday for a massive demonstration called by Henrique Capriles, who lost to Maduro in the 2013 election while disputing the vote, but who has remained in the background of the latest protests.
Capriles did not attend the governors' meeting yesterday. He also called for the meeting to be broadcast on live television "so that the public can see and hear the truth."
Maduro has called for "a national peace conference" to be held tomorrow "with all social, political, union and religious groups."
The leftist leader also said he would ask the National Assembly to form a Truth Commission to look into the protests, which he claims are an attempt to "justify foreign intervention in Venezuela."