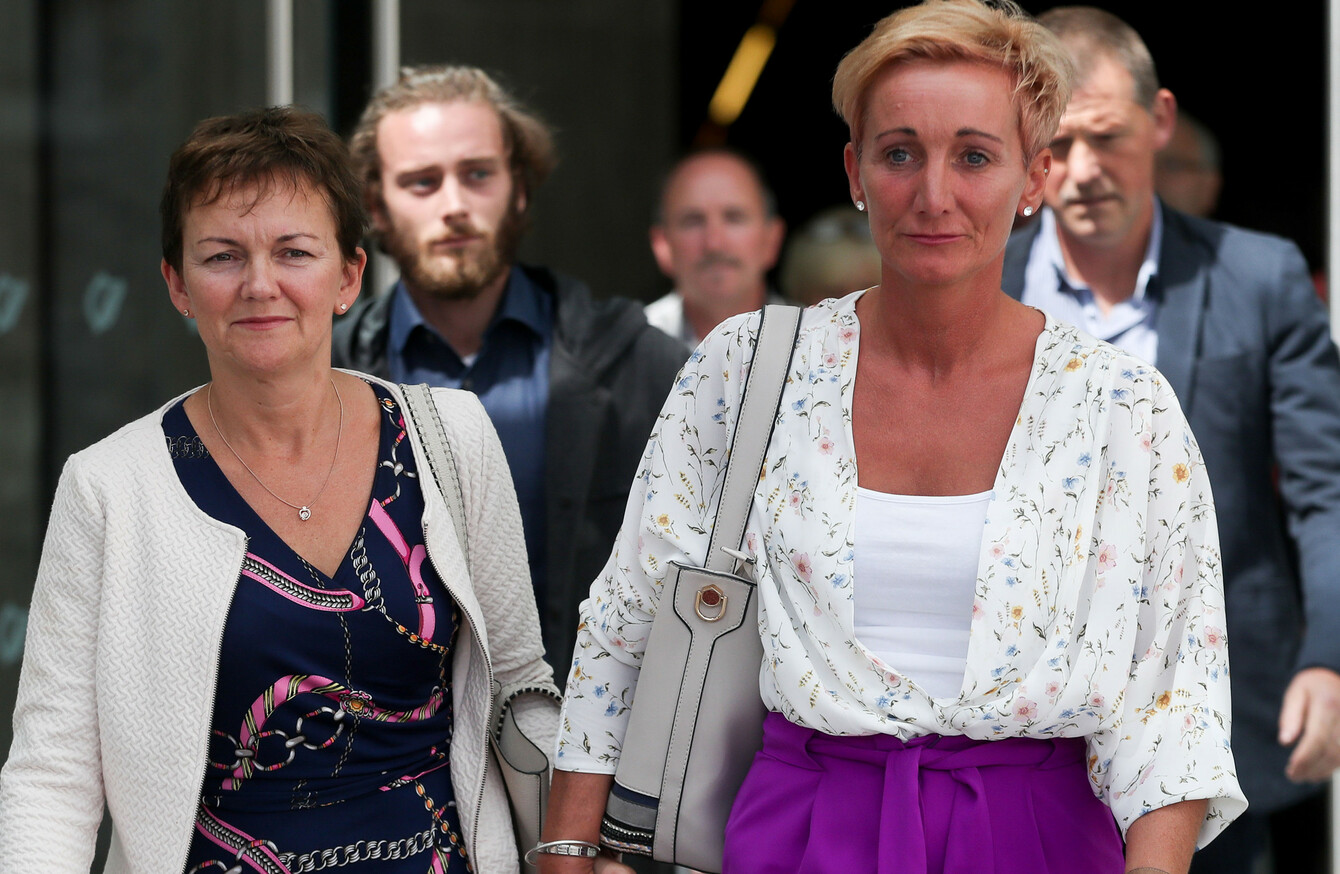 Sister and victims Deirdre Fahy and Stephanie Hickey outside court.
Image: MAXWELLS DUBLIN
Sister and victims Deirdre Fahy and Stephanie Hickey outside court.
Image: MAXWELLS DUBLIN
A WOMAN WHO was sexually abused and raped by her brother-in-law has asked how the abuse continued when he was "supposedly fixed" after a priest directed him to get counselling.
Stephanie Hickey (46) has along with her sister, Deirdre Fahy (52), waived her right to anonymity so Bartholomew Prendergast can be named.
The Waterford county council worker will be sentenced next November for the sexual abuse and rape of the sisters and a third woman over the course of 12 years.
Prendergast (65) of Cruachan, Dungarvan, pleaded guilty at the Central Criminal Court to the offences following a day of legal argument after a jury had been sworn in for his trial.
He had just recently retired from Waterford Co Council and is also a well known musician in the locality. He has since separated from his wife, has three adult children and has no previous convictions.
He pleaded guilty to two counts of rape and 13 counts of indecent assault of his sister-in-law Stephanie Hickey at locations in Co Waterford and Co Tipperary on dates between 1983 and 1987.
Ms Hickey, now 46 years old, was aged between 12 and 15 years old at the time of the offences.
Prendergast also pleaded guilty to one count of indecent assault against Ms Fahy on a date between 1979 and 1981, while she was aged between 13 and 14 years old.
He further pleaded guilty to two counts of indecent assault of a third woman, now 39 years old, on dates between 1988 and 1991, while she was aged between nine and 12 years old. This woman is aware that Prendergast will be named in reporting of the case but she does not wish to be identified.
Ms Hickey took the stand to read her victim impact statement.
She said:
I was led to believe by a family friend, a priest, that in the 80s you were fixed. Who fixed you, was it the Catholic church or HSC? I was told that there was proof of this or so my sister, your wife, told me just under three years ago. If you were supposedly fixed why did you continue to abuse me for years after. For this I feel very hurt, and let down by whoever fixed you I need answers from whom you spoke to help you at this time and again why as child I wasn't protected this hurt goes on.
"I lost my virginity because of you and I wasn't even old enough to understand what you were taking from me. For this I will never ever forgive you."
"When all these rape and sexual abuses took place, I would feel like I was going to die, I would feel as if I was choking and could not breathe the fear was and will forever be inside me. This is all down to you again for this I can never forgive you in my lifetime."
"My life has been built around shame, regret, no confidence and hating myself, my body and everything about myself. I have missed out on so much happiness as a child through to teenage years. You have robbed me of it all, my body can never heal or recover you took it all for your pleasure but I will forever be paying the price for an evil sick man."
Statement
Ms Hickey continued: "I went into a marriage that should have been a happy ever after time of my life but this wasn't to be as again my lack of confidence and self-worth didn't allow me to stand up for myself and believe I deserved respect and love as again my past life was haunting me."
"The scars, hurt and shame I have carried will live with me forever. No justice will ever let me forgive you."
"I hope someday to be able to talk to other young girls going through similar abuse and that one day my sad, regretful, dirty, hurt feeling inside will do good for others to come forward and believe in themselves that they are not the ones to blame, it's the monsters that inflict such abuse and trauma on children."
"Today I take my life back I am so glad to get this day to be able to stand here in front of my family and friends and say what I've wanted to say for years to you Batty Prendergast. I have won, I have survived and now my life starts and yours ends lonely and miserable which is just what you deserve. You can never hurt anyone again from this I take great peace."
Garda Patricia Lonergan told Michael Delaney SC, prosecuting, that Prendergast married Patricia Hickey, Stephanie's and Deirdre's sister in June 1981 and the couple moved into a three storey building in west Waterford. Patricia set up a hairdressing salon on the ground floor and Stephanie visited most weekends to help out.
Gardaí
Ms Hickey later told gardaí that Prendergast first started to abuse her when she was 12 years old, either in his family home or while he was driving her to and from her own family home, which was also in west Waterford.
Gda Lonergan confirmed that Stephanie was mainly made perform oral sex on Prendergast and masturbate him but said that he also raped the teenager on two occasions.
She said on the day of the rape she had asked him to stop because it hurt but he said it would get better. She recalled being about 15 years old at the time. She said he raped her on at least one other occasion but she was not sure what age she was.
Gda Lonergan confirmed that "something was brought to the attention of Stephanie's parents", a local priest was consulted and Prendergast was sent for counselling, yet he continued to abuse Ms Hickey afterwards.
Deirdre Fahy told gardaí that she was 13 or 14 years old when she accepted a lift to the local shop from Prendergast. He was not married to her sister at the time. On the way home, he pulled over the car, put his hand inside her blouse, fondled her breast and kissed her.
#Open journalism No news is bad news Support The Journal

Your contributions will help us continue to deliver the stories that are important to you

Support us now
She said she froze, he backed off and asked her if she had liked it. She said that was the only occasion Prendergast had touched her sexually.
The third woman was first abused by Prendergast in June 1988 when she was nine years old.
This woman said on one occasion Prendergast masturbated in front of her while sitting with her in his truck. When they returned home, her mother came out to greet them and Prendergast continued to masturbate while her mother stood below the cab driver's door talking up to him.
She described on another occasion that he sexually assaulted her in the kitchen of "a house full of people" after telling her she looked lovely.
All three women made statements in December 2015. Gda Lonergan said "various disclosures" had been made to different members of the families involved over the years but nothing was ever done apart from the meeting with the priest. Prendergast was arrested in April 2016 and interviewed three times.
Gda Lonergan agreed with Mr Delaney that he denied ever raping Stephanie Hickey and said he was both "vehement and definite in those denials".
Mary Rose Gearty SC, defending, said it was "a significant point" that none of the complainants had to give evidence at trial and submitted that this was "a significant difference" between her client and accused people who run the full trial.
She said following the conviction, Prendergast sought bail in order to explain to his children himself what had happened. She said he now wanted to show his remorse in the "most meaningful way by asking to go to jail today and not look for bail".
Ms Gearty handed in a large number of testimonials which she said were from people who would like to speak up for her client.
"Many in our society would not touch him with a barge pole because of the offences he has pleaded to," counsel said referring to the fact that the people who wrote the character references were aware of why Prendergast was before the court.
Ms Gearty said her client "had otherwise made valuable contributions to society" and said he often plays music for elderly people in the locality. She asked the court to consider the stigmatisation that would follow her client and his family because the case had gone public but acknowledged that Prendergast "is the author of that himself".
Ms Justice Eileen Creedon revoked Prendergast's bail, remanded him in custody and adjourned the case to November 26, next. She said she needed time to reflect on the evidence and it was "not fair to everyone involved to proceed to sentence today".
Comments are off as Prendergast has not yet been sentenced.