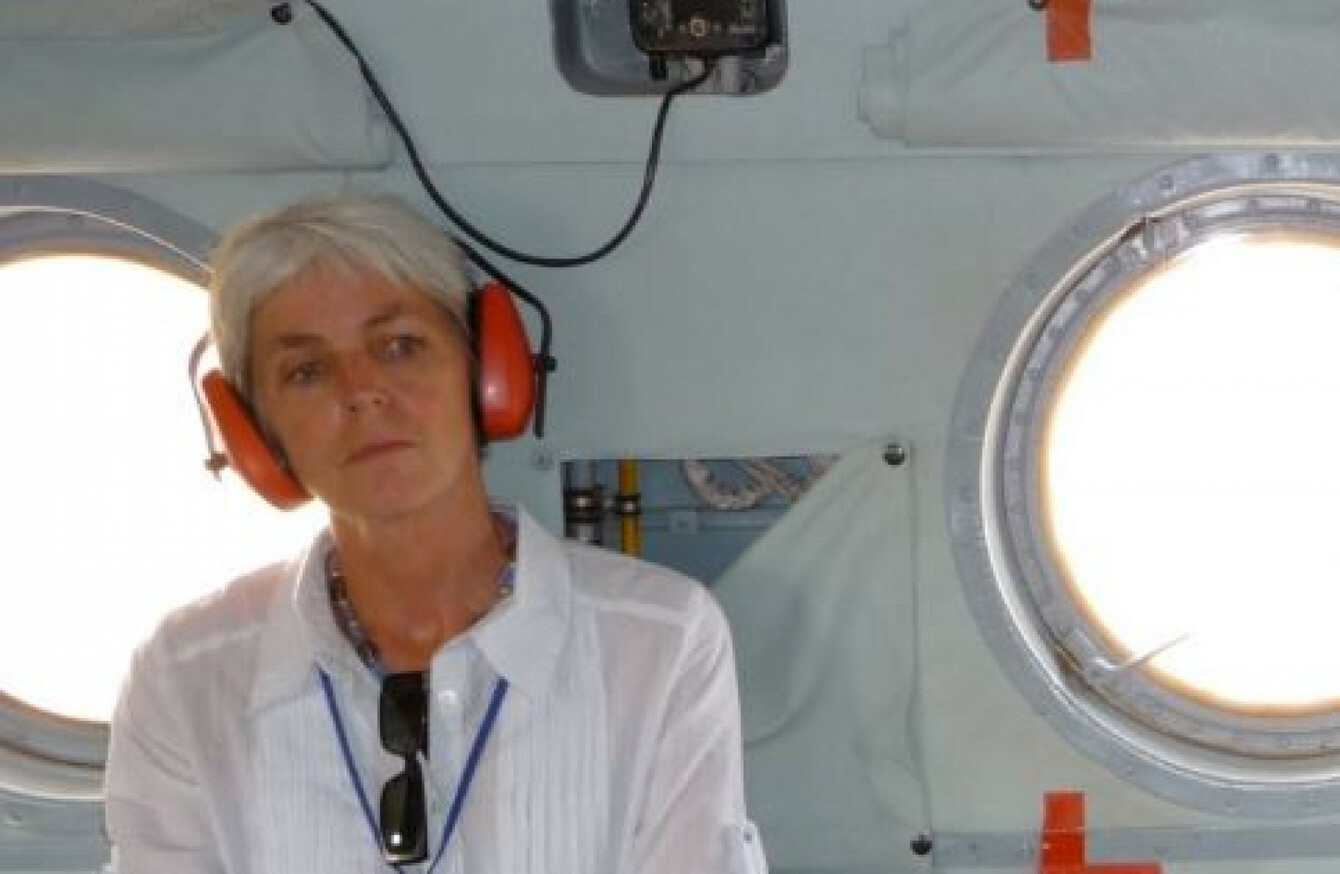 Hazel Siri
Image: Hazel Siri
Hazel Siri
Image: Hazel Siri
IRELAND HAS A roster of experts who are often sent at short notice, sometimes as little as two days, to help international responses to humanitarian crises.
Under its Rapid Response Initiative, Irish Aid deploys individuals to work with Ireland's United Nations partners as part of their humanitarian and emergency response efforts.
Hazel Siri has been deployed by Irish Aid on a number of missions over the years. She is originally from Bangor and trained as a nurse in Belfast before becoming involved in humanitarian work.
She has worked in a number of areas, including Iraq, Libya, Chad and the Democratic Republic of Congo.
Siri has worked on improving conditions for people directly impacted by a humanitarian crisis or conflict, as well as aid workers who may also be living in very difficult conditions.
Speaking to TheJournal.ie about her work, Siri says her role can also involve making sure there isn't duplication of work being done by aid agencies and NGOs, and making sure that people most in need are receiving adequate supplies and support.
"It's a job like no other," she notes.
Siri was based in Libya when Muammar Gaddafi was arrested and killed. She worked with the UN Office for the Coordination of Humanitarian Affairs (OCHA), which was supporting organisations that were helping refugees, migrant workers and minority ethnic groups.
"Some people were very badly treated by various factions in Libya and lived in very poor conditions, some villages were completely burned," Siri recalls.
She says her role in Libya also involved making sure that UN agencies and NGOs were aware of instances where people's rights were being infringed.
Conflict zones
In conflict zones, naturally, access to certain areas can be difficult, and Siri was also involved in mapping areas of need and "making sure there weren't gaps in the assistance that was being provided".
Despite working in areas where serious conflict was happening, Siri says she has never felt as though her life was in danger.
However, she describes a previous deployment with the UN in Baghdad, Iraq from 2005-2007 as "risky".
"A lot of security measures were taken to try to mitigate the risks to the greatest extent possible," she tells us.
Siri returned to Iraq last year. She was deployed by Irish Aid in support of OCHA, which was working with humanitarian organisations while the Iraqi army was attempting to reclaim Mosul from the so-called Islamic State group.
"There was a huge population inside Mosul cut off from a lot of services.
"Our job once again was, where possible, to make sure the needs of people in Mosul were mapped, and to make sure NGOs and UN agencies were aware of these needs and able to support people."
Siri was based about 70km away from Mosul and, despite what was happening in the city, says she felt "very safe".
She noted that life often continues as normal in places close to areas of conflict, something she was somewhat familiar with after growing up in Northern Ireland.
I grew up in Northern Ireland during the Troubles. People thought we were living in war zone, but we didn't consider it to be a war zone at all. Incidents happened but, in general, life was pretty normal.
Irish Aid and the Department of Foreign Affairs and Trade are currently seeking applications from people who are interested in joining the humanitarian Rapid Response Corps.
Siri says people from various backgrounds – such as healthcare, education, engineering, law, media – can apply as a variety of skills are needed on the ground when responding to emergencies and crises. Applicants don't need to be from Ireland.
"You always bring something back with you. No matter how long you've done it, you learn something on every mission," Siri says.
The following roles and areas of expertise will be prioritised in this recruitment round:
Information Management Officer
Protection Officer
Child Protection Officer
Water, Sanitation and Hygiene Engineer
Humanitarian Affairs Officer
Cash Programme Officer
Shelter Officer
Site Planner
Construction Engineer
Civil Military Coordination Officer
Logistics Officer
Nutrition Officer
Education Officer
The deadline to apply is tomorrow. More information can be read here.