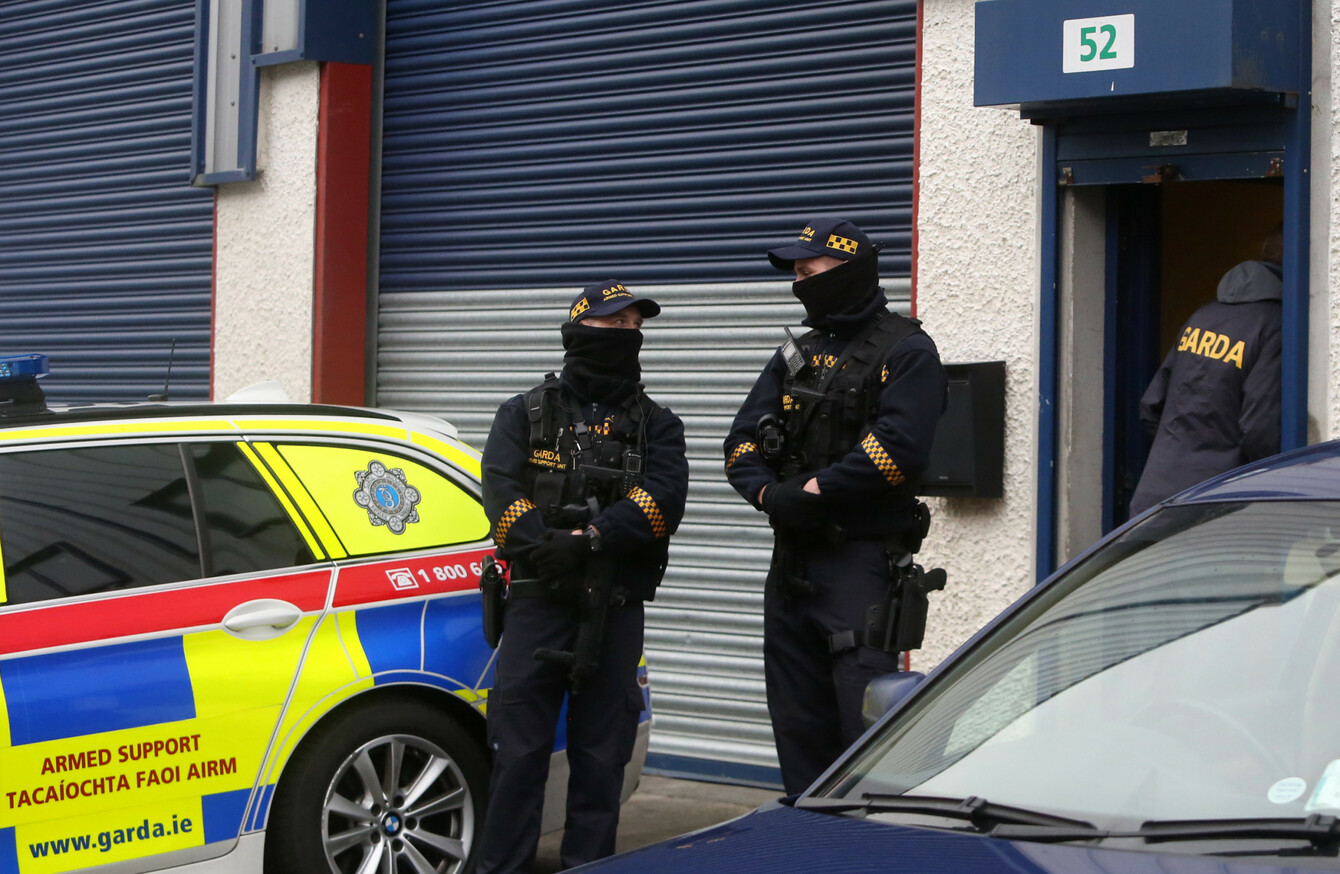 Gardaí at the scene of the raid.
Image: Sam Boal/RollingNews.ie
Gardaí at the scene of the raid.
Image: Sam Boal/RollingNews.ie
TWO DUBLIN MEN found last year with a "lethal arsenal" of weapons including four loaded guns and over a thousand rounds of ammunition have been sentenced to ten years and nine years in prison this morning.
Jonathan Harding (45) of McNeill Court, Sallins, Co Kildare, and James Walsh (33), with an address at Neilstown Drive, Clondalkin, Dublin 22 both pleaded guilty last year at the Special Criminal Court to the possession of nine revolvers, four pistols, a sub-machinegun, an assault rifle and various ammunition magazines.
The men were found with the cache on 24 January last year at a unit in Greenogue Business Park, Rathcoole, Co Dublin.
Sentencing the men today, Mr Justice Tony Hunt, presiding at the three-judge court, observed that if the men had not pleaded guilty they would have both been jailed for the headline sentence of twelve years.
The court had previously heard that on the morning of 24 January, 2017, Harding and another man were observed by gardai driving a Ford transit van to Greenogue Business Park.
A Passat, to which Walsh had access, was also parked outside.
Harding and the other man were later seen leaving the unit in the same van before stopping at a Texaco service station, where gardai, acting on information of an "urgent and pressing" nature, approached the van and arrested the men.

Business park
Meanwhile, in the business park, other officers went into the unit and found an arsenal of firearms and ammunition.
The unit had been purporting to be the premises of a logistics company, giving the impression it was a legitimate freight business based in the UK.
In the upstairs loft area, a number of loaded firearms were laid out on cardboard on the floor.
There were four loaded revolvers, "ready to be used", and an AK47 assault weapon.
Gardai also found more guns and ammunition in two cardboard boxes. A number of the firearms were sealed inside bags also containing suitable ammunition.
Mr Justice Hunt said that the weapons represented "enormous potential for death and destruction" and that it was a "lethal arsenal stored for the purpose of organised and very serious crime".
The judge said that neither man could be categorised as organisers in "this deadly enterprise" but that organised crime "depends in a significant way on the activities" of the two defendants.
He referred to organised crime as a "cancerous growth on our society".
Mitigating factors for the men were their early guilty pleas.
Harding, who in 2004 he was sentenced to six years in prison for possession intending the sale or supply of drugs, was sentenced to ten years in prison with one year suspended.
Referring to Walsh, who has a number of previous convictions for public order offences, the judge noted the "reasonable possibility there might have been some kind of threat or coercion behind his actions".
He was sentenced to nine years in prison with one year suspended.