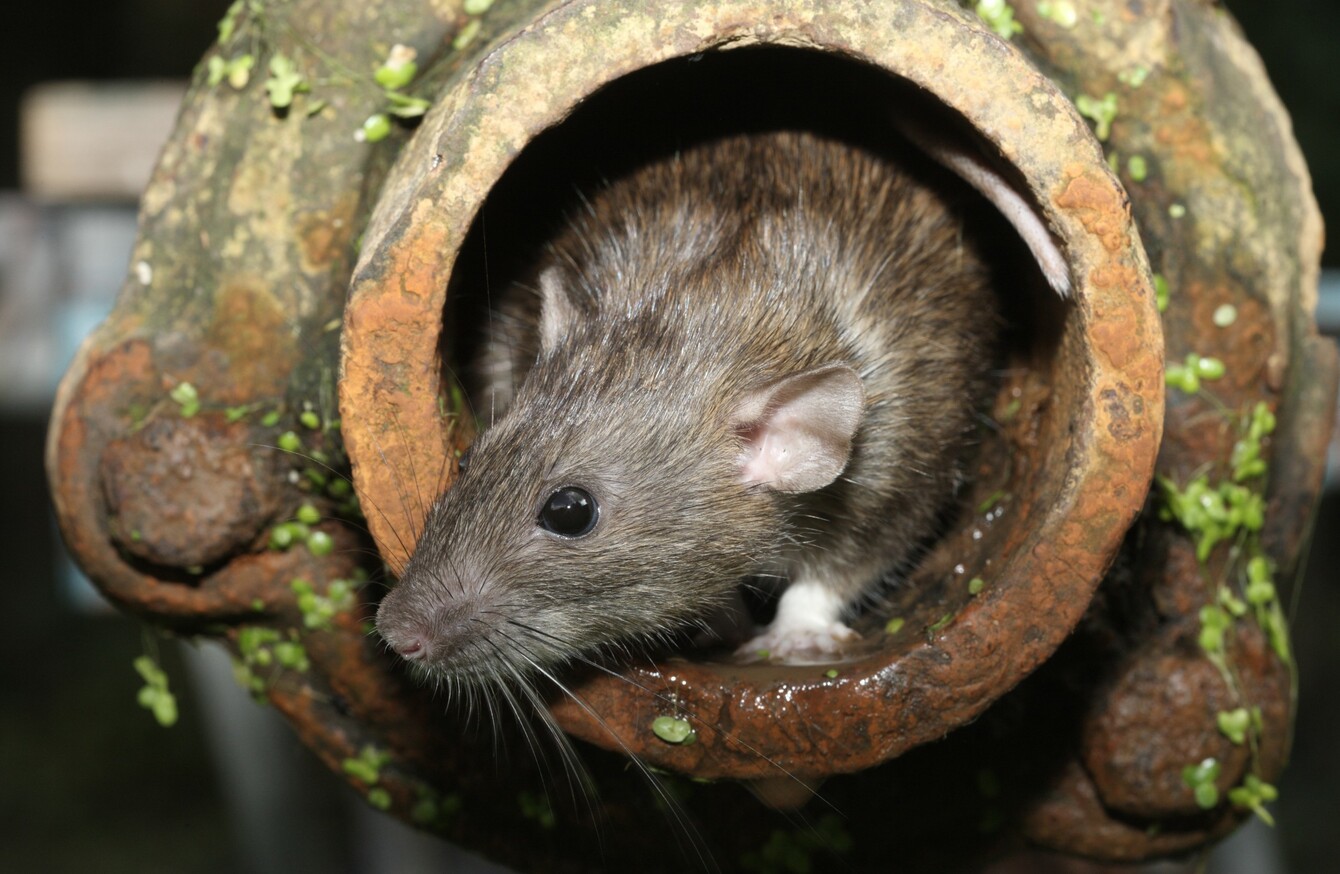 Image: Shutterstock/Erni
Image: Shutterstock/Erni
A PEST CONTROL expert has warned that rat sightings and infestations are "something we'd better get used to" in Dublin after a spike of reports of rodent problems in recent days.
Co-Founder and Director of the Irish Pest Control Association Brendan Ryan said there were a number of factors contributing to the problem, including poor waste management and illegal dumping.
A call to Joe Duffy from a woman in Phibsboro in north Dublin sparked fresh headlines about the issue last week.
Marion Kelly told the host of RTÉ's Liveline that she had been catching rats in her back garden for several months, and had trapped 12 in just one day last week.
"It put the shivers down my back," she said.
Rat populations 
On the other side of the city, there were reports of an increase in rat sightings in the Kilcronin Court estate in Clondalkin back in April – with a housing agency again linking the problem to illegal dumping.
Similar problems were reported by residents of Raheen Park in nearby Ballyfermot earlier this month.
"It's becoming a very common story in the media," Ryan said.
"I think each case is going to have little differentials, but there are always common trends.
Poor waste management is a factor – and illegal dumping is endemic throughout the country.
Construction works also have an effect on rat populations, he said. A number of Dublin businesses and homes were infested with rats disturbed by Luas Cross City construction works last summer, for instance.
The businesses affected were in the Dublin 2 area – while households in both Cabra and Phibsboro were also visited by displaced rats.
"As soon as you break ground you're going to have rats running for cover," Ryan said.
So as long as we have a proliferation of uncollected waste and fly-tipping and illegal dumping and an economy on the rise – without risk mitigation, this story is going to be one of many.
Infestations 
TD for Dublin South West Sean Crowe said there had been an increase in problems with rats in his constituency recently, and that the HSE was experiencing delays in its response times.
There's up to a four-week delay in dealing with outbreaks in some areas, the Sinn Féin deputy said.
We know that a rat infestation previously plagued a housing estate in Clondalkin earlier this year and there are similar reports now coming from Ballyfermot, where massive rodents are swarming the area.
The increase in vermin visibility may be down to favourable weather conditions, Crowe said "but is undeniably linked to the amount of illegal waste being dumped right across Dublin".
The Health Service Executive Pest Control Service treats rat infestations in Dublin – dealing with almost 2,000 complaints in the first six months of this year.
"This service is provided within limited resources and all complaints received are assessed and prioritised accordingly," a HSE spokesperson said, in an emailed statement.
The statement also pointed out that the legal responsibility for preventing and eradicating rodent infestations lies with occupiers and owners of properties, and that pest control services are available from private companies.
Responding to last summer's reports about rats displaced by the Cross City works, a Luas spokesperson pointed out that any home or business affected by rodent issues triggered by the construction could avail of a free pest control service.
The main infrastructure stage of the project began in spring of last year, and will continue until late 2017.
2,308 complaints were treated by the HSE in Dublin in the first six months of 2015. The corresponding figure for 2016 was 1,947.