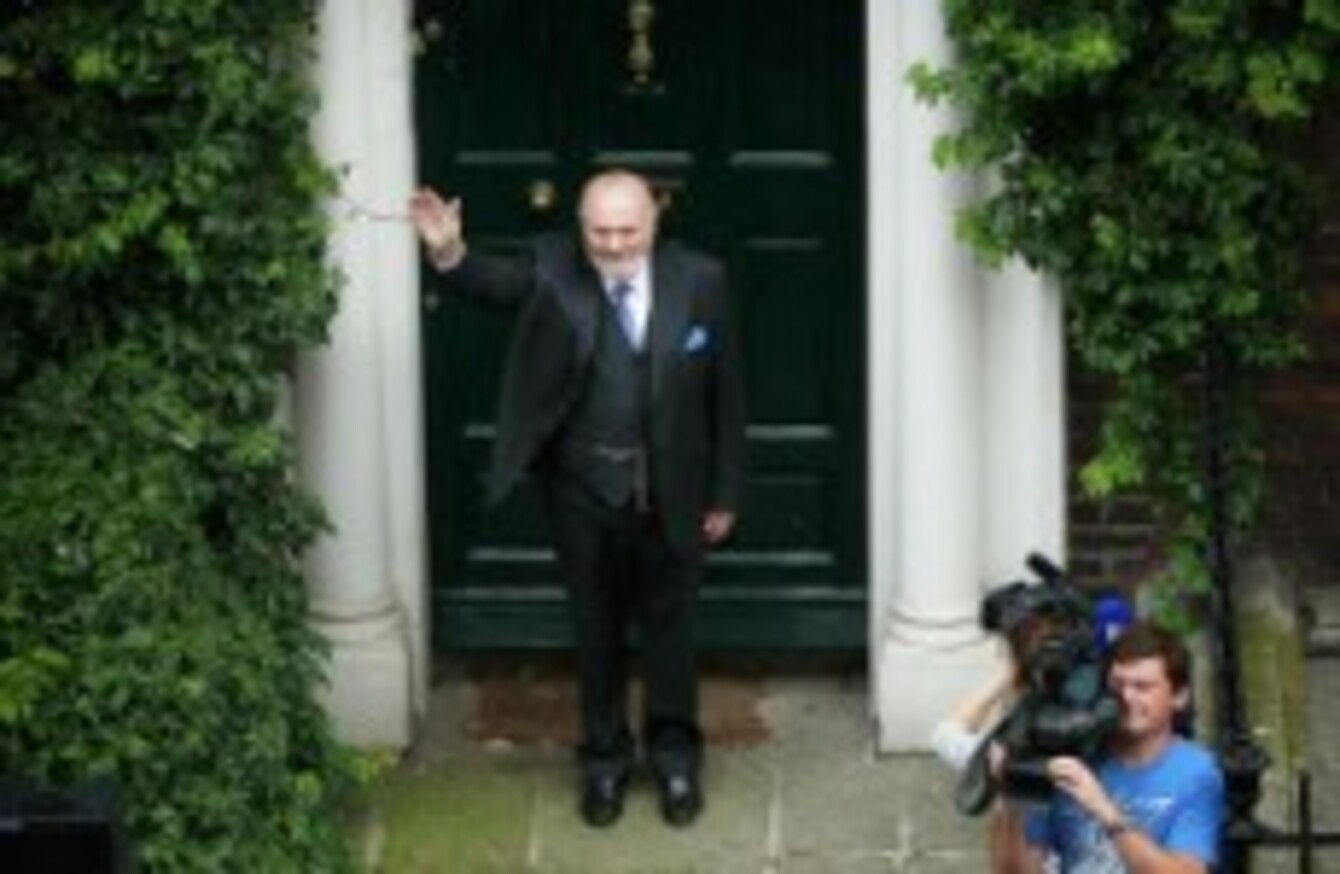 Senator David Norris outside his home in Dublin, after he announced that he has pulled out of the presidential race.
Image: Julien Behal/PA Wire/Press Association Images
Senator David Norris outside his home in Dublin, after he announced that he has pulled out of the presidential race.
Image: Julien Behal/PA Wire/Press Association Images
Updated 19.30
FOLLOWING THE ANNOUNCEMENT by Senator David Norris this afternoon, during which he explained his decision to end his presidential campaign, a number of fellow politicians have welcomed the move.
Labour's presidential candidate, Michael D. Higgins, has issued a statement paying tribute to the 'grace of David Norris' statement'.
The TD acknowledged that this "was a difficult decision for him (David Norris) personally, at the end of a difficult period for himself his family and his campaign workers."
Mr D. Higgins also paid tribute to David Norris' long-standing record on human rights, as a fellow member of the Oireachtas Foreign Affairs committee.
Meanwhile, Politics.ie has published a statement from Independent presidential candidate Sean Gallagher.
In it Mr Gallagher says "Today is obviously a difficult day for Senator David Norris and on a personal and a human level I feel for him, his friends and supporters. I would like to acknowledge the work he has done in campaigning for many important issues throughout the years."
Speaking on Today FM's Last Word programme this evening, Fergus Finlay of Barnardos, formerly a presidential hopeful himself, said "David Norris deserves credit for doing the right thing and for doing it in a dignified manner. This campaign is about choosing a person, not a policy or a party – it is a referendum on a person."
Also speaking on The Last Word, Independent TD Maureen O'Sullivan, who was one of those supporting Senator Norris' campaign, said "I stayed supporting David. I was supporting the democratic process. Most of the emails and messages that I was getting were saying that the people should have been allowed their choice."
Former supporter Senator Dan Boyle tweeted that Norris made the "right decision" today, adding: "I supported his candidacy but past misjudgements and suspect motives of others have made it impossible".
Wicklow TD Stephen Donnelly, who had been supporting the campaign, welcomed Norris' announcement today. His spokesman Colm Murphy told TheJournal.ie: "He welcomed it… he agreed it was what (Norris) needed to do," he said.
Waterford TD John Halligan, who had also supported the Norris campaign said: "I supported him originally, and I regretted having to withdraw my support, but it was the right thing to do. I wish him all the best".
Libertas chairman Declan Ganley wished Norris well, saying that although he "would not have voted for him" the nomination process was unjust.
Labour TD Joe Costello said that he had "considerable admiration" for Senator Norris and that he regretted that he would not have the opportunity to go before the people in the presidential election.
"I hope that his decision today, draws a line under this matter and that the focus can now return to debate on the issues, the vision and the ideas that are at the core of the presidential election campaign," he added.
The Israeli Embassy has also issued a statement on Norris' announcement this afternoon, published on Politics.ie. The statement reads: "allegations made in the media by some Irish public figures that the Embassy was involved in the publication of a letter written by Senator David Norris to a court in Israel have absolutely no foundation".
The statement went on to say that the successive ambassadors of Israel had much admiration for Norris' work in Ireland "in the cause of human rights and in particular for his endeavours for reform of the laws relating to homosexuality". It isnsited that Israel "Israel does not intervene in the democratic political contests of other states on behalf of, or against, particular candidates".