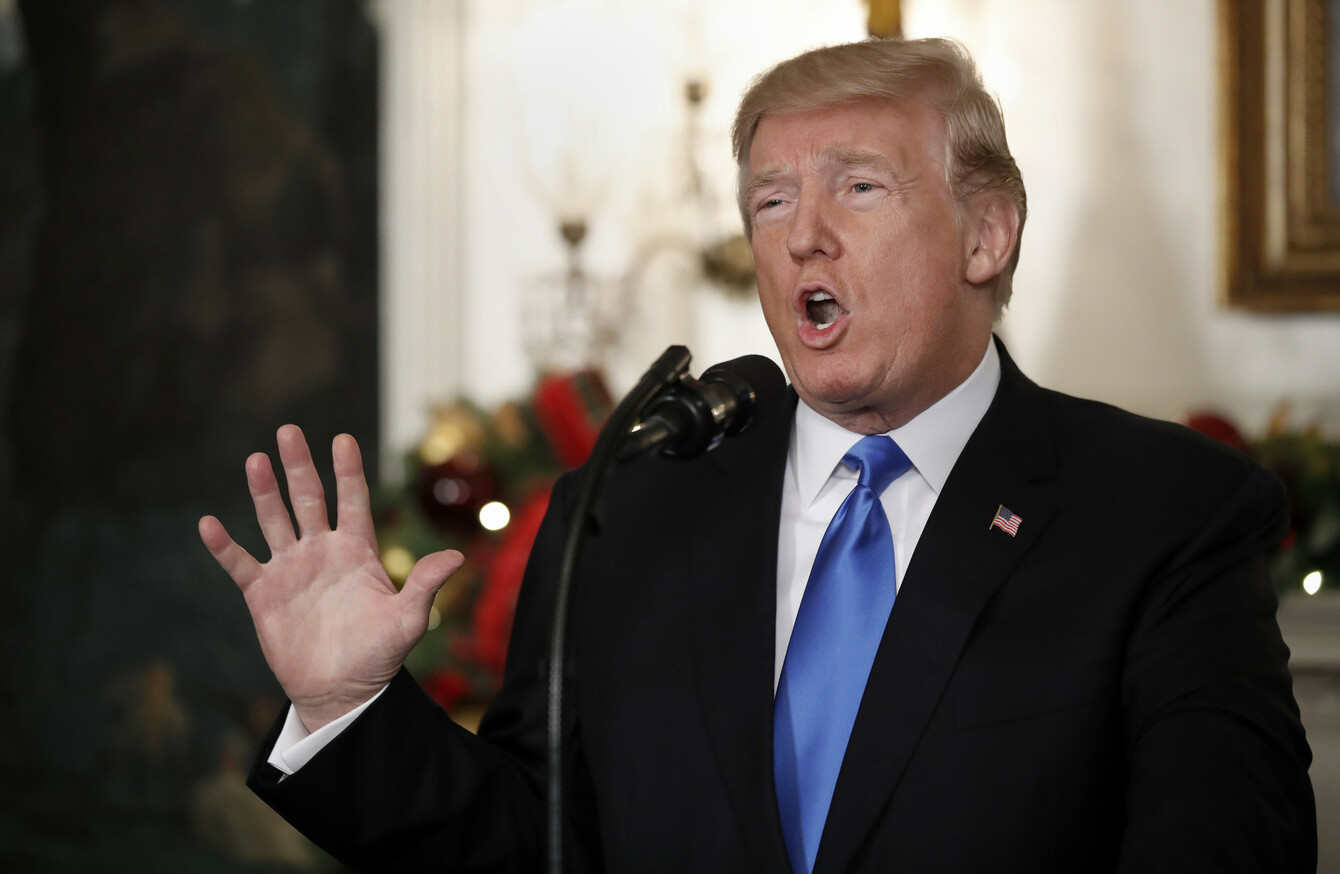 Image: Alex Brandon via PA Images
Image: Alex Brandon via PA Images
DONALD TRUMP'S DECISION to recognise Jerusalem as Israel's capital has drawn sharp criticism, with the significant exception of Israel.
Yesterday's announcement is a historic decision that overturns decades of US policy and risks triggering a fresh spasm of violence in the Middle East.
It plunges the US into a decade-long dispute over a city considered holy by Jews, Muslims and Christians, and flies in the face of warnings from US allies and leaders across the Middle East.
Tánaiste and Minister for Foreign Affairs Simon Coveney was just one of the global voices to condemn Trump's declaration.
"The dangerously heightened tensions in Jerusalem in recent years have underlined the need to avoid any unilateral actions to alter the status quo in the city," Coveney said.
"I believe therefore that today's announcement by the United States in relation to Jerusalem is premature and ill-advised, and will be unhelpful to efforts to reach a resolution of the Middle East Peace Process, something which is very urgently needed," he said.
"I conveyed to the US government yesterday my concern about reports of US intentions, and I know that very many leaders around the world did the same. Today's announcement is thus very disappointing and difficult to understand."
Palestinian president Mahmud Abbas said the US could no longer play the role of peace broker after Trump's decision.
These deplorable and unacceptable measures deliberately undermine all peace efforts.
The secretary-general of the Palestine Liberation Organisation said Trump had destroyed any hopes for a two-state solution to the Israeli-Palestinian conflict.
"He destroyed the two-state solution," Saeb Erekat, who long served as the Palestinian's top negotiator, told journalists.
Prime Minister Theresa May said the British government disagreed with Trump's decision, saying it was "unhelpful" for peace efforts.
French president Emmanuel Macron branded Trump's stance as "regrettable" and called for efforts to "avoid violence at all costs".
Saudi Arabia slammed Trump's move as "unjustified and irresponsible" and said the decision goes against the "historical and permanent rights of the Palestinian people".
Meanwhile, Israeli Prime Minister Benjamin Netanyahu hailed Trump's recognition as "historic" and a "courageous and just decision".
Netanyahu also pledged no change in the status quo at Jerusalem's highly sensitive holy sites in the city, sacred to Jews, Christians and Muslims.
Other plans
Plunging further into a bitter centuries-old argument between Jews, Muslims and Christians, Trump will also order planning to begin on moving the US embassy from Tel Aviv to Jerusalem.
"It will take some time to find a site, to address security concerns, design a new facility, fund a new facility and build it," the official said, indicating that the move will not be immediate.
It will be a matter of some years, it won't be months, it's going to take time.
The status of Jerusalem is a central issue in the Israeli-Palestinian conflict, with both sides claiming the city as their capital, and expectations of Trump's announcement have roiled the combustible region.
Anticipating widespread demonstrations, US government officials have been ordered to avoid Jerusalem's Old City and the West Bank.
- © AFP 2017 with reporting by Hayley Halpin