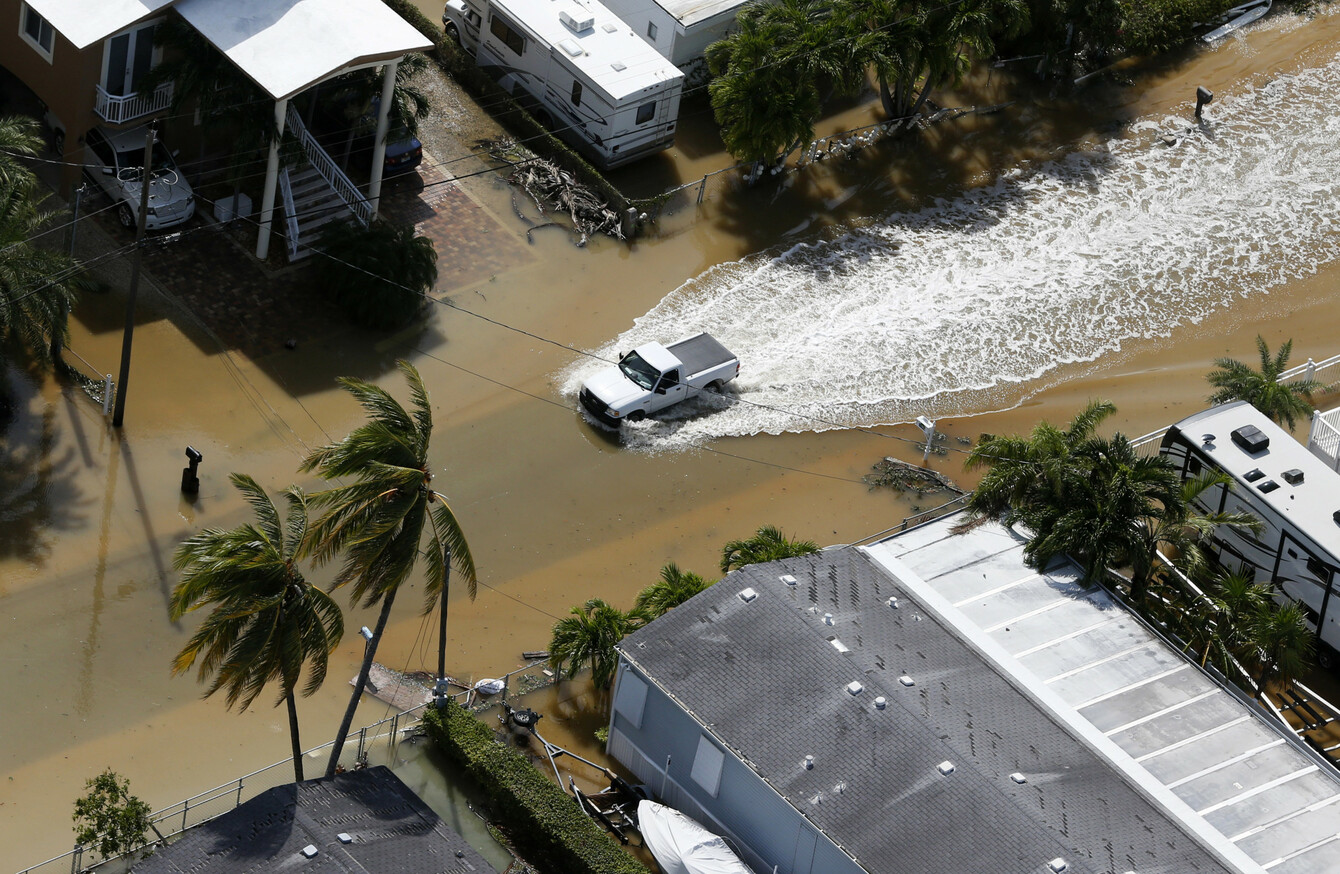 A truck drives through a flooded street in Key Largo, Florida in the wake of Hurricane Irma.
Image: Wilfredo Lee
A truck drives through a flooded street in Key Largo, Florida in the wake of Hurricane Irma.
Image: Wilfredo Lee
THIS SUMMER, THE impact of global warming on vulnerable communities has been felt across the globe: in Houston, Florida and the Caribbean, Mumbai, Brazil and Bangladesh (where floods submerged a third of the country), even Donegal in August, and in many other areas of the world, if less dramatically.
Houston and Hurricane Harvey made most of the headlines, but much less so the even more catastrophic flooding in the Indian sub continent, where 42 million people were affected.
And now, again, in the last few days have emerged more extraordinary images from Hurricane Irma as the category 5 storm causes record-breaking flooding in parts of Florida.
For perspective, Irma was at one point the size of France and in terms of its sheer destructive power holds almost seven trillion watts, according to MIT Hurricane expert Kerry Emanuel.
To think of that another way: that's approximately twice the energy of every bomb used in World War II – including both atomic bombs.
For a brief moment the severity and seriousness of climate change has impinged on our consciousness, but, given our busy lives and the many distractions out there, we will no doubt move on and forget. Move on, that is, until the next ominous harbinger sends us another signal that our global climate system is seriously out of sync.
As we see these near-apocalyptic images on our screens and read about them, do we collectively and individually realise the full seriousness of what we are seeing, and will continue to see with ever more frequency, duration and intensity? Do we even have a context and framework in which to fully comprehend all these signals and images?
The equivalent of almost 26 million Olympic swimming pools (19 trillion gallons of water) was deposited on Houston and its surroundings by Hurricane Harvey, a new record.
Yet fractured media images often lead with either the cliched narrative of stoic individual heroism or, in the case of Ivanka Trump's shoes, the utterly trivial.
Yet does this soft focus on the dramatic or the inane really help us to ask, and answer, the serious questions that our climate is posing to us? Without knowing the answers to these multifaceted questions we will not fully understand the context of what we are seeing on our screens.
Beyond reasonable doubt
In 2014, the cautiously conservative Intergovernmental Panel on Climate Change warned unequivocally that a failure to halt the rise in carbon emissions will increase the 'likelihood of severe, pervasive and irreversible impacts for people and ecosystems'.
We now know well beyond reasonable doubt that the heating up of the planet by burning carbon dioxide and other greenhouse gas emissions is impacting upon our interconnected global weather systems, no matter what the Trumps and Healy Raes of the world say.
Those impacts are now turning into severe consequences, and this has been predicted for many decades by climate scientists. The science on climate change is as unambiguous as science can get, based as it is upon observation, testing and probabilities and not absolute certainties.
Yet it is very difficult to infer a direct and exact causal link between global warming and its effects – flooding in Houston, for instance. But what the science does tell us is that the extreme weather we are seeing is made more powerful by the effects of climate change.
Warmer oceans as they evaporate provide more energy to storms. As a result, the air above the water warms in turn, holding more water vapour.
The more moisture in the atmosphere the more rain water there is to dump during hurricanes and other extreme weather events.
Plus, as sea levels rise due to warming (about 93% of heat captured by greenhouse gases in the atmosphere ends up in the oceans), in turn higher seas contribute to storm surges. In short, hurricanes have always existed but now they are more extreme in intensity due to global warming.
In other words, they are not just 'natural' disasters – they are increasingly the human-induced impact of global warming.
Communicating the problem, seriously
We all have some idea that our climate is changing and that these changes are due to the burning of fossil fuels.
But do we know that the International Energy Agency said that as much as 80% of all coal, gas and oil reserves must not be burned if we are not to have catastrophic climate change -a global temperature of anything above two degrees Celsius would be enough?
Currently we are at approximately 1.2C.
The burning of carbon has exponentially accelerated in the last few decades. If we are seeing the impact of climate change at 1.2C now in Mumbai, Florida and Houston, what will it be like when we reach 2C or even 3C, 4C or higher by the end of the century?
These figures are not outside the bounds of possibility as climate scientists James Hansen, Joseph Romm and Kevin Anderson and others have been telling us for years.
We have been at an ecological crossroads now for a while. 2016 set the record for the warmest year ever for average global temperatures, according to NASA.
Incidentally, or not, Trump's choice to now head NASA is a climate change denying Republican congressman, Jim Bridenstine. A man who not only denies climate science but who also said that global temperatures stopped rising years ago, contrary to the actual facts.
Every sign is pointing ominously in the wrong direction.
It is well past the time that we demand of our governments, industries, and of ourselves, serious action to rapidly decarbonise our economies.
Platitudes and rhetoric on climate change (political greenwashing in other words) will not stop us slipping into climate chaos.
Climate change has been miscommunicated, often deliberately by climate denying billionaires and self-interested companies for too long.
This misinformation, and disinformation, has created misunderstanding and even downright denial about the realities the general public now face, particularly in the US but also here in Ireland.
Shell-shocked citizens in Houston, Florida and Mumbai (and in Donegal) are asking themselves are they prepared for more of this. As a matter of urgency we in Ireland should ask ourselves the same question. Ireland emits more greenhouse gases in an average year than approximately 400 hundred million of the poorest people on the planet.
Morally, politically, and in every other way, we have a responsibility to them and, just as importantly to our children, and to all future generations to act decisively now.
Mark Kernan LLM, BSc is a lecturer in Adult Education with UCC and the Cork ETB. He is a freelance writer and independent researcher.