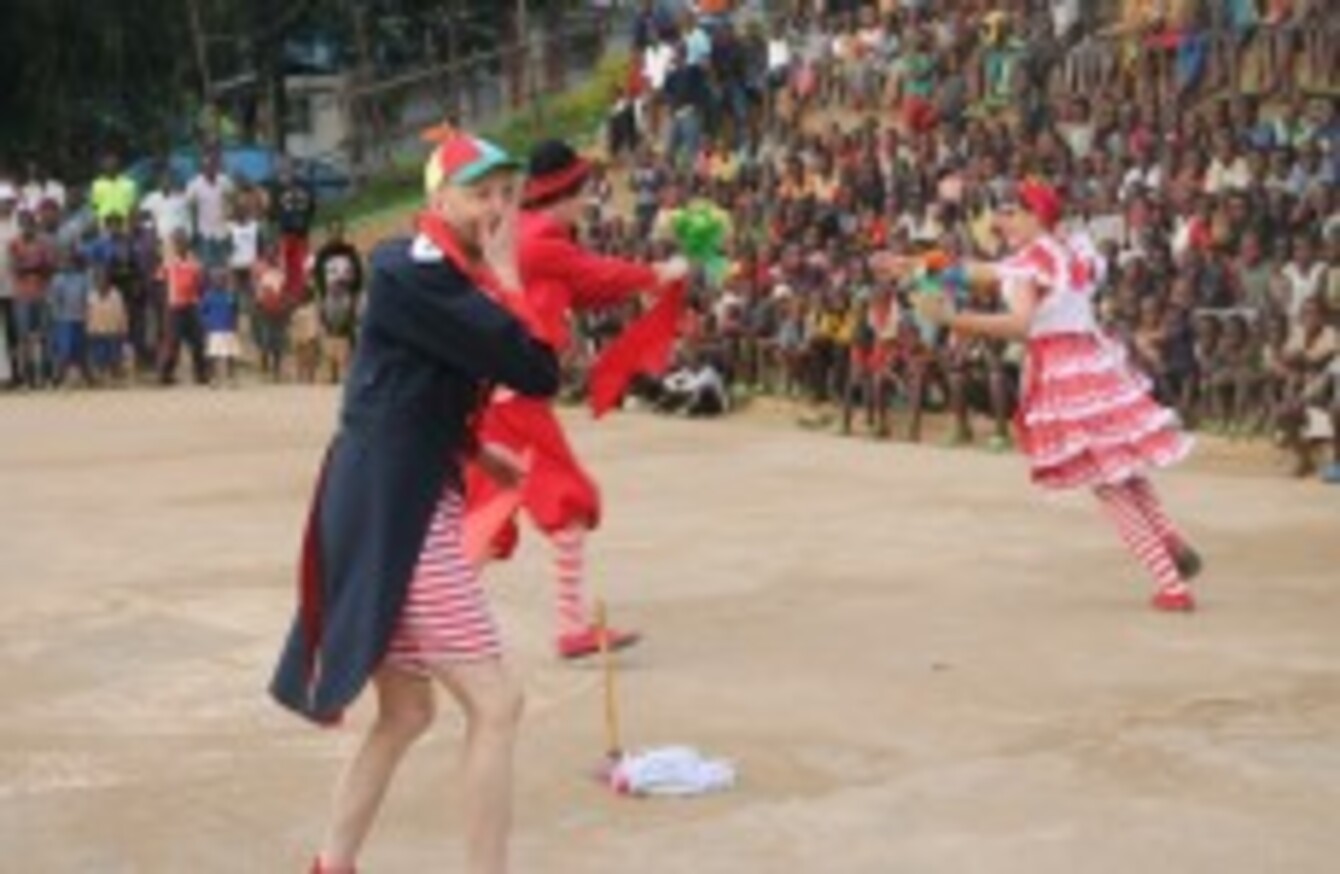 IT'S BEEN JUST over 20 years since a clown named Tortell Poltona traveled from Barcelona to war-torn Croatia to present his act in a refugee camp. It was the project which marked the beginning of Clowns Without Borders, a global charity committed to bringing comic relief to those in crisis.
Twenty years, too, have passed since the event for which most of us will recognise the little African nation of Rwanda for many more years to come. Since the genocide, which left over one million people dead, steady development and social stability have been ensured. The country now hosts over 80,000 Congolese people escaping from the ongoing conflict in the Democratic Republic of Congo.
Bringing delight and magic to childhoods touched by war
Clowns Without Borders Ireland, whose motto is No Child Without a Smile, organised an 18 day project to Rwanda in January of this year. Our project takes us to five of the six refugee camps scattered along the Congolese border.
We have teamed up with a local group of skilled acrobats from Gisenyi, in the north of the country, to bring all the delight and magic of a travelling circus to those caught in the middle of raging battles.
It's easy for us clowns to get lost in a refugee camp. Each of us has an entourage of children surrounding us wherever we go. There are four of us at different points of the camp swallowed up by our own respective mobs. We are pulling faces, conducting imaginary orchestras, leading chants and throwing around imaginary balls.
A crowd of 500 people had gathered
After our workshop in Kigeme Camp, I sneak off as best I can to the jeep to change. The others are nearby and I presume will join me soon onstage. I reappear a moment later dressed in full clown-regalia, put a guitar over my shoulder and ask my cloud of children where the show is going to be. Forty little arms point in twenty directions. My search leads me up a hill dotted with elderly folk drying beans and grain. We stumble through a labyrinth of wattle and clay moulded dwellings. We arrive at a flat empty strip of concrete which seems to me unable to hold more than 60 or so people. This can't be it!
At that moment, I glance down from the muddy mound we have just climbed and am met with the most astonishing sight. A crowd of about 500 people have gathered below on the football pitch and bunched together into a very definite square shape. Our friends, The Gisenyi Acrobats, already holding the space with body flipping, hi-speed rope skipping and highly intricate choreographed fight scenes.
Drama and excitement 
Every camp we visit brews a whirlwind of excitement. Kids fumble over one another to shake your hand and ask, "How are you?" or "What is your name?". Warm flashes of delight emit during our show when Bobo (Jonathan Gunning) and Lolo (Alex Allison) fight for Mimi's (Sandra Gonzalez) love and attention by making flowers appear from out of nowhere which gives way to thunderous laughter and pointing when Bobo's hat is knocked off revealing an embarrassingly hairless head (the greatest gag on any terrain).
Later, all are stunned into a moment of golden silence as Lolo works his way up to juggling with five balls irrefutably sealing Mimi's affection forever. My job as Dodo is to animate the shenanigans with a live music backing track. The Gisenyi Acrobats fill the space beautifully, creating dazzling spectacles using their bodies alone. Our workshops generally include groups of up to 60 enthusiastic teenagers readily infusing our drama games with an energy and a rhythm which we'd never really considered before.
The difficulties single mothers face harken back to the Ireland of 50 years ago 
At one of our final stops we were invited to spend two days in the Trocaire-funded, Capacitar, which focuses on alleviating some of the difficulties which single mothers face in Rwanda. The situation harkens back to the Ireland of 50 years ago. The centre in Mbazi works with 105 local women who would otherwise suffer absolute social exclusion for the "sin" of having a child outside of wedlock.
The aim is to empower the women and promote integration back into the local community from both sides. It is here that our clown show unwittingly carried a powerful and eerily beautiful resonance. What passed as straight and simple slapstick in the camps, took on a very different significance with Sandra at the centre of all the action. As one woman observed, "It was wonderful to see Mimi perform in the show. She was surrounded by three men and yet was comfortable and strong".
The healing power of laughter
We returned to Dublin airport doubtless about the healing power of laughter. So many heartwarming memories still stick in my mind: the children in Mugombwa who rushed and tugged at my shirt to say thank you after our show was done; the children in Gikomero who after a few hours of training were proudly displaying their newly discovered talents for flipping and somersaulting to their friends; the Mexican Sister of Calcutta, who when I asked of all the many places where she worked which was her favourite, she replied serenely, "I am happy wherever they send me".
But the image which sticks out most for me is doing the Strongman routine in Capacitar where Mimi strains to lift a heavy weight which the men could not. The atmosphere was charged with rambunctious applause and deafening hoots. Later the women enthused that they could learn a lot from Mimi, saying that, "It was hard for her but she persevered and succeeded in the end."
Donal McConnon is a musician and newly formed clown who is based in Galway.
Clowns Without Borders Ireland brings smiles and laughter to children in areas of crises around the world and in Ireland such as refugee camps, countries in emergency situations and direct provision accommodation centres in Ireland. Circus performers, clowns, theatre and street performers, actors and musicians from all corners of the island of Ireland offer their skills, humour and time on a voluntary basis to perform shows around the world.
To help bring miles of smiles to children who have no reason to smile please donate on http://www.cwbireland.com/donations/
Or send a cheque to CWB Ireland, 133 Gaybrook Lawns, Malahide, Co Dublin.