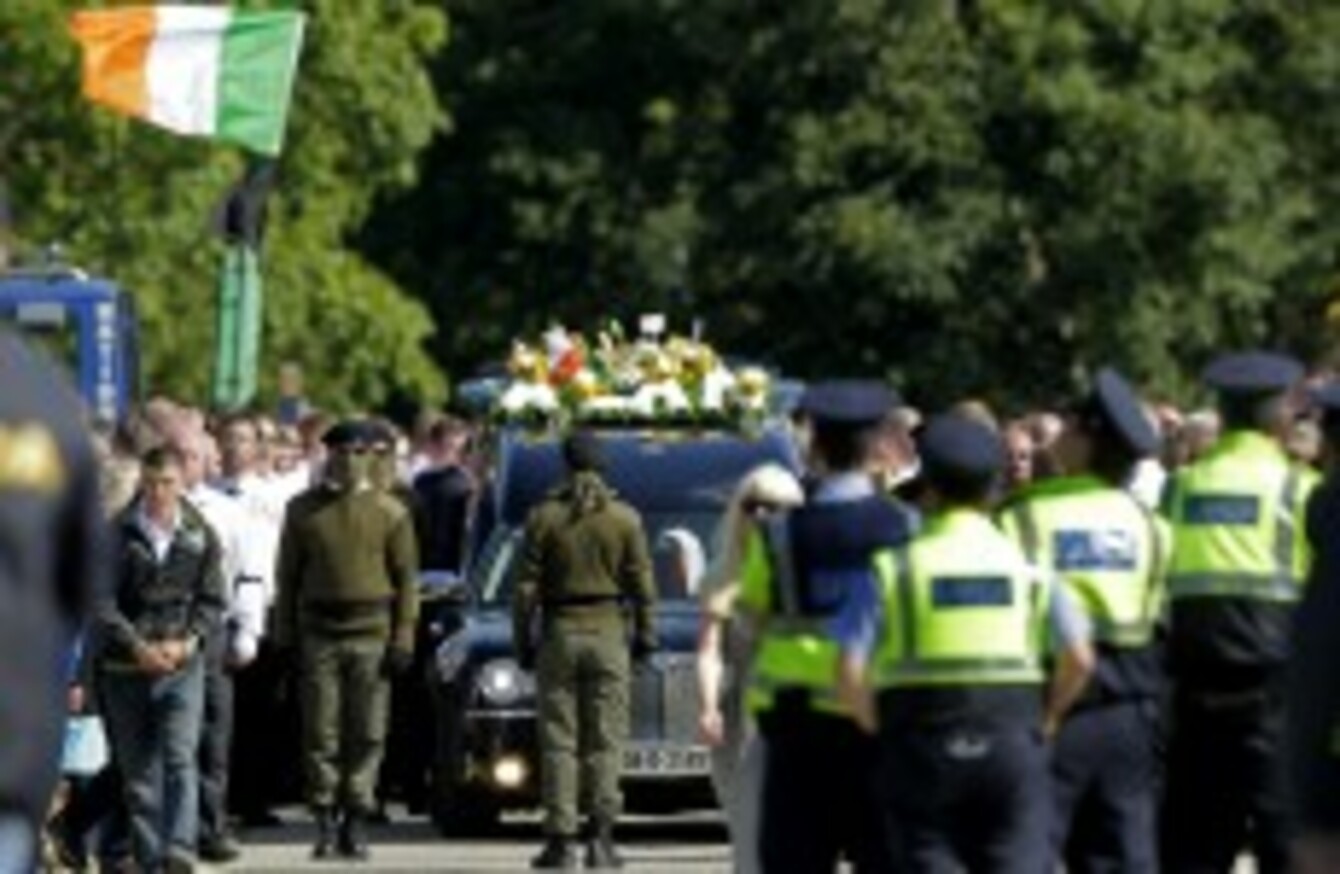 The funeral of Real IRA member Alan Ryan
Image: (Julien Behal/Press Association Images)
The funeral of Real IRA member Alan Ryan
Image: (Julien Behal/Press Association Images)
David Black is the first prison officer to be killed in Northern Ireland since 1993. He was a long-term officer with the Northern Ireland Prison Service and a member of the Orange Order. He was shot dead on the M1 in Armagh as he drove to work in Maghaberry Prison. There is round condemnation of the murder.
Richard Barklie of the WAVE Trauma Centre says we should not forget that the pain doesn't end when the guns are laid down.
OFTEN WHEN THERE are discussions, either political or otherwise, victims are left at the end of the table. That is wrong.
The WAVE trauma centre offers support and care to over 3,600 people who have bereaved or traumatised through 'the Troubles', irrespective of religious, cultural or political belief. Their overall aim is to offer care and support a cross section of adults, young people and children.
The perception can sometimes be that we only care for one segment of those affected by the violence, but that is not the case. We currently support the families of 'the disappeared', we also support people who have been wounded innocently in the Troubles,  and kids whose parents may have been imprisoned, so it is a broad spectrum. Our mission statement is to support everyone.
Victims
Victims of the atrocities are often overlooked in the Northern Ireland debate. The word 'victim' itself has proved a contentious issue with no agreement on its definition; with the meaning getting kicked around like a political football. What we want for victims is appropriately tailored and long term health care provisions, adequate reparations and truth recovery and justice for those who seek it. We have advocated that these be enshrined within a Bill of Rights for Northern Ireland. While the peace agreement came into effect in 1998, many forget that this is not where the trauma stopped for families and victims. Conflict continues in Derry with many seeking help.
Many commentators refer to the peace following the Good Friday Agreement. Certainly things are quieter with fewer shootings and bombings, but many service users – particularly from Derry – would ask, is it real peace? There have been a catalogue of shootings, bombings, paramilitary assaults and murder affecting those in the city, coupled with public displays of strength from dissident paramilitary groups who claim the war against the British is not over and will continue. Beyond Derry we have been served once again with the public display of community division and sectarianism, and the usual display of violence over parading issues. Little has changed.
Lives destroyed
It is the victims that have to be remembered in all this. Their lives have been utterly changed, many at the hands of paramilitaries.  Service users find that one day they were living their lives normally, the next it was ripped apart and destroyed. People's lives are changed forever and dealing with this can be difficult. Many suffer in silence, choosing not to seek help – or they simply do not know where to get help.
Trauma from many incidents affects close family relatives, friends and communities in varying ways. Take the abhorrent cold-blooded murder of Andrew Allen, a young Derry man slain at his home in Buncrana during February of this year . This impacted on family, local communities and friends to devastating effect. Many will never forget or recover. Like many other victims, the family will never have their son, brother, father or partner back. They are expected to move on – but something has been taken away from them, that person can never be replaced. The grief process can last for many many years.
It can be disheartening to see the events witnessed following the funeral of Alan Ryan in Dublin. Eradicating these displays of paramilitarism would be an achievement.
Children
There are transgenerational trauma issues at play here also. Within the victim sector, many young children are affected. Take Bloody Sunday – there those with parents in the security services living in constant fear, parents imprisoned, children who have been bereaved and so on. The impact of trauma has been passed on to children at very young ages. Some people are never going to come forward, for others it is simply not the right time for them to come forward and ask for support – but there are a lot of projects aimed at different service users.
For instance, the youth service is an important provision. Remember those participating are children who may have lost their mother or father in the violence, or may have grown up with their father in prison due to involvement in paramilitary activity. For these children it can be difficult to understand what it was all about, or how they can look at and deal with the past. Through cross community initiatives we can try and address some of the issues.
#Open journalism No news is bad news Support The Journal

Your contributions will help us continue to deliver the stories that are important to you

Support us now
Our services are in constant demand which shows that many people in Northern Ireland are still suffering as a consequence of the conflict. Many from the border areas of Donegal are also seeking our services. Over the last five years the level of calls and referrals to WAVE has increased. Referrals are received from those affected by violence more recently, in addition to those traumatised or bereaved up to 35 years ago.
Instead of a focus on politics and violence, the focus must be on victims. It is the victims that lose out in many of the debates involving key issues around the so-called paradigm we refer to as peace in Northern Ireland. Victims of  Northern Ireland's past need to have their place acknowledged and be able to have their say at all levels. Perhaps the newly appointed Victim's Commissioner can bring this about, we shall see.
The scars
A study, the Cost of the Troubles (1997), estimates that more than 6,800 people have experienced one of their immediate family — parent or sibling — being killed in a troubles-related incident. There are many more who have been shot, suffered ill health or turned to substance abuse or suicide. Not to mention the countless other relatives of those killed in the violence.
The injuries and scars left from the conflict are ones from which many people may never recover. It can be a heart-wrenching role endeavouring to provide support and comfort to those who have been affected. Our aim, as an organisation with non-political views, is to come at this from a humane perspective. It is to support all those who have suffered, those committed to non-violence.
We have all agreed that violence is not the answer. The clear message was given some 14 years: that  we wanted peace in the future for the sake of our children and their children. Their children are now the new generation and living in a society still proliferated with violence. To those concerned in violence, we ask, please no more victims. To those in positions of authority we ask please respect and afford victims with the highest regard – they have suffered enough.
Richard Barklie works with the WAVE trauma centre which was formed in 1991. It operates from 5 locations – Belfast, Armagh, Omagh, Ballymoney and Derry/Londonderry.